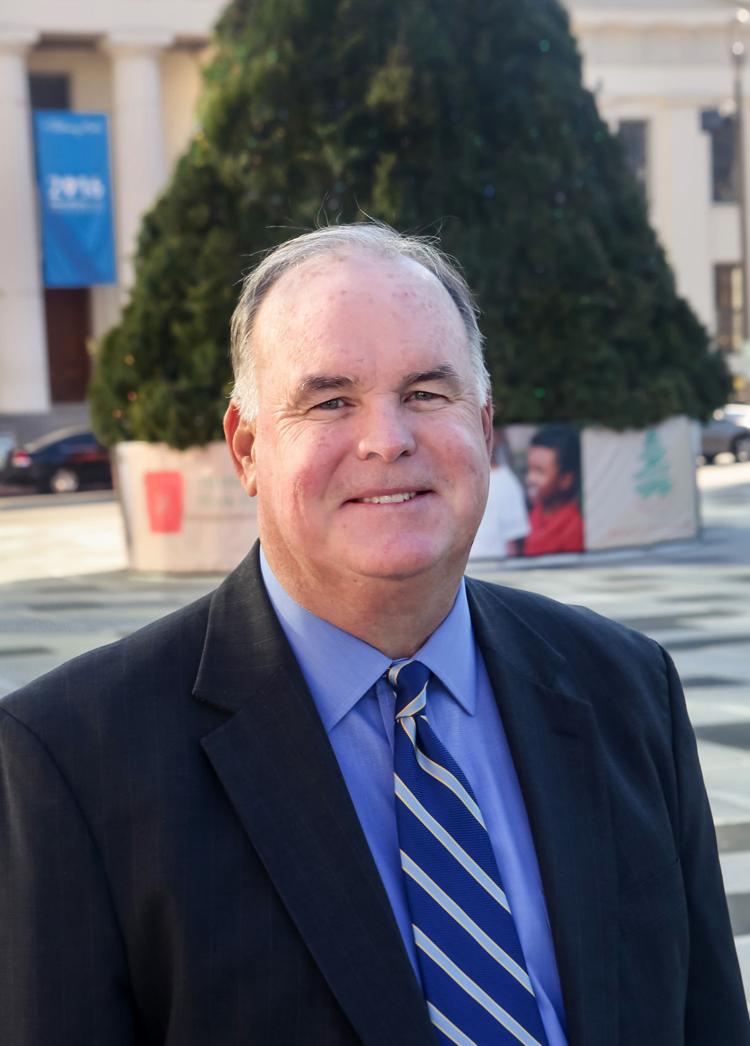 Although Ken Mallin was born in the Bronx, I like to call him Mr. St. Louis Christmas. Mallin, a prominent trial attorney and partner with Bryan Cave law firm, is also the volunteer chairman for Christmas in St. Louis, also known as CISL. That's the group that puts on the annual Thanksgiving Day parade downtown and puts up the Salvation Army Tree of Lights in Kiener Plaza.
Growing up in New York City and, later, Washington, D.C., Mallin (you might think) wouldn't have as much appreciation for Christmas in ol' St. Louis as others do, but he says he may actually appreciate it even more for his background.
"St. Louis, in many ways, is like New York and D.C. used to be 40 years ago – more of a community where people know each other, where they respect each other and look after each other," Mallin says.
Mallin has become just about as much of a hometowner as any of us. He moved here in 1978 at the age of 17 – a freshman at Washington University – and has been here ever since. He married a local girl, and they raised their family here. He got involved in organizing the Veiled Prophet Parade, which led to the Thanksgiving Day parade. The next thing he knew, he became the chairman of CISL. As with Santa Claus, a big part of that last job is making sure there are gifts handed out each Christmas.
CISL gives money to nonprofit groups that work with kids, and Mallin is the one who asks local corporations and individuals for contributions.
"Usually I just have to pick up the phone and say, 'Here's what we're doing this year, and can you help us?' and the answer is always yes," Mallin says. "I don't know if it restores my faith in humanity. I would say it confirms it."
This year, the beneficiary groups were Butterfly Dreams and Books for Newborns. Mallin says each year on behalf of the Salvation Army, he also asks the Make-A-Wish Foundation to find a child who wants to throw the switch that turns on the Tree of Lights, officially kicking off the holiday season.
"When the child shows up with their family and [I] hear the story about why they want to light the tree, tears start running down my face, and that's why we try to make that event as good as it can be for that child and that family," Mallin says. "That's the warm and fuzzy."
Another part of his job as CISL chairman is to promote St. Louis – something he has no trouble doing.
"My passion in my community is to convince anyone that this is one heck of a great place," Mallin says. "The people here truly care about each other. Yes, we have our warts, but together, we can solve those problems – so long as we look each other in the eyes, talk about those problems, recognize where they exist and hopefully come up with plans to solve them."
When asked if Mr. St. Louis Christmas had a Christmas wish for the city (if somehow, like Santa, he could magically give a gift to St. Louis), after much thought, Mallin says: "I believe one of the big problems is the lack of quality education for all, so let's get the best schools and the best teachers and put them in the worst places. We have an opportunity over time to create a path for all people through education, to give all these kids a chance to find their passions in life and to make a difference."
On Christmas Eve, Mallin and his wife will gather with friends and family, and he'll put on the Santa Claus suit just as he did when his own kids were little. He hopes that we could all feel the same way he does at Christmastime.
"On Christmas morning I'd like everyone to feel the excitement that there's no bridge too far that we can't build, no hole we can't jump over, no problem that we can't as a community solve," Mallin says.
Of course, everybody knows that Santa's no trial attorney, but Mallin thinks St. Nick would make a good one.
"I mean, who doesn't love Santa Claus?" he asks. But just like Santa, as soon as one Christmas is over, Mallin starts making plans for next year – and another chance for a kid from the Bronx to be a big part of Christmas in St. Louis. Merry Christmas, indeed.
Paul Brown is a longtime journalist on radio, on television and in print as a reporter, an anchor, a talk show host and a columnist. He's also a media and public relations consultant with Paul Brown Media.