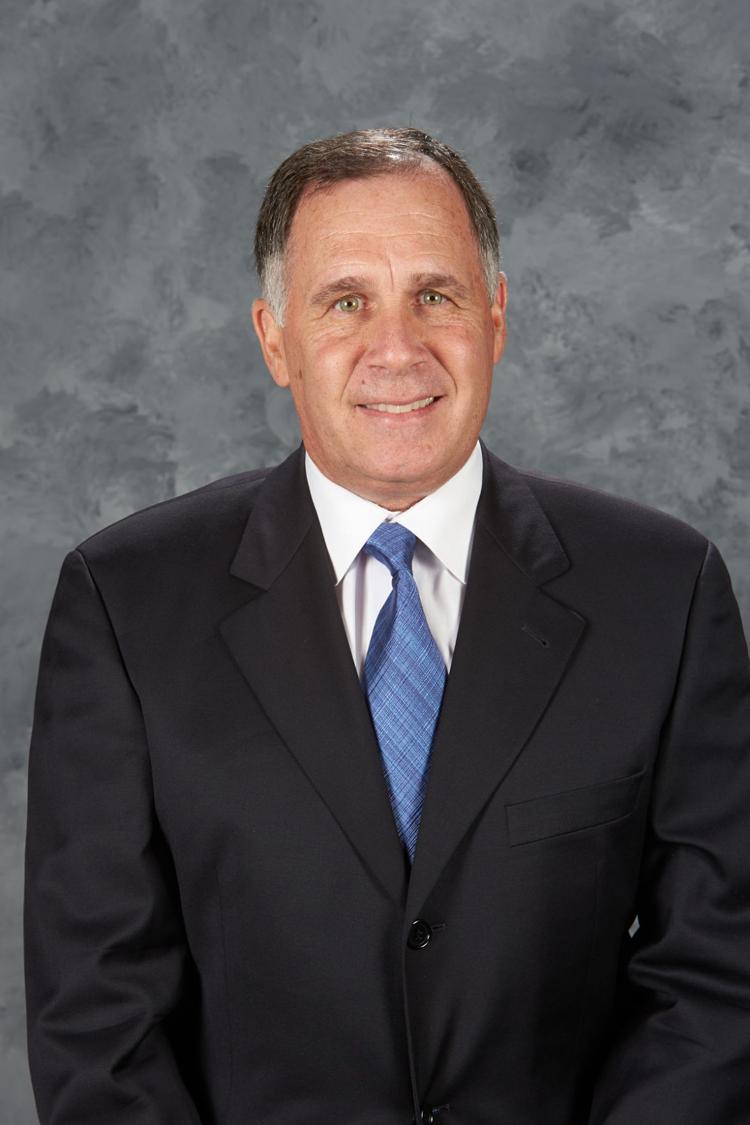 John Kelly's story isn't quite legendary yet, but the longtime St. Louis Blues television broadcaster comes from legendary stock. His fable may just take another generation before it's fully told.
Kelly moved to St. Louis from Canada in 1968, when his dad, Hockey Hall of Fame announcer Dan Kelly, became the voice of the Blues. The elder Kelly was already a prominent play-by-play man in Canada, but spent the next two decades in St. Louis while continuing to do NHL telecasts. It seemed inevitable that the younger Kelly would follow in his dad's footsteps, and he did, right down to the sound of his voice. The similarity is uncanny, but Kelly says it came naturally.
"I think its genetics," Kelly says. "You have to remember as a kid, if I wasn't at the game, I would listen every single night in my bed with my transistor radio. So when you listen to somebody night after night broadcasting hockey, you're going to pick up a lot of their characteristics and traits."
In November 1988, Kelly father and son called their one-and-only Blues game together. A few months later, Kelly's father lost his fight with lung cancer at the age of 52. Kelly still feels the loss of his father and the pain of cancer's sting.
"It seems so tragic to me because he was such a great father and husband, and he worked so hard his entire life," Kelly reflects. "He came from a lower- middle-class upbringing and rose to prominence as one of the greatest hockey broadcasters ever but never got to enjoy his retirement or grandkids. It's so sad."
Kelly and I are sitting in the stands of Scottrade Center while watching the Blues practice. The sound of pucks hitting the boards echoes through the empty seats. The players aren't wearing numbers on their practice jerseys, but Kelly knows the team so well he doesn't need numbers. He can identify the players just by the way they skate and shoot the puck.
Kelly started working for the Blues the same year his father passed away, but after three seasons, he left St. Louis. He called games in both Tampa Bay and Colorado for 12 years, picking up two Stanley Cup rings with the Avalanche before coming home in 2005. Kelly's now in his 16th season with the Blues, and at 57, he hopes he's home for good.
As the team goes through its power-play drills, Kelly reflects on another difficult milestone in his life – the day he found out his wife Jennifer had breast cancer.
"When your wife is diagnosed with Stage II breast cancer, it's a shock," he says. "She was shocked because she has lived a very healthy life." Kelly praises the doctors at the Siteman Cancer Center for his wife's treatment.
"There was never a concern that they couldn't cure it," Kelly says. "They were aggressive in their treatments. It was very difficult for her physically and mentally, but we got through it. It was a tough year and a half, and she still struggles with some of the side effects of the medications, but overall she feels great."
Kelly smiles when he says his wife is on the road to a complete recovery, noting that despite the setbacks, he's lived a charmed life. Kelly grew up with an NHL team, played high school hockey at Parkway North, learned the basics of his trade at Southern Illinois University Edwardsville, announced Stanley Cup Championship games and raised two daughters and a son with his wife, all while having a dream job in his adopted hometown.
"I'm just very blessed with great family and a job that I love, and hopefully can do for the rest of my career," Kelly says. "Not many people when they get up in the morning can say that they love their job and can't wait to get to work, but I'm one of the lucky few."
Kelly admits, though, that attaining the same legendary status as his dad is going to be tough to do. "I think there are different ways to define legendary," he says. "I'm no way close to my dad; he was a national announcer his entire career and won some very prominent awards in hockey. He's in the Hockey Hall of Fame!"
Kelly shares that it wouldn't bother him a bit if he's remembered only as the son of Patrick "Dan" Kelly. However, as mentioned previously, the tale may have yet another chapter. Kelly's own 22-year-old son, also named Patrick, is studying broadcasting at Lindenwood University. His goal is to be the third generation of Kellys as the voice of the Blues.
Now that's the stuff that legends are made of. 
Paul Brown is a longtime journalist on radio, on television and in print as a reporter, an anchor, a talk show host and a columnist. He's also a media and public relations consultant with Paul Brown Media.