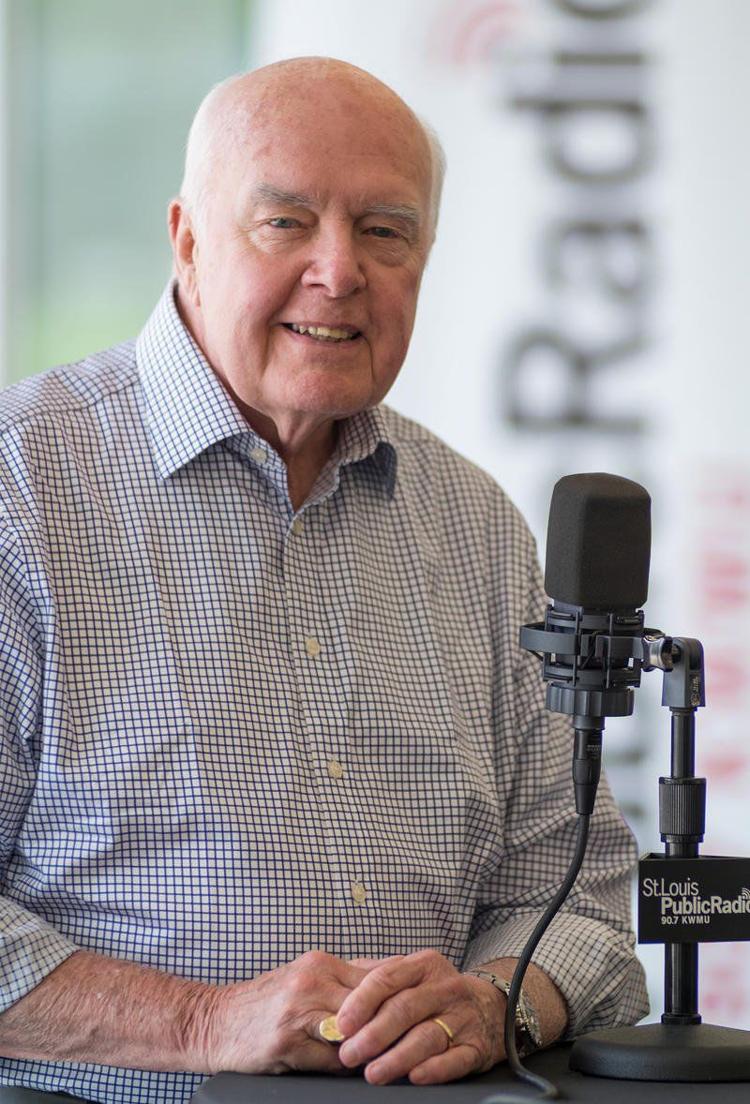 Don Marsh has just signed off for the day from his talk show at the local NPR station, St. Louis Public Radio KWMU. As we talk, I notice an old brick building hulking in the distance from the station's third-floor studio in Grand Center. Inquiring whether Marsh knows what the building was, he responds with uncertainty, and I note that it was probably a relic of the city. "Just like me," he answers with a laugh. Although Marsh doesn't mind being thought of as a relic, I would argue the reference.
Marsh is known as the dean of St. Louis broadcasters and an elder statesman of Gateway City airwaves. He, in my opinion, is this town's earliest connection to a more trusted age of media, who earned his stripes decades before "fake news" entered the lexicon. Marsh was a correspondent with the Armed Forces Radio Service in Germany before breaking into the St. Louis news scene in 1971. As a result, Marsh retains an old-school way of doing things.
This July, Marsh will turn 80, but he is still one of the most trusted voices in St. Louis. "It's very fulfilling," Marsh says. "It's about bringing relevant, important and interesting information to the community, and that's what's fulfilling about it. … I don't think of it in the way you're kindly portraying it. It's a service."
In the '90s, Marsh lost his spot on the Channel 2 anchor desk not long after KTVI hired Dick Ford. Marsh believed his "advanced" age, 56 at the time, might have been one of the reasons he lost his job, but it would seem Marsh got the last laugh.
"They said I quit, but I maintained that I was fired," Marsh says. "I had a lot of severance coming, and we took it to an arbitrator. I won and it was a six-figure settlement. That gave me all the laughs I needed right there."
Despite his "old age," there were still many more years to come.
Marsh worked in the KMOX and ABC 30 newsrooms, where he had little tolerance for inaccuracy and set the standard for credibility. For the last 12 years, he's been at KWMU as the host of the program St. Louis on the Air. In this new news era of never really being sure of what's fake and what's real, it's good to know there are still journalists out there like Marsh. However, he says we can't always rely on gatekeepers any more, especially on the cable news networks, where the lines between editorial commentary and objective news reporting have been dramatically blurred. He believes it's up to us to learn a lot more media literacy.
"That's objectivity in terms of just being sure that what you're dealing with is right and learning how to corroborate information," Marsh says. "That's what people should be doing as individuals, but people are too busy watching movies on their phones. People have to take some responsibility, and I – or people like me – can't make them understand. I can just put it out there and hope they do."
As far as the future of news goes, Marsh says he can only guess, but knows it will keep evolving.
"We were talking on the air today: Is Facebook even going to exist five years from now?" Marsh says. "They're losing the young audience, and it doesn't take long for them to find something else. Do you remember MySpace?"
One of the most difficult things Marsh does (along with a lot of us old-timers in the business) is try to give advice to young people who want to go into journalism.
"I tell them they should be prepared to know how to write," Marsh says. "They should have a complete familiarity with the digital world because it's all over the news business. You should read a lot, pick some subjects you are familiar with that could give you a degree of expertise in some areas and be willing to work hard."
Marsh isn't thinking about retiring. He says he'd rather go out "with his boots on." These days, we need all the news relics we can get.
Paul Brown is a longtime journalist on radio, on television and in print as a reporter, an anchor, a talk show host and a columnist. He's also a media and public relations consultant with Paul Brown Media.