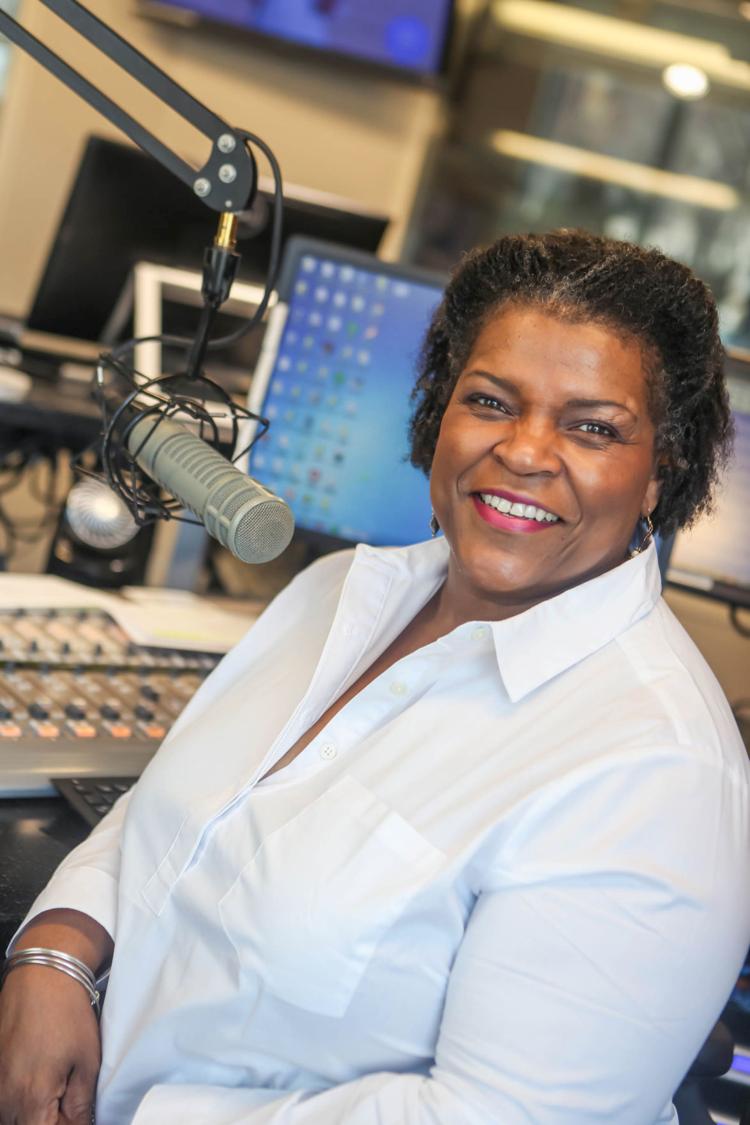 When I first met Carol Daniel in the spring of 1995, I was working the news desk at KMOX. We struck up an instant rapport when she shared that she worked at a station in Cape Girardeau, Missouri, and when I told her I had worked in nearby Paducah, Kentucky, a big smile graced her face because she knew she was in friendly company.
That was the day Carol came in for a live, on-air audition – something she hadn't been expecting to be live per se. I gave her the "good" news copy, which contained my own formatted cheat sheet, meaning I knew it would be easier to read for the newscast. My boss, news director John Angelides, had been looking for an announcer for weeks. As soon as Carol finished the news, I told John, "I think you just found your new anchor."
Carol got the job and has become a fixture as the "Voice of St. Louis." It's hard to believe that was 22 years ago. Carol has been a broadcaster at KMOX longer than any other African-American woman in the station's storied history. I don't think she set out to be a standard-bearer, but she tells me that over time she realized just how meaningful her role is to some listeners.
"What opened my eyes was when I met older black women in town, and they would take me by both hands and squeeze my hands and say, 'I am so proud of you,'" Carol says. "That slow, deliberate, emotional pace, and I knew what they were talking about. I represented something."
Carol grew up a military kid at Fort Leonard Wood, where her dad was a boot camp drill sergeant. (He also served two combat tours in Vietnam.) She says she inherited her dad's strong voice and her mom's determination to succeed.
"My parents understood and said, 'You are going to achieve,'" Carol says. "My mother was intent that I was going to stand on my own."
Carol went to high school in rural Waynesville, Missouri, where she was in pageants, was a cheerleader and was her class president.
Following in the footsteps of four siblings who all earned master's degrees, she graduated on the dean's list from Lincoln University and went into the news business. In St. Louis, that means, all too often, reporting on violent crime. Carol, though, is always looking for hope that the vicious circle of violence can be broken, and she believes it has to start with the children.
"If you're coming from a place where your mother was in prison and you don't even know your father, then shooting for the stars means graduating from high school, having the chance to become a parent and working productively," Carol says. "But first, at 8, 9, 10 years old, you have to hear that your life is worth something, that you are loved and cared for, and we are not saying that to them right now."
Carol and her husband, Patrick, raised two sons. They're now 17 and 20 years old. Sometimes she worries about what kind of a world they'll live in and how they'll be perceived as young black men, but she says she's always been a positive person and encourages her children and others to keep striving to overcome.
"If they look at their history, they will know what we have come through, they will know how tall they should walk and how remarkable they should see themselves, that they and their ancestors survived the insurmountable," Carol says.
A few years ago, Carol put all of her advice like that and feelings into a book entitled All I Ever Wanted. It's her guidebook for relationships, marriage and family.
As we walk down the hall from our studio, wrapping up our interview, I apologize for making it so serious. She laughs when I say, "I hope I don't make you sound like Malcolm X." She chuckles and replies, "Well, I crochet a lot too – does that help?" We both smile, and I remember again why I've always liked her so much.
Paul Brown is a longtime journalist on radio, on television and in print as a reporter, an anchor, a talk show host and a columnist. He's also a media and public relations consultant with Paul Brown Media.