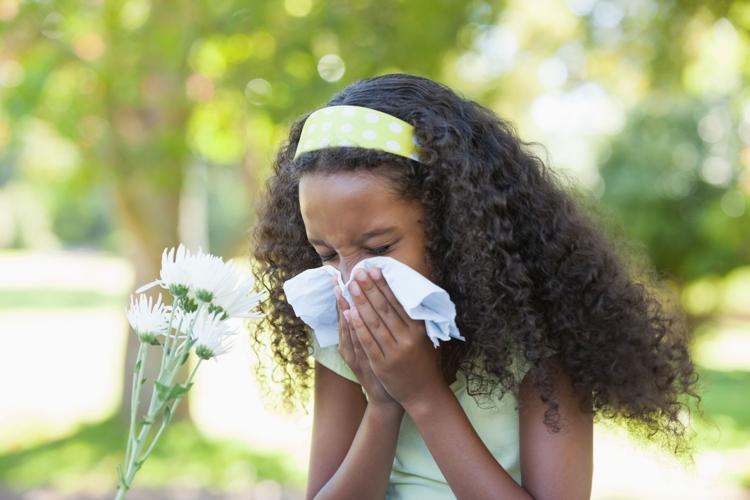 The St. Louis area is quite allergenic. For the past month, I've been taking a daily antihistamine and using an anti-inflammatory nasal spray – and I'm still having a hard time being outside for long. Two of my grandkids are experiencing the same symptoms despite their own treatments. Here are a few tips to help you recognize and control your child's allergies.
First, explore and recognize the triggers, whether they're pollens, molds, grasses or weeds encountered outside the house or dust mites, animal dander and other molds encountered inside. Once you identify these triggers, do your best to lessen or avoid exposure by limiting time spent outdoors during the worst periods, keeping pets well-groomed, brushing furniture for dander and trying to eliminate dust mites.
Dust mites constitute a common allergen, and many kids who are allergic suffer from a dust mite allergy. Dust mites thrive in warm, humid environments, so try to keep your house cool and a little dry. Keep all surfaces as dust-free as possible, and vacuum frequently. Wash bedding in hot water, 140 degrees or more, and consider protective pillow covers if your kids are known to be allergic to dust. Finally, consider keeping stuffed toys out of your child's bed.
Interior molds are another common allergen. They thrive in moist environments so remember to dry bathtubs and showers after use, avoid plug-in air fresheners and control humidity with a dehumidifier or your air conditioner. Finally – and this really should go without saying – don't smoke!
If you or your child continues to suffer from sneezing, itching, coughing and allergy symptoms discuss them with your physician. There are safe and effective drugs, many now available over the counter without a prescription, that control symptoms well. Seek professional advice on which is best for you and your child.
For more information or to find a pediatrician near you, visit mercy.net/laduenews.
Dr. Joseph Kahn is president of Mercy Kids (mercykids.org), an expansive network of pediatric care dedicated to meeting the needs of every child, every day.