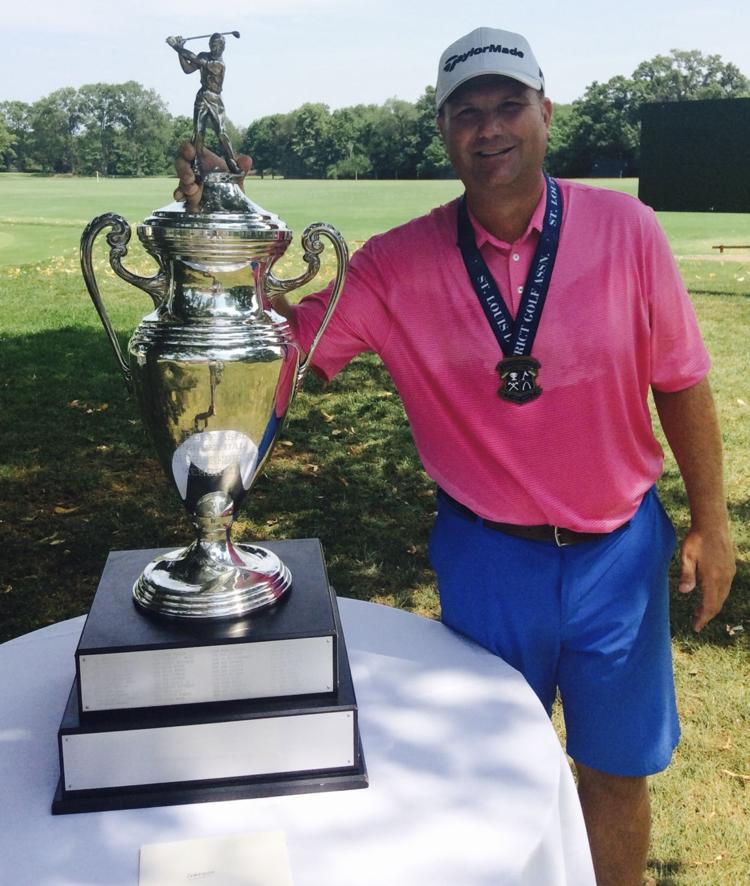 Griesedieck Men's Championship
At 43, Wildwood's Skip Berkmeyer is showing he can still manage a golf course.
Berkmeyer, in defeating Parker Goldman, captured the recent Griesedieck Men's Championship held by the St. Louis District Golf Association. An MICDS graduate and recent graduate of Miami of Ohio, he was 4 and 3 to win his fifth Griesedieck championship.
Berkmeyer (who has played in 28 USGA events – winning three Missouri Amateur championships along with other statewide championships) also won the Griesedieck from 2003 through 2005 and in 2008.
He's second only to legendary amateur Bob Cochran, who won eight Griesedieck championships.
"Five, that's a good number," Berkmeyer says. "I haven't played as many districts over the years. I didn't play in it for about six years, but I've been in this now for the last three. I'll continue to keep playing in the tournament.
"I'm chasing Bob, I guess. But I'm going to enjoy this fifth one [for now]."
Missouri Stroke Play Championship
Ballwin's Sam Migdal solidified his standing as the top area amateur golfer by recording his second championship in a state tournament.
Midgal captured the 20th annual Missouri Golf Association Stroke Play Championship at WingHaven Country Club.
He ended with a 285, two strokes better than Jeremy Franklin of St. Louis. Alex Cusumano tied for third with Travis Mays of Overland Park, Kansas, at 288. Berkmeyer, the defending champion, shot a 289.
"It was good to win," Migdal says. "It was pretty tough with the heat and all the good players in it."
It was Migdal's fifth time playing the Stroke Play Championship. His previous best finish was fourth.
Missouri Women's Amateur
Emily Goldenstein fell short in her effort to repeat as the state women's champion, with Jess Meek ultimately crowned the 2017 Missouri Women's Amateur champion at the 87th annual tournament. The three-day event was played in hot, humid conditions at Algonquin Country Club.
Meek, who will graduate from the University of Missouri this December, carded an overall score of 219 (73-75-71) and tallied an impressive five birdies, eight pars and five bogeys in the final round.
The heat did not bother the native of Carnoustie, Scotland, though. "The weather was absolutely perfect – what more do you want in mid-Missouri in July?" says Meek, who was a four-year starter for the Tigers.
Junior Golf
DeSmet's Kevin Wahle and Chaminade's Colin Stolze tied for second place in the recent American Junior Golf Association (AJGA) championship at The Legends in Eureka; both ended with a 1-under-par 215 for the three-day tournament.
Stolze shot a final-round 3-over-par 75, and Wahle shot a final-round even-par 72. Wahle fired off four straight birdies on Nos. 10 through 13.
Stolze's previous best finish came at the 2016 AJGA preview at The Glen Club, where he tied for 23rd place.
On the girls' side, Brooke Matthews of Rogers, Arkansas, earned her second career AJGA win after going wire-to-wire and shooting a final-round 1-over-par 73 to get to a tournament-total 7-under-par 209.
The University of Arkansas freshman-to-be carded 18 total birdies during the tournament and finished nine strokes ahead of second place.
The highest-scoring local girl was Brooke Biermann, who will be a freshman this fall at Lafayette High. She completed the three-day event with a 12-over 228. Biermann won a showcase event in Chicago earlier this summer.