Priory Takes Top Honors
A year after finishing second in the state tournament, Creve Coeur's Priory Rebels topped the Class 3 field.
Priory shot a two-day 592 team score to win the Class 3 state tournament played at Old Kinderhook Golf Course in Camdenton, Missouri, roughly 175 miles southwest of Ladue. Jefferson City's Helias was 10 strokes back in second place, with Affton's Lutheran South a distant third at 638.
"They have put a lot of work over the years and particularly this season to reach this milestone," Priory coach Jake Parent says.
The program won its first state title in 2007.
"It was very special for the team," Parent says. "They accepted the challenge and stayed focused on the task at hand and not on the pressure of the state tournament." After the tournament, Parent says his boys showed "excitement and all smiles."
This marked Parent's second season as Priory head coach. "I am very lucky to be working with a great group of young men," he says. "These guys make coaching easy and fun."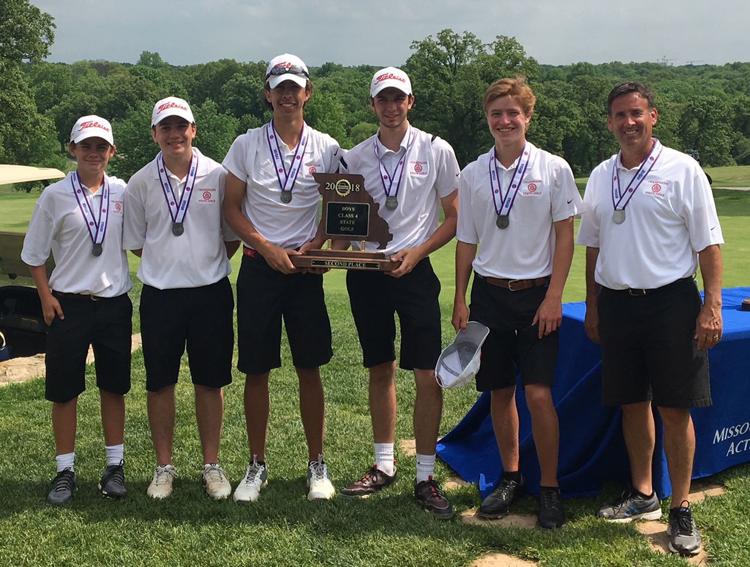 Chaminade Finishes Second
Creve Coeur's Chaminade boys golf team finished second at state, and the prospects for the future look even better.
The Red Devils placed behind Columbia's Rock Bridge with a two-day total of 605. Rock Bridge shot a 582 to win.
Chaminade shot a 298 in the second round after a 307 in the opening round of play at Swope Memorial Golf Course in Kansas City, Missouri.
"We had seven seniors on the team, but only one on our tournament squad," Chaminade coach Jack Wilson says. "We will return four of the state qualifiers. We have a number of talented golfers looking to make the tournament squad next year. It will be exciting to see which five guys will represent their teammates at the district tournament next spring."
The Red Devils carried second-place finishes in the district and sectional tournaments heading into state.
This year's team was a fun group to coach, Wilson relates. "We keep a large number of players in our program," he says. "The players and their parents seem to respond well to the team aspect of our approach. This makes the job of coaching more rewarding."
Priory Has State Medalist
Priory junior Gulshan Kodwani's practice round before the Class 3 state boys golf tournament left him concerned.
"I really did not have a good practice round, actually," Kodwani says. "I lost a few balls off the tee, and I couldn't get a putt to drop. I did like the course, though, because it was very well manicured, with tightly mown fairways and true and quick greens, and I liked how a lot of the holes were less than driver off the tee, because I was not driving the ball well either."
All that changed once the tourney began at Old Kinderhook. Kodwani shot two rounds of 70 to finish with a 2-under 140 and win medalist honors.
Kodwani's performance pleased his Priory coach. "Gulshan has shown flashes of being a top-level golfer," Parent says. "He finished first in the conference tournament earlier this year with an even-par performance. However, he was also our fourth golfer in terms of overall scoring average for the year.
"So it was in him all the time. He just did it on the big stage at state. This was his personal best round in a tournament, and he saved it for the best time of the year."
Kodwani represents the second medalist in the school's history. Doug Diemer medaled in 2007, the last time Priory won the state tournament before this spring.
Chaminade's Walsh Winds Up Second
Chaminade junior Zach Walsh knew what he wanted to do at the Class 4 state boy's golf tournament.
"Honestly, to win," Walsh says. "I knew it was a course for me – not too long and pretty narrow, with small greens. It took a while to sink in that I almost won."
Indeed. Walsh shot a 141 in the event played at Swope Memorial. He finished second to medalist Ross Steelman of Rock Bridge. Steelman, a junior, finished with a 136.
Old Warson Cup Highlights
Drew Pranger walked away from Ladue's Old Warson Country Club as champion of the 2018 Old Warson Cup. The 2016 Amateur Champion defeated Alex Ciaramitaro 5-and-3 in the final match to earn his second MAGA title.
Pranger would get past five-time champion Skip Berkmeyer in the morning semifinal match with a 2-up victory. Having been knocked out of the 2017 Old Warson Cup by Berkmeyer, Pranger enacted a little revenge on the 12-time finalist in this event – a very good match where Berkmeyer actually shot one shot better by stroke play standards, 72 to Pranger's 73. However, match play gives you that opportunity to win regardless.
Ciaramitaro, a dual-sport athlete at Peoria, Illinois' Bradley University, where he competes in soccer and golf, definitely ranked as the "Who is this guy?" competitor in the tourney. His very strong play included a 20-hole win in the quarterfinals against two-time champ Sam Migdal to get to the finals. Jeremy Franklin pushed Ciaramitaro to extra holes in the semifinal match on the first extra hole to advance to the final against Pranger.
Pranger took command early in the final match and extended his lead to 5-up heading to the turn. Ciaramitaro showed some of the early mettle seen in his early matches by getting wins on 12 and 13 to get back in the match. Pranger hit par for the always-difficult 15th to close out the victory 5-and-3.