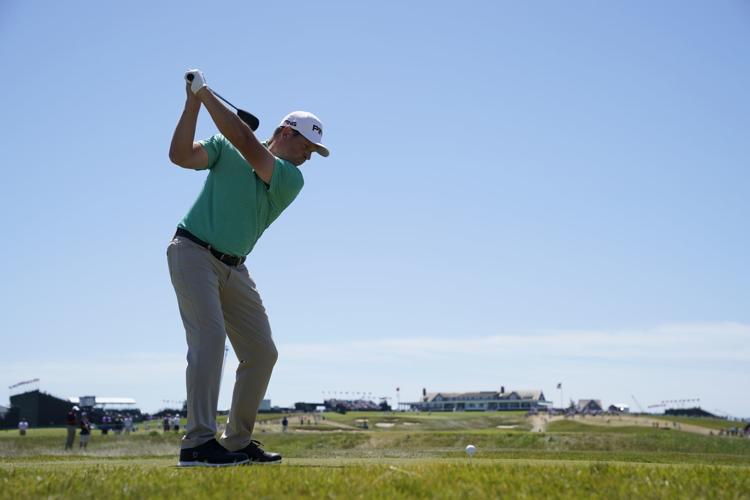 Naegel Goes to U.S. Open
In one of the season's biggest stories so far, Wildwood's Chris Naegel earned a spot in the 118th U.S. Open Championship that took place June 11 to 17 at the Shinnecock Hills Golf Club in South Hampton, New York.
Naegel always thought he'd play in a major golf championship, but he never thought doing so would take this long. The graduate of Chesterfield's Marquette High School and Creve Coeur's Missouri Baptist University earned his berth by winning a playoff for the final spot in the U.S. Open sectional qualifying tournament in Richmond, Texas, at the Shadow Hawk Golf Club. Naegel nabbed one of only three spots available.
He did well in the U.S. Open, tying with four other golfers for 56th place. He finished 17-over with a 297 and shot 73 in his first two rounds, followed by a 75 and a 76.
Nagel has passed much of his career fighting the good fight on mini-tours. Since turning pro in 2008, he's spent time on the Hooters Tour while competing occasionally on the Adams Tour and the Minor League Golf Tour.
In 2012, in the eGolf Tour's Oldfield Open, Nagel claimed his first professional victory. He earned another win at the Adams Tour's Buffalo Run Casino Classic in 2015. Nagel currently ranks 1,081st on the World Ranking, having previously marked a personal "best" at 965th.
Pranger in Open Sectional
Andrew Pranger's dream of playing the U.S. Open didn't last long, but it at least provided him with a memory.
Pranger, an area financial advisor, recently won the Old Warson Cup as part of the Metropolitan Amateur Golf Association. He was an alternate from local qualifying. Having never made it into sectional qualifying, he decided to drive six hours with his father to Brookside Golf & Country Club/Lakes Golf & Country Club in Columbus, Ohio.
"We got in last night, and I got to the course at 5:50," Pranger relates. "And then they came over and told me I was in." Pranger replaced Kyoung Heen Lee in the last group playing with Priyanshu Singh. The other member of their group was more familiar: Adam Scott, a Masters champion and former world No. 1.
Pranger's hopes of getting to Shinnecock vanished early with an 81, but the left-hander signed his card while smiling. "My first time into sectionals, and I played with Adam Scott," he says. "He was so professional in everything he did."
Port Steps Down as Coach
Women's amateur standout Ellen Port decided recently to relinquish her coaching job at Washington University in St. Louis.
Port, the women's golf coach, resigned after leading the Bears for the past three seasons, according to Anthony J. Azama, the university's director of athletics.
"It was an unexpected pleasure to have the opportunity to be a part of the Washington University athletic program at such a late stage in my coaching career," says Port, who previously coached for 32 years at Ladue's John Burroughs School. "I treasure the relationships I have formed with all my players, parents and colleagues, as well as many others involved with Division III golf across the country. I consider myself extremely blessed. I stepped into an already successful golf program and hope I kept the ball rolling in the right direction."
Port led the Bears to top-15 Golfstat finishes in each of her three seasons on the Danforth Campus. The Bears capped off the 2017-18 season with a top 10 finish and earned the first trip to nationals under Port. The university placed in the top 10 at the NCAA Championship for the fifth time in school history.
Port also mentored two-time All-America selection Samantha Haubenstock and had seven student-athletes earn 10 All-Region citations.
Before joining the university, Port taught physical education at John Burroughs. During her tenure there, Port coached a number of sports, including boys' and girls' golf, which collected a combined three state championships and three runner-up finishes under her leadership.
Port says she plans to play more competitive golf this summer, as one of the most accomplished women amateur golfers in history. More specifically, she won the 2016 U.S. Senior Women's Amateur, her seventh United States Golf Association title; she also has won the U.S. Women's Senior Amateur in 2012 and 2013, as well as the U.S. Women's Mid-Amateur in 1995, 1996, 2000 and 2011.