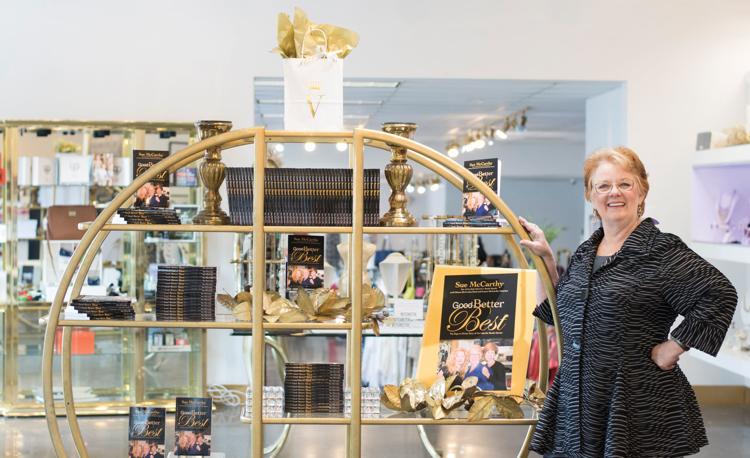 Sue McCarthy is often welcomed into some of the most luxurious, beautiful closets in the world to purchase pieces for her multimillion-dollar resale boutique, The Vault Luxury Resale. However, there was a point in McCarthy's life when she had neither a closet nor even a home to call her own.
"We found ourselves homeless often through circumstances," McCarthy says. "We didn't believe in taking charity from other people, so if you didn't have any food, you just didn't eat, and that's all there was to it."
This life experience, though, is what McCarthy believes helped shape who she is today and what also helped inspire her first book: Good, Better, Best – the rags-to-riches story of the upscale resale queen.
"When I say it's a story of somebody who turned every obstacle into an opportunity, absolutely," McCarthy says. "I always knew that whatever I did, I would have to be good at it. The name of the book, Good, Better, Best … that was important to me. I wrote that from the time I was a child."
Good, Better, Best takes readers not only on McCarthy's journey to founding The Vault Luxury Resale but also behind the scenes of the luxury resale world and into the closets of some of the world's most stylish women.
"After our television show [the defunct Esquire Network's Resale Royalty], people wanted more of the closets, and so I wrote about some of the closets," McCarthy says. "We can do 50 closets, and 40 of them are just we go in for an hour, we get the stuff, we pay them, they are happy, we leave. But then you come to the ones … It's not the stuff that you get, but it's the story in the closet. … You invite people into your home, into your living room, into your kitchen, but rarely does anyone get to go into anyone's closet. That is a very personal space, and we literally open the curtains to that personal, personal experience. You don't think about it, but that is the truth."
Although McCarthy takes great pride in sharing an inside glimpse into the array of closets, she truly hopes readers will put her book down feeling empowered.
"I hope they learn that anything is possible," she says. "People won't remember what you said, but how you make them feel, and that is what I hope people will get from the book – that anything is possible, and just persevere. And if you always do the right thing, it comes back to you tenfold." 
Good, Better, Best is available at The Vault Luxury Resale and through Amazon and other online purveyors.
The Vault Luxury Resale, 2325 S. Brentwood Blvd., Brentwood, 314-736-6511, thevaultluxuryresale.com