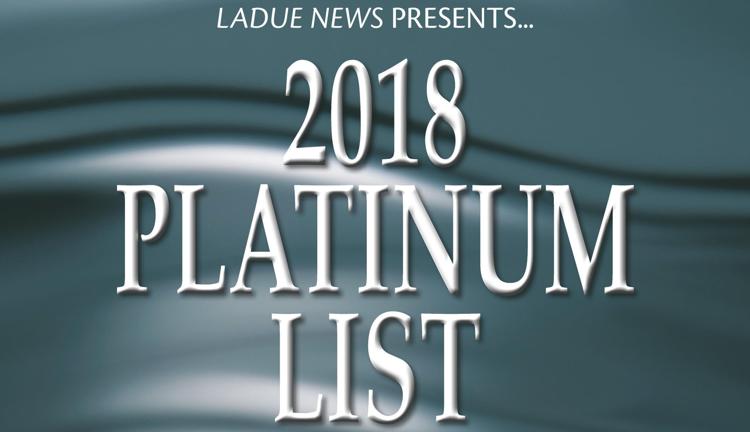 What makes a business successful? There's no magic ingredient or special recipe. Yet, time and time again, business excellence boils down to hardworking people who provide exceptional goods and services. Whether it's the barista at your regular coffeehouse who knows your order by heart, the bridal boutique that helped you say yes to the dress or the wealth adviser who safeguards your family's financial future, good business is often easy to spot, but difficult to define.
Through its annual Platinum List, Ladue News honors top businesses in the area. This January, our discerning readers rallied to nominate and vote for their favorite shops, hotspots, service providers and more in nine categories.
"It's important to us to highlight the great business that is being done in our area," stresses Andrea Griffith, general manager of Ladue News. "We are a community magazine dedicated to sharing good news and educating our readers. The Platinum List does both."
The Platinum List not only recognizes leading businesses, but also gives a voice to Ladue News readers – among the sharpest and most influential tastemakers in the area. "A list such as this, sponsored by an entity with the fine reputation that Ladue News has in the community, helps reinforce the credibility and great contributions of these businesses to the St. Louis community," says Kathy Beilein, president of Laura McCarthy Real Estate, this year's presenting sponsor.
As Griffith attests, local businesses certainly value a nod – or two – in the Platinum List. "I think businesses know that our readers are savvy and sophisticated consumers with great taste," she says. "Their acknowledgement on the Platinum List is both an honor and a tremendous vote of confidence. Our honorees are always pleased to hear that they've been recognized. It's evident in the ads placed in our results sections, as well as the awards and window clings proudly displayed in businesses throughout our region."
On the evening of March 22, Ladue News will connect readers with winners, runners-up and sponsoring businesses at its exclusive Platinum List event, to be held at The Coronado. "The Platinum List party is really a living, breathing manifestation of the list," emphasizes Griffith. "In addition to celebrating their recognition on the list, honorees will create an experience for attendees."
This experience will include complimentary valet parking, an open bar, live music and hors d'oeuvres. "Guests will be able to mix and mingle with a number of the winners, runners-up and sponsors who will be on hand selling, sampling and demonstrating products, among other things," touts Griffith.
"It's fun to be part of anything that promotes St. Louis and its many fine businesses," adds Beilein. At its core, the Platinum List is a celebration of St. Louis' chief asset: a community of dedicated, industrious businesspeople and loyal, engaged consumers.
Get your tickets to the 2018 Platinum List Party here.
RESULTS