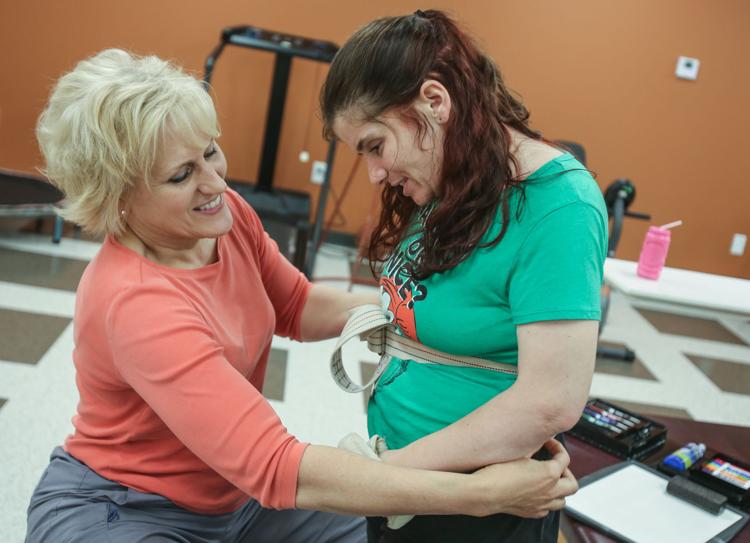 Years ago, people who experienced brain injuries that left them with long-term disabilities had few options. Some were relegated to nursing homes, even if they were still young. Others relied on family for long-term care. But since 1986, The Center for Head Injury Services (CHIS) has been helping people live and work independently despite life-altering brain injuries, autism and other disabilities.
"Our strength is that we have built a continuum of services, and people can enter at different points based on individual needs," says executive director Donna Gunning. People of all ages can take advantage of the organization's services, which Gunning refers to as "stepping stones to independence and employment."
Over the years, CHIS has steadily expanded, providing 600 to 700 people a year with an increasing menu of programs in the greater St. Louis area, including St. Charles County. A number of local organizations refer clients to the center, while other individuals contact the center themselves to begin therapeutic or employment readiness programs.
Children and adults who need adaptive equipment therapies can obtain occupational therapy and assessments in the home or through the adaptive equipment lending library. "We help them learn how to work with adaptive technologies and determine how to get set up with what they need," Gunning says.
Adults who have completed initial rehabilitation programs (like physical or occupational therapy as part of treatment following a brain injury) but have permanent disabilities learn how to regain life skills and return to life, including work. Once they move into their own homes, the center's community support program assists people who may need some assistance with household tasks, such as managing their finances, shopping and cooking.
"This started as one program for people who had gone through all their medical rehab, and their brain injury left some significant disability," Gunning says. "So this was a place for them to come and continue to work on those brain skills [without needing to live in a nursing home]." Gunning is referring to the skills that may have been lost due to injury or other disability but that are necessary for independent living, like self-care and communication. Through the initial program, clients began to rehabilitate enough to work in the community, first as volunteers and later as paid employees. "We just kept adding new services," she adds.
The center's initial day program continues to provide cognitive and enrichment activities, matching clients with volunteer opportunities and strengthening vocational skills. Job training programs in cooperation with local businesses allow CHIS staff to accompany clients as they learn on-the-job skills.
CHIS expanded even more out of necessity in 2008 as a crashing economy caused some business partners to reduce the number of positions available for CHIS clients. "We decided we needed to make an impact and change that," Gunning says. With a grant from the New Jersey-based Kessler Foundation, the center launched its first social-enterprise program.
"I wanted people to have a chance to show they could work, and they weren't getting that anymore," Gunning says. She likens social enterprise to a Goodwill store – a business with a mission. "We created Destination Desserts, a food truck with gourmet bakery items, to train people in the food industry as a chef's assistant or in food prep or customer service."
Destination Desserts has been one of the center's biggest successes to date, although Gunning notes that the bakery business is more sophisticated than one might imagine. For those who found the work at Destination Desserts too difficult, the center created Wags in a Bag, its second social enterprise, making all-natural dog treats. The recipes for dogs are simpler than the bakery goods, yet the business follows the same basic model of putting people to work.
In addition to the practical skills and job training programs, CHIS provides a medical program with occupational, speech and physical therapy. "We had a fully functioning medical department when Missouri's Medicaid covered those services for people who had exhausted their insurance or didn't have any coverage," Gunning recalls. However, when Missouri HealthNet was created more than a decade ago, the coverage for such services was accidentally omitted, she says. "We're in Jefferson City a lot trying to get that restored, but it's not an easy thing."
Research shows that people continue to make gains when they stick with rehabilitative services beyond what insurance companies will pay for, Gunning says. Therefore, the center continues ongoing therapy to some clients through other state programs, such as those provided by the Department of Mental Health.
The newest program in the CHIS panoply is Talent Connect, started in 2014 and funded by the New York-based Poses Family Foundation's Workplace Initiative. Working with corporate leaders who want to diversify their workforces to include people with disabilities, the Talent Connect program specializes in manufacturing distribution. "We offer the companies a service and a connection to people," Gunning says. "We go into their business and see what their needs are and what people in the distribution department do. We then put together a battery of tests that will screen candidates for those positions."
And CHIS continues to make its mark on lives and business in the St. Louis area: Later this summer, the Destination Desserts Café will open in a location currently being remodeled for a bakery and expanded lunch menu near Tower Grove Park. And as it continues to provide creative solutions for clients, Gunning says the heart of CHIS remains in meeting people where they most need help and customizing services to help them work toward their goals for future success.
The Center for Head Injury Services, 11828 Lackland Road, St. Louis, 314-983-9230, headinjuryctr-stl.org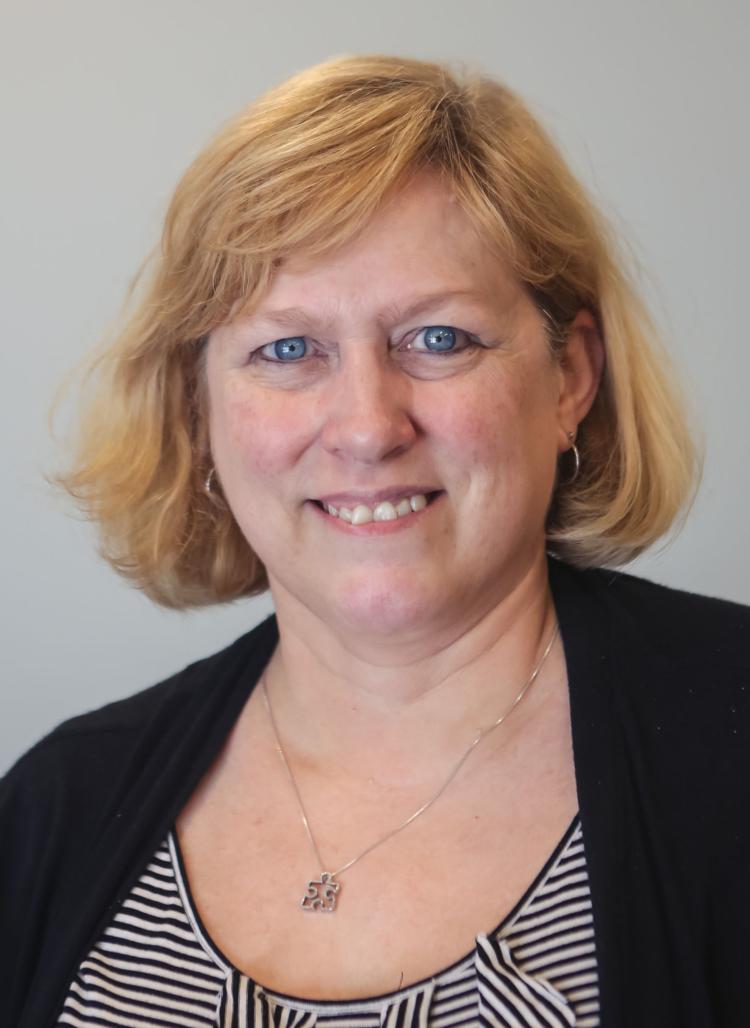 Volunteer Spotlight: Maggie Walsh
Maggie Walsh began volunteering at The Center for Head Injury Services (CHIS) soon after her son, Danny, began attending the center's day program in 2010. For her, it's a way to give back to the organization that has given her and her family so much.
"When our son aged out of the school system, my husband and I were devastated," Walsh recalls. "We had a difficult time finding a program that would accept our son due to his autism and severe epilepsy. The center accepted Danny and has become like family. He's happy and enjoys every day. He has friends."
While Danny benefits from CHIS's services, Walsh helps with fundraising and advocacy, working to share the center's mission and secure grant funding. She also spends an entire day each year creating baskets for the center's fundraising trivia night and silent auction.
Although she has a full-time job, Walsh credits the center with making it possible to keep Danny, who needs continual care, living at home. And she notes that her situation is just one example of the center's range of services.
Volunteering has opened Walsh's eyes to all the types of support CHIS offers. "I see parents who are able to work or just able to get a break – I see opportunities," she says. "People who might have otherwise been considered unemployable are working. I see people learning important life skills. I see staff members making a difference in people's lives every day, and by volunteering, I get to be a small part of it."