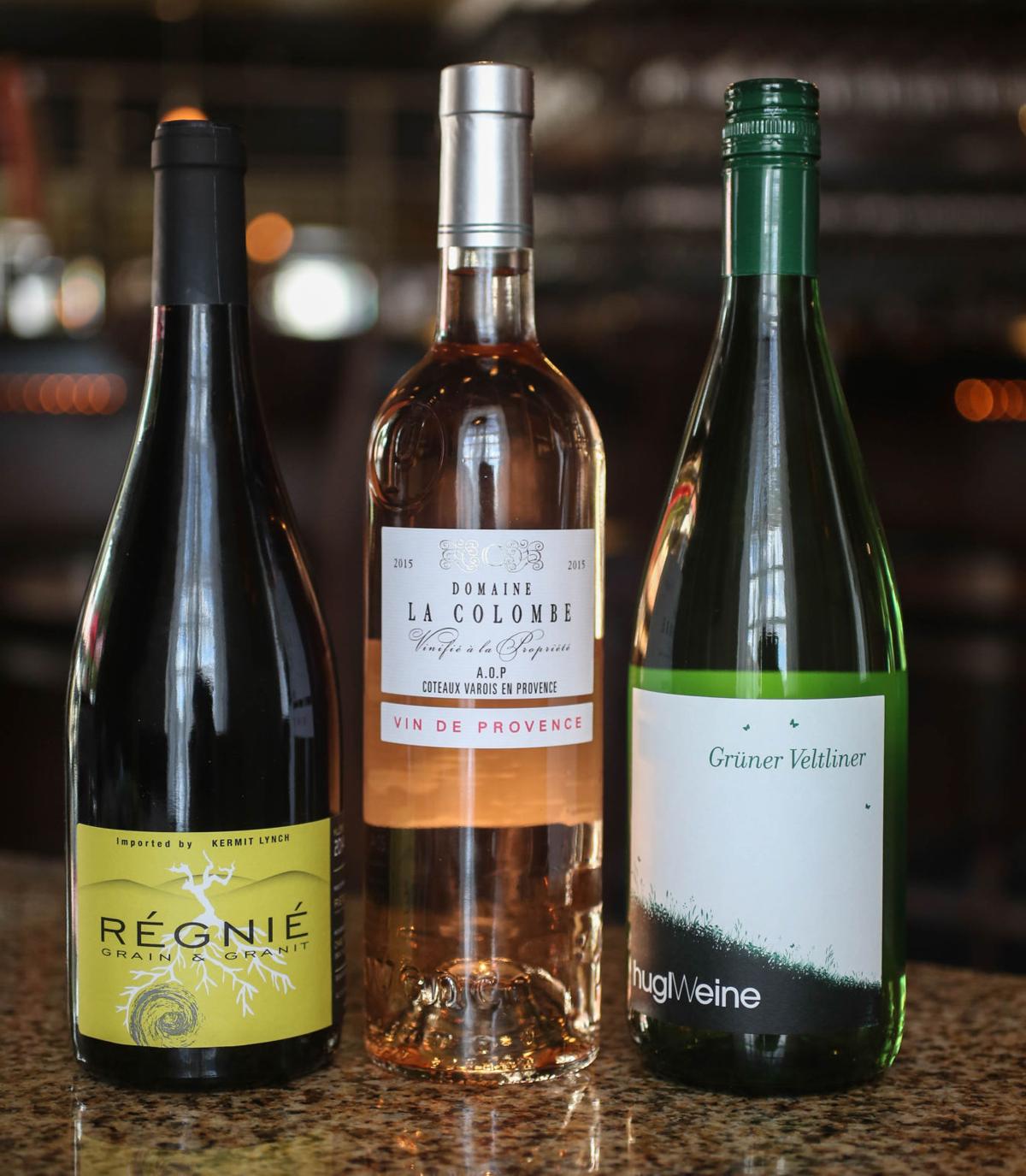 When seasons change, wine experiences rise to the level of an art. Enter autumn with lighter-style wines as the heat and humidity of summer slowly yield to cool tranquility.
2015 HUGL, GRÜNER VELTLINER – NIEDERÖSTERREICH, AUSTRIA
100% Grüner Veltliner
Owners: Martin and Sylvia Hugl
Aged: Stainless steel, no oak
Approximate Retail Price: $17 (1-liter bottle)
TASTING NOTES:
Color: Light straw
Aroma: Grapefruit, stone fruit, pineapple, limes
Taste: Citrus notes balanced with stone fruit, flint mineral, white pepper and a nice acidity
Grüner Veltliner (GROO-ner velt-LEAN-er) has increased in popularity during the last 15 years and become the darling of sommeliers for its ability to pair with greens, such as asparagus and artichokes, which typically fight wine. This vintage goes well with enjoying an evening on the patio or accentuating a meal.
Food Pairings: A light, crisp wine like this pairs nicely with fish, pork, scallops, sushi, veal, asparagus and artichoke.
2015 DOMAINE LA COLOMBE, ROSÉ – PROVENCE, FRANCE
Grenache/Cinsault/Syrah
Owner: Jean-Jacques Bréban
Aged: Stainless steel, no oak
Approximate Retail Price: $14
TASTING NOTES:
Color: Pale strawberry
Aroma: Strawberry, nectarine, honeysuckle
Taste: Red berry, strawberry, stone fruit flavors with subtle hints of succulent herbs
Provence in the south of France is known for rosé – usually a blend of grapes, very clean in style, yet dry. Provence rosé comes from red grapes, and skin-color pigments give wine its color. In the making of rosé, the skin remains in contact with the juice for a relatively limited time, until the desired color emerges.
Usually the grapes are picked at night or early morning so they don't warm overmuch. They then go to 57-degree cellars before being brought to a chai, a wine storage building. There the grapes are washed and destemmed.
Provence rosé usually goes through direct pressing, wherein grapes are pressed to remove the juice and experience only slight contact with the skins. After that, the juice from owner Jean-Jacques Bréban's fruit ferments in large stainless steel tanks at about 64 degrees for eight to 15 days. Finally, the finished grapes/wines are blended to create the house-style rosé.
Food Pairings: Charcuterie, barbecue, grilled fish, pâté, pork, salad, shrimp and vegetables all would accompany this vintage agreeably.
2014 CHARLY THÉVENET, GAMAY – RÉGNIÉ, BEAUJOLAIS, FRANCE
100% Gamay
Importer: Kermit Lynch Wine Merchant, 525 cases produced
Aged: Old Burgundy barrels
Approximate Retail Price: $32
TASTING NOTES:
Color: Garnet red
Aroma: Ripe red cherry and wild berry, earthy notes, while yielding lower alcohol on the nose.
Taste: Medium skin and oak tannins, lighter on the palate with refreshing red fruit flavors of cherry, raspberry and hints of licorice, with subtle earthiness from the nose; a soft finish with mellow acidity and lingering fruit
Régnié ranks as one of the 10 Cru appellations in Beaujolais (incidentally, think of age worthy of Beaujolais, which differs vastly from the familiar Beaujolais Nouveau). Régnié exhibits a terroir of granite soil and, here, 80-year-old vines farmed Biodynamically.
Wines from that area are usually very aromatic and show best at three to five years, although Beaujolais from the right vintage will age 20 years.
Food Pairings: Definitely enjoy cheeses of the same region (for instance, Brie, Fromager d'Affinois, Délice de Bourgogne and Camembert), mushrooms, stewed or braised meats, chicken with gravylike sauces, and chocolate.
Certified Sommelier Stanley Browne owns Robust Wine Bar in Webster Groves and Downtown at the MX.