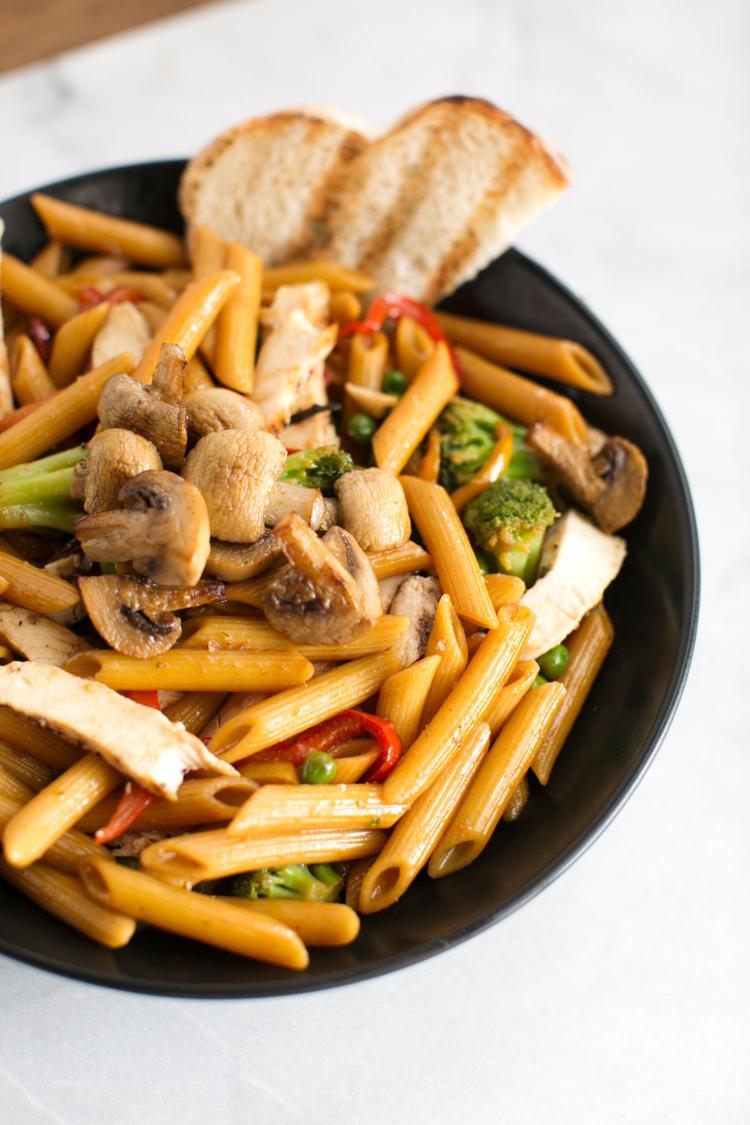 If you love serving up tasty, healthy food for your family but don't always have time to prepare a home-cooked meal, St. Louis-based Nourish by Hollyberry is delivering a delicious and nutritious option: Nourish at Home subscription meal service.
Nourish by Hollyberry – the market and café-to-go in Warson Woods helmed by Holly Cunningham, president of longtime leading local catering company Hollyberry Catering – launched Nourish at Home this fall. Cunningham successfully tested the idea with 12 local families for eight weeks; each family took surveys about the meals and provided feedback, which was then all used to fine-tune the final meal packages. The subscription meal service provides flash-frozen, chef-prepared meals sourced from local farmers and producers – all delivered right to your door. "Nourish at Home is the solution for busy families who don't want to sacrifice great wholesome meals due to time restraints, people who need a little help thinking of great meals on a regular basis or families who want to spend more quality time with each other and less time in the kitchen," Cunningham explains.
Nourish at Home was sparked by the veteran professional chef's desire to serve her family healthy, tasty meals while still juggling everything else on her plate – from running her multifaceted business to attending her kids' school and extracurricular activities. "I'm lucky working with chefs at a catering company – there was always something wonderful to bring home to my family, but I know most people don't have that opportunity," Cunningham says. "Having great meals in the freezer, ready to heat and serve, is a perfect solution, and one I'm so excited to bring to everyone. Each dish is flash-frozen, delivered [by a courier] and baked fresh [by the subscriber], so the flavors aren't compromised. Meanwhile, our customers are freed up to spend more time with their families, which is the real passion and inspiration behind Nourish."
The subscription meal service offers entrées, side dishes, appetizers and desserts through three packages: Wholesome Helpings, offering a choice of three savory entrées; Hearty + Healthy, including two entrées and two sides of fresh vegetables and whole grains; and Chef's Choice, for those with adventurous palates, featuring two entrées, one side and one "chef special," a seasonal creation. Dishes, each made to serve four, include pulled pork enchiladas, shepherd's pie, cauliflower mash and fan-favorite butternut squash mac 'n' cheese. The meals also come with recipe cards that include nutritional information, recommendations for side dishes to serve with entrées and suggested beer and wine pairings.
"We also offer menus that highlight the best produce and flavors of each season," Cunningham says, adding that the new winter menu is slated to launch after the first of the year. "It includes some curl-up-at-home comfort food alongside great party-friendly suggestions like Mexican street corn, cider-braised apples and potatoes, and white chocolate-cranberry dessert bars." New winter dishes also include meatloaf cupcakes, rosemary-roasted chicken and veggies, and one of Cunningham's favorites – a taco-Tuesday bake.
Each recipe is thoughtfully created by Nourish's professional chefs and presented at a tasting to ensure it's "the best of the best," with customized options such as gluten-free or vegetarian available to suit subscribers' dietary needs and preferences. "Our team of chefs is right here in St. Louis – they create the recipes in-house with a wholesome, family-friendly palate in mind," Cunningham says. "They are always looking for new flavors to introduce and new ways to make our dishes fit our customers' lifestyles." And Nourish sources its ingredients from local businesses, including Fazio's Bakery on The Hill, Sunfarm produce and dairy in St. Louis, and Gordon Food Service, a wholesale company that draws from local sources.
Through Nourish's website, nourishathome.com, consumers can sign up to subscribe from one to three months and also choose one of the service's three meal plans. Each order is hand-delivered by a courier service, either weekly or every other week – if you've selected the three-month option – and within a designated time frame, all selected online by the subscriber. Nourish delivers to more than 50 St. Louis-area ZIP codes, with a full listing of delivery zones available on the website.
Nourish at Home subscribers grew to about 45 in the service's first eight weeks, Cunningham notes. "The feedback has been really positive," she says, "and we are finding that people not only really love the food but really appreciate the gift of having more time in their day to do other things."
Next year, Cunningham will add a new corporate option for Nourish meal delivery with a goal of helping businesses deliver chef-prepared, ready-to-heat-and-serve meals to employees at their workplaces. Employees will receive a discount on the meals, and they will be delivered to their places of business to take home and heat up for dinner.
After all, Cunningham says there's always time for great food. "And it's the time you spend while enjoying it and the conversations you have over it that really make it a meal," she says.
Nourish at Home, 10037 Manchester Road, Warson Woods, 314-835-9196, nourishathome.com