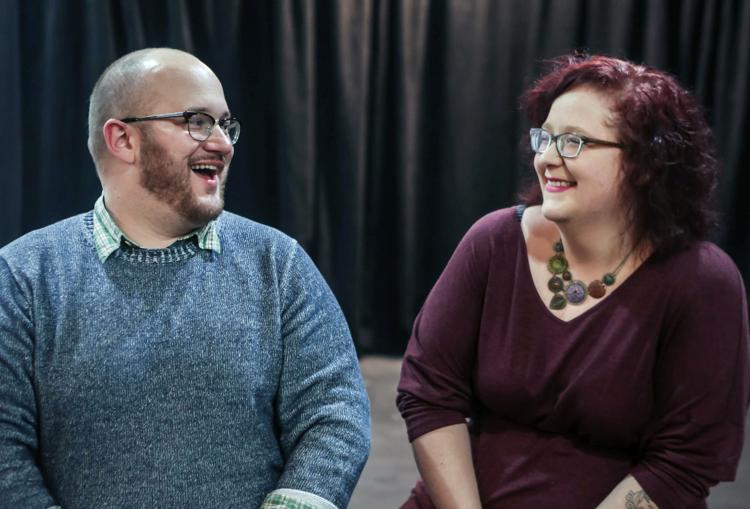 Roughly a month ago, a new theatrical troupe here hit the stage both figuratively and literally, as PRIME theater company presented The Transmigration Show in St. Louis' Southampton Presbyterian Church.
"The show went great!" relates PRIME managing director Kyle Kratky, who also served as showrunner for the Nov. 5 production. "We had a good-sized audience, and the plays were suitably weird, varied and magical."
Weird, varied and magical all seem apt adjectives to describe PRIME's debut production, whose conception and development Kratky credits to Andrea Standby, the company's artistic director. "Transmigration (or rebirth, or reincarnation) is the belief that the soul does not die with the body, but begins a new life in cyclic existence," explained preproduction PRIME promo material for The Transmigration Show. A subject for primo beach reading? Probably not.
"Standby saw an opportunity to explore a topic she personally found interesting in Transmigration, but the key really came when we realized that the form and function of this kind of show worked perfectly with the idea of two souls … reincarnated through many lifetimes," Kratky says. "Art works best when the thematic ideas can interact directly with the utilitarian side, when form and function align with our artistic ideas."
Those ideas and related ideals underlie PRIME's tagline, "The Home of the Now," he explains.
"For Standby and I, we are interested in removing pretension and artifice from theater where possible," Kratky says. "PRIME will initially produce a kind of pressure-cooked form of theater that will live in the present day, in the world we all live in now. … We are making theater for and of the present, and we are doing it with a strong sense of immediacy and urgency. This is the now."
In what sounds like an aspirin-by-the-handful logistical nightmare, that aesthetic informed The Transmigration Show, whose production imposed severe temporal restraints on seven playwrights, six directors and six casts.
Those grounded in the arts might remark on formal similarities between PRIME's debut and initiatives elsewhere, like influential cartoonist Scott McCloud's 24-hour comics, The 24 Hour Plays in New York and entrepreneur Mark Ruppert's 48 Hour Film Project.
"We call our approach a 24-hour new-play festival, because every show will ideally include more elements than just a performed series of plays – possibly visual art, spoken word, music or more," Kratky says.
"I have been producing and participating in shows produced in 24 hours for more than a decade in Chicago, St. Louis, Madison, [Wisconsin,] and beyond. This type of show has roots stretching back to the 1970s. Over the past two years, we've developed our own special sauce to flavor and bring texture to our style of show."
Kratky provided more detail on that two-year gestation by Standby and him.
"We wanted to create bold, eclectic, accessible theater for a large range of audiences, and we wanted to bring together a wide range of audiences in that process, including writers, performers, visual artists, musicians and more," he relates.
Kratky expounds at length on where he and Standby envision PRIME fitting into St. Louis' extant theatrical milieu – that is, how they believe their company and its productions will compare to other companies' work.
"Before we formed PRIME, we talked with local theater movers and shakers and found that we could create a kind of art not currently covered exclusively by any theater company here," he recollects. "We want future shows to be co-producing with other local theater companies. Ideally, we want to bring our unique, honed technique and process to other companies and work together to create original, dynamic plays together with local artists.
"PRIME is uniquely positioned because many of our artists are veterans of this kind of urgent theater. We have connections not only to the local community but also to artists all over the U.S. and the world.
"For our first show, The Transmigration Show, we had artists from Chicago, San Francisco, New York and Toronto in addition to local participants. For future shows, we are vetting artists from all over the world, including one living in Japan. We have a strong network of artists interested in producing impactful theater with bold stories for the stage."
Kratky understandably describes PRIME's form of producing theater as "fast-paced" and notes that that pace demands from participating artists "a state of action." He also expands on a mention in the company's introductory material of creating "raw, welcoming and unorthodox theater for all, encapsulating the ephemeral while encouraging community engagement."
"This is the central mission for PRIME," Kratky says. "Our brand of fast-paced production and peeling away the layers of artifice and pretension is designed to live in a raw state, but we will always balance that with creating stories that are accessible and welcoming for everyone, regardless of race, age or social status. We are honing and crafting our productions to focus on issues and themes impacting local communities."
Directly, Kratky continues that aesthetic reflection.
"For us, the very nature of theater is improvisation," he says. "We can plan for years and months, but theater is, to us, a living, organic form of art because it requires a live audience to participate. Their involvement necessarily changes the stories and how they are viewed.
"Now that the show has come and gone, we'll be spending the next few months to develop next year's shows and to perform a full analysis of how our process played out. There will undoubtedly be changes. PRIME will always be asking, 'How do we get closer to emotional honesty, to telling the truth with integrity and playfulness?'"
Intriguingly, in The Transmigration Show, Standby sought "to include local visual artists and to use their works of art as the visual inspiration for each play," Kratky says. He and Standby also sought to reinvent Southampton Presbyterian Church, the unconventional site of that unconventional first production, "to visually craft it into a living art installation, a kind of malleable canvas on which unique stories could be served," Kratky says.
"We procured a range of visual artists to submit work for this show," he adds. "Many artists created works expressly for this show, reflecting themes of death, rebirth, karma and destiny. Writers for the show were each assigned one artist whose submitted work served as a visual muse. The plays were written using these works of art as inspiration, as a kind of visual vocabulary."
Having successfully staged the company's debut, Kratky ultimately reflects briefly on PRIME's post-Transmigrational future, with regard to four productions foreseen for 2017 and other potential events involving the company.
"We can't reveal much yet, but it is safe to say that none of our shows will be the same," he notes. "Each festival will have different goals, themes and flavors. Each will have a unique process to blend with those variations. PRIME isn't interested in repetition.
"Expect the unexpected."
PRIME, 314-884-1647, facebook.com/primetheatrestl