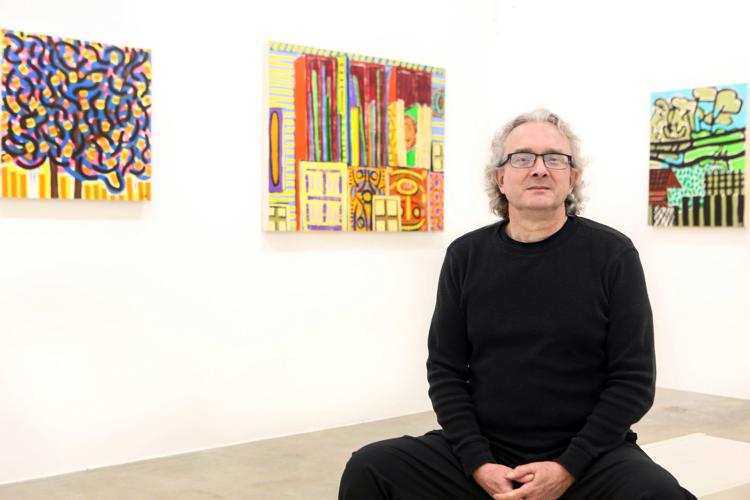 After 25 gallons of paint and a considerable quantity of elbow grease, Bruno David took a call last summer to his newly renovated namesake gallery in Grand Center, St. Louis' self-styled "arts and entertainment heart and soul" – and all of a sudden, everything went figuratively south and literally west.
Amid a splash of deceptively warm-looking late-afternoon winter sunshine, David – a gracious, graying man clad all in black – reminisces with calm about the chaos that prompted the Bruno David Gallery to relocate to 7513 Forsyth Blvd. in Clayton from 3721 Washington Blvd. in St. Louis proper.
"Back in July, I decided to renovate the gallery in Grand Center and make some changes – move some walls and so on – after being there for 11 years," he says. "And so, we did our renovation, and we finished on a Sunday. And on [that] Tuesday, I had a meeting with the landlord, and they informed me – that's two days after I'm done with five weeks of renovation – that the building needed to be condemned."
An engineering survey had revealed major damage to the back of the structure, David recalls, "and therefore, the building needed to be condemned. And I had x days to move everything out for safekeeping. And keep in mind, I was going to have this current show that you see here, that was supposed to be there."
David gestures toward the six exhibitions then constituting the opening of his gallery's 11th season: Sarah Harford's "Swing," Kahlil Irving's "Undocumented," Michael Jantzen's "Deconstructing My Chairs," Chris Kahler's "Metaphemeral," Van McElwee's "Travel Dreams" and Ann Wimsatt's "Not a Passive Journey."
With almost hilarious understatement, he nowadays characterizes the gallery's exodus from St. Louis to Clayton as "very stressful" and "difficult," before continuing regarding the damage and the condemnation, "I was very upset, but not with anybody, just about being informed of this.
"I had to pick myself up and say, 'OK, we need to pack everything.' And I had hundreds of [pieces of] art." At the same time, David relates, he scrambled to find a new location for the gallery.
"I mean, I could not be out of business for too long," David says. "And also, I had made a commitment with all these artists for the season. I had planned the whole season. So I had to push everybody by three months, all the way to June 2017."
Always, by reputation, a champion of artists young and old with widely divergent visions and interests, he momentarily digresses about their initial reaction, collectively, to the Washington Blvd. location's condemnation.
"At first, of course, they got worried for the gallery," David says. "It's hard to survive something like that. And running a gallery in St. Louis is a financial difficulty. It's not that easy to run a gallery here … It created more challenges for me, a bigger financial burden for the gallery.
"And so, of course, the artists were worried about that, the fact that I had to postpone exhibitions, and where are they going to show next and so on. But I had meetings with them, and I kept them very abreast of what was going on. And very, very fast, they realized that I was not going to quit, and I was going to get back on my feet and find a space and reopen the gallery and continue with the program."
He then details the search for the gallery's new location.
"Originally, I really looked for a place in Grand Center, because I love Grand Center," David says. "I wanted to stay in Grand Center. But it turned out there was nothing available, unfortunately. So I had to move. It was very sad for me because I was there for 11 years – pretty much one of the first [tenants there]. I had my roots there when I moved to St. Louis [from New York].
"It was unfortunate. I wish I had found something there, but there was just nothing."
The search proved necessarily speedy but extensive, he recounts.
"I went to see a lot of spaces, almost 20 spaces," David says. "And some of them were interesting but could not be ready until, y'know, a year – and obviously, that would not work. And I came across this space, which could be ready, become available, very fast, fortunately.
"I continued to see more spaces, but then I realized, this place was the place. The location is great, and I love being here. It worked out pretty good. The space is even bigger. I have a bigger backroom. So I'm pretty happy about it."
In a small, cheery synchronicity for art aficionados, the new location lies just a short stroll west of the St. Louis Artists' Guild & Galleries, at 12 N. Jackson Ave.
David estimates the new location's area, including the backroom, at 2,500 square feet and admits, with no observable recollection of past agonies, "It needed some work."
The greater square footage, he continues, also allowed him to innovate by adding a smaller, exterior-facing exhibition area at the front of the gallery, which he calls the Window on Forsyth. (Charmingly, David, who speaks with a continental accent, pronounces Forsyth like foresight.)
"Every couple months, I will have an artist installing a piece there," he relates. "It can be seen during the day or during the night. So that's an interesting concept for St. Louis, to be able to drive by and see some art."
David regards the Window on Forsyth not only as an extension of the gallery but also as an extension of art into the streetscape.
Almost inevitably, he returns philosophically to the topic of tribulation in general.
"People go through changing times, hard times, and they decide – what are we going to do with [tribulation]?" David says. "Is the hard time going to take over, or do you take over the hard time? So it's a state of mind. And we all face our challenges, every year or on a daily basis, all of us, and we decide what to do with it. Do we let difficulties take over?"
Understandably, he then dwells a bit on his own 2016 tribulation in specific.
"The timing, obviously, the timing was horrible," David concludes. "It couldn't have been worse. But you know, life is life, and you pick yourself up, and you keep going. There's no other way, unless you quit.
"But quitting is not acceptable."
Bruno David Gallery, 7513 Forsyth Blvd., Clayton, 314-696-2377, brunodavidgallery.com
Now Showing
The second group of free public exhibitions at the Bruno David Gallery's new location in Clayton opened slightly more than two weeks ago, on Jan. 12.
That group, which extends the gallery's 11th season, comprises exhibitions by a quartet of artists: Jill Downen's "Cornerstone," Damon Freed's "Landscapes," Sarah Harford's "Swing" once more and Leslie Laskey's "Duets."
The facility also will host a gallery talk with the artists at 4 p.m. on Sat., Feb. 11.
Art aficionados should note that this second group of exhibitions will run only roughly another month, before closing on Feb. 18.