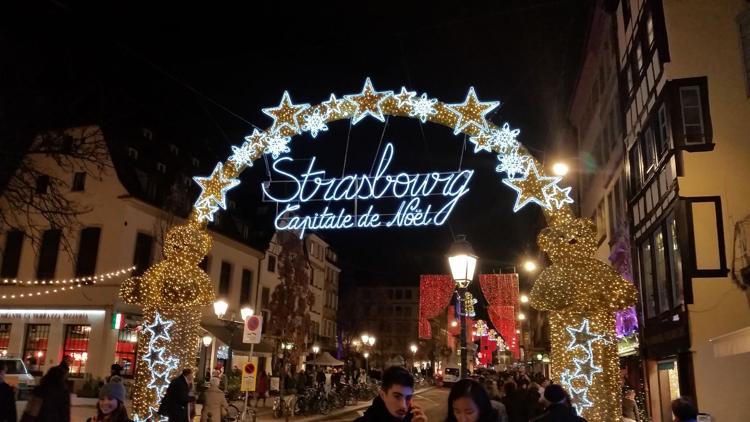 Call me a rebel, but I love leaving home at Christmastime and traveling to locales across the globe. Doing so constitutes a sociology lesson akin to a wedding – interesting to experience even if it's not your celebration. In Europe, Christmas markets are an old tradition, one I participated in last December. They've begun to spread to the U.S. – from New York City to Hermann – but to see them at their peak, take advantage of off-season fares to cross the Atlantic for an unforgettable holiday abroad.
Strasbourg, France
Strasbourg claims to be the oldest of the Christmas markets, dating back to 1570. It styles itself the "capital of Christmas," maybe because of nine distinct markets in various locations there, all within a reasonable distance of one another. An easy, hill-less city for strolling, it boasts lots of pedestrian streets and a quiet, efficient tram system.
If you're seeking major atmosphere, you've come to the right place. Decorative lights festoon the streets, musicians play nonclichéd tunes and the scent of mulled wine wafts across the crowds. It's a toss-up which is more interesting: shopping during the day, when the city's architecture can be admired, or at night, when the fairy-tale feeling richens.
The vendors in these markets work in chalets – rustic-looking wood booths with gingerbread cutouts decorating the eaves. What do they sell? Certainly the name and setting evoke visions of cunning wooden toys hand-carved by ancient grandfathers sitting beside wood-burning stoves, but most of what's on offer is mass-produced. You'll find detailed model cars, winter accessories, lotions and soaps, and Christmas decorations ranging from wee glass figurines to huge stars lit from within – popular exterior home decorations for the holiday. Roasted chestnuts can be found at the market near the Strasbourg Opera House, and scattered about are spots serving foie gras sandwiches.
Dusk into the evening might be the optimal time for the large market around Place de la Cathédrale. The magic is great then, with warm lights on the cathedral creating a backdrop to the chalets, the crowds and the Christmas decorations. Lots of restaurants and cafés lie nearby, some facing the square.
Daytime best suits another particularly charming place, the intimate neighborhood called Petite France, a United Nations World Heritage-listed historical area. Balconies on certain of the half-timbered buildings might have figures of the three kings – one of the two markets here is named for the trio – and a boutique hotel sports chic red-orange Christmas trees outside. The river Ill flows around and through the city and looks particularly nice from Petite France. noel.strasbourg.eu/en
Montreux, Switzerland
Although off the beaten path when it comes to Christmas markets, Montreux makes an exquisite winter setting, with snowy Alps above Lake Geneva's shore and belle époque buildings throughout town. At night, lights float near that shore, looking like multicolored jellyfish.
Its busy market stretches along the lakefront promenade. Although smaller than Strasbourg's markets, in many ways the offerings at Montreux's seem more diverse. Also, most of the shoppers seem to be Swiss rather than guests from across Europe and beyond.
Leather goods, large fire logs and jewelry appear alongside more-expected items. Food, too, varies and abounds even more, both for gifts – plank-smoked fish created in a chalet, for instance – and for eating on-site or to go. One entire pavilion, in fact, centers on chowhounds, offering specialties like sausage, sauerkraut, spätzle or rosti, a Swiss dish similar to a potato pancake. Pastries, confections and gorgeous glacé (or candied) fruits that look like jewels similarly abound. Surprisingly, not much Swiss chocolate – a staple found almost everywhere else one shops – retails there. montreuxnoel.com
As one of the best things about Christmas markets, visitors can set their own pace and take a break to sit and have coffee or wine, or to people-watch. Just wear warm, comfortable footwear, and prepare for a singular experience.  
Travel Tips:
Strasbourg
The easiest way to visit Strasbourg involves flying into Paris and changing planes, or taking a train into the city's heart.
The holiday season marks a very busy time there, with travelers from all over strolling and shopping. Weekends in particular make it hard to find a hotel room. Using Airbnb, I rented a small apartment about three blocks from the cathedral. Had it not been full, I would've stayed at Le Bouclier d'Or, a lovely place in the heart of the historic Petite France neighborhood. (1 Rue du Bouclier, 03 88 13 73 55, lebouclierdor.com/en)
Delicious food for breakfast, lunch and in-between meals can be found at Salon de The Grande Rue, as can over-the-top décor. The bright-red interior resembles the lining of a jewel box, and the pastry case looks irresistible. (80 Grand Rue, 03 88 32 12 70, salondethegrandrue.fr)
Traditional Alsatian food abounds in Strasbourg, like flammenkuche, a thin-crusted tart of cheese, onion and bacon. I also enjoyed a splendid meal at La Hache, a dark, modern bistro across from the Old Customs House that combines contemporary and traditional fare. (11 Rue de la Douane, 03 88 32 24 32, la-hache.com)
Beyond shopping, boat tours that show a different side of Strasbourg still operate this time of year, providing a change of pace. (batoramashop.com)
Montreux
You can easily fly into Geneva and take one of its trains, which run directly from the airport to Montreux, gliding along Lake Geneva.
I stayed with friends, but if you're not so lucky, the very desirable Fairmont le Hotel Montreux Palace overlooks the promenade by the lake. Some rooms even sport balconies. (Avenue Claude Nobs 2, 41 21 962 12 12, fairmont.com/montreux)
While Montreux citizens parler français, Switzerland's food, like its linguistic milieu, is influenced by French, German and Italian cuisine. In the city's center, La Rouvenaz leans Italian and features excellent seafood; given its popularity, try to reserve a table. (A small hotel also lies upstairs.) (Rue du Marche 1, rouvenaz.ch/en)
Shopped-out visitors can enjoy the Chateau de Chillon (about which the British poet Lord Byron wrote), a small-gauge railroad that scales the mountains, as well as a casino with ties to gonzo rocker Frank Zappa and the band Deep Purple. However, Freddy Mercury – who fronted the operatic rock band Queen until his untimely death and whose statue stands on the promenade – ranks as the local musical icon; Mercury loved Montreux, bought property and recorded his last album in the city.
Brunsli
Yields | 3 to 4 dozen cookies |
Brunsli is a chocolate-almond spiced cookie traditionally served around Christmas in Switzerland and found at many Swiss bakeries. Yield size will depend on size and shape of cutouts.
1½ cups unsalted almonds
1 cup sugar, more for preparing work surface
½ cup powdered sugar, plus more for garnish
6 oz chopped semisweet or bittersweet chocolate
1 tsp ground cinnamon
½ tsp ground cloves
2 large egg whites              
| Preparation | In a food processor, combine almonds and sugars until finely ground. Add chocolate to processor, and chop until fine. (Do not overprocess; chocolate will melt.) Add spices and egg whites, and mix by hand until dough comes together. Chill dough for about 30 minutes.
Preheat oven to 350°F, and prepare a baking sheet lined with parchment paper. On a surface covered with sugar, roll dough to about ½-inch thickness. Cut out cookies with a 2-inch cookie cutter (heart- or star-shaped), and transfer onto prepared pan. Put cookies in oven, and reduce temperature to 325ºF. Bake for 15 minutes or until firm. Be careful not to overbake, or cookies will harden too much. Garnish with a sprinkle of powdered sugar.