+3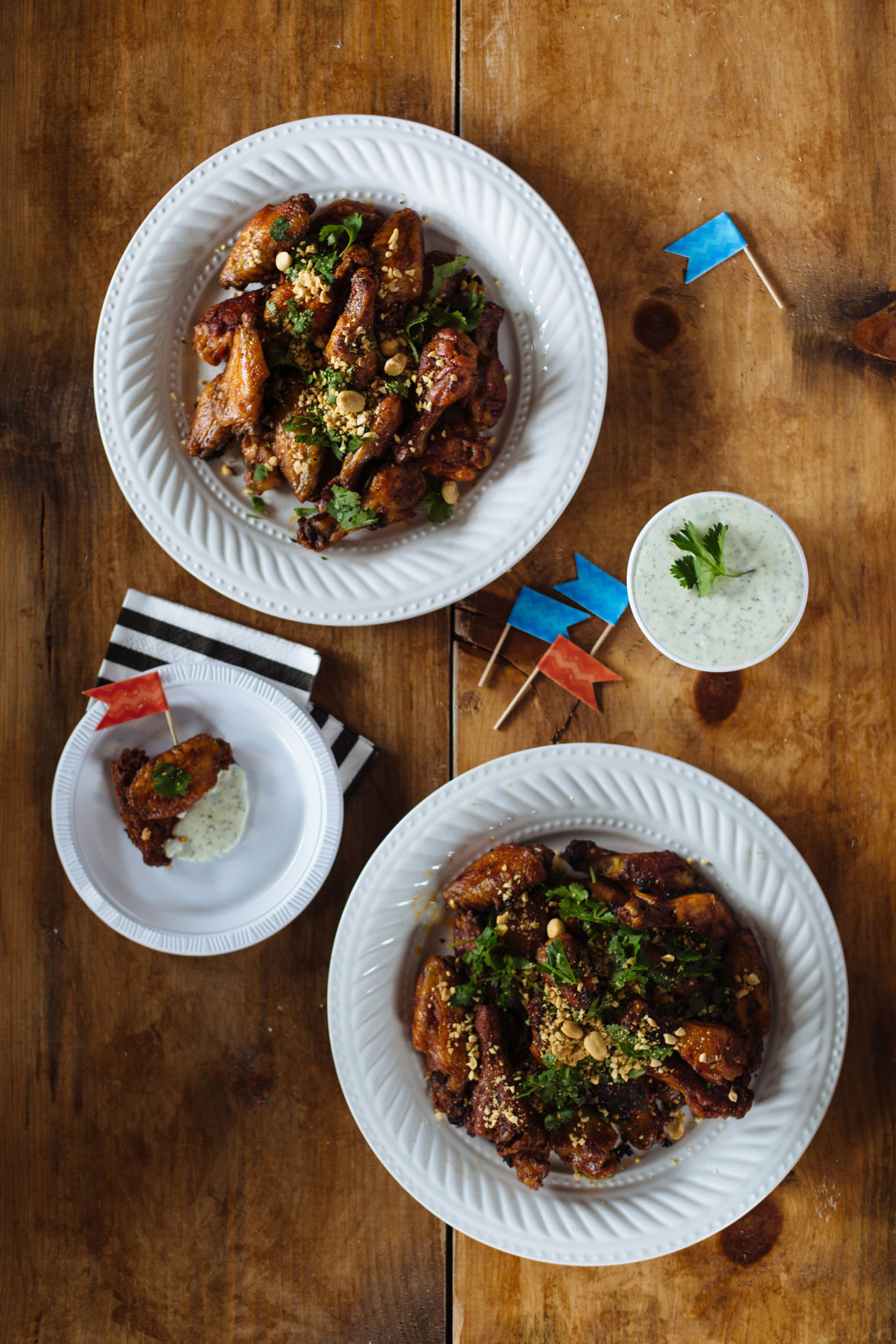 Football season is upon us, which means our families and friends are gathering together, donning team colors and huddling around large flat-screen TVs to cheer on our favorite teams.
This year, switch up your football fare. Upgrading doesn't have to mean fancy – simply begin with your favorites, and rethink them a bit. Buffalo wings can be a little tired; try wings smothered in a Korean hot sauce and scattered with peanuts. Never serve slow-cooker pulled pork again: Make a superior spice-rubbed version in your oven in the same amount of time. Reinvent your menu, and you'll be the MVP, no matter who wins the game.
Strategy is critical: Making this much food at one time requires a well-laid plan. A double oven makes things easier, but if you have a single oven, stagger your hot items. Better yet, bake your wings in the morning before throwing your pulled pork in, but leave the sauce off. Once the pork is out and resting, reheat the wings at 400°F for 15 to 20 minutes until hot, toss in the sauce and finish the bake time. Save the nacho bar for halftime: People love something new and piping hot on the table midgame. Close out the meal with sweet and fun ice-cream sandwich "footballs."
Gochujang Hot Wings With Coconut-Cilantro Dip – Serves | 8 to 10
Gochujang, a Korean hot sauce similar to but sweeter than Sriracha, is a perfectly unexpected choice for hot wings. You'll find it in any well-stocked grocery store.
Coconut-Cilantro Dip
1 Tbsp olive oil
3 Tbsp finely diced shallot
1 clove garlic, minced
2 tsp grated fresh ginger
2 Tbsp rice wine vinegar
1¼ cups Greek yogurt or sour cream
⅔ cup full-fat coconut milk
juice of 2 limes
1 bunch fresh cilantro, roughly chopped
Gochujang Hot Wings
6 lb chicken wings, separated, tips discarded
3 Tbsp olive oil
sea salt and freshly ground black pepper
½ cup gochujang
¼ cup soy sauce
3 Tbsp rice wine vinegar
2 Tbsp chile-garlic paste
2 Tbsp granulated sugar
1 tsp mustard powder
To Serve
¼ cup crushed peanuts
2 scallions, white and green parts, cut in thin rings
¼ cup roughly chopped fresh cilantro leaves
2 to 3 limes, sliced into wedges
| Preparation – Coconut-Cilantro Dip | In a medium skillet over medium-high heat, heat olive oil. Add shallot and cook until tender, 1 to 2 minutes. Add garlic and ginger, and cook until fragrant, 30 seconds. Remove from heat and stir in vinegar.
In the bowl of a food processor or blender, add yogurt and coconut milk. Add lime juice, cilantro and shallot mixture; blend until smooth and mixture is freckled with cilantro leaves. Transfer to jar and refrigerate at least 1 hour.
| Preparation – Gochujang Hot Wings | Preheat oven to 400°F.
Line 2 lipped baking sheets with heavy-duty aluminum foil, up and over sides. In a large bowl, add wing pieces and olive oil; toss until coated. Divide onto prepared pans, leaving space between pieces. Season generously with salt and pepper. Roast for 45 to 50 minutes until wings are browned and crispy.
While wings roast, in a medium bowl, combine remaining wing ingredients; whisk to blend. Set aside.
When wings are cooked through, remove from oven and toss in gochujang mixture until coated. Remove foil from baking sheets, and place wings back on hot pans, spreading out in a single layer. Place back in oven until sauce has heated and wings have begun to caramelize, about 8 minutes, watching carefully so wings don't burn.
| To Serve | Pile wings on a platter and garnish with peanuts, scallions and cilantro leaves; set lime wedges alongside. Serve with chilled coconut-cilantro dip.
Spice-Rubbed Oven Pulled Pork – Serves | 8 to 10
+3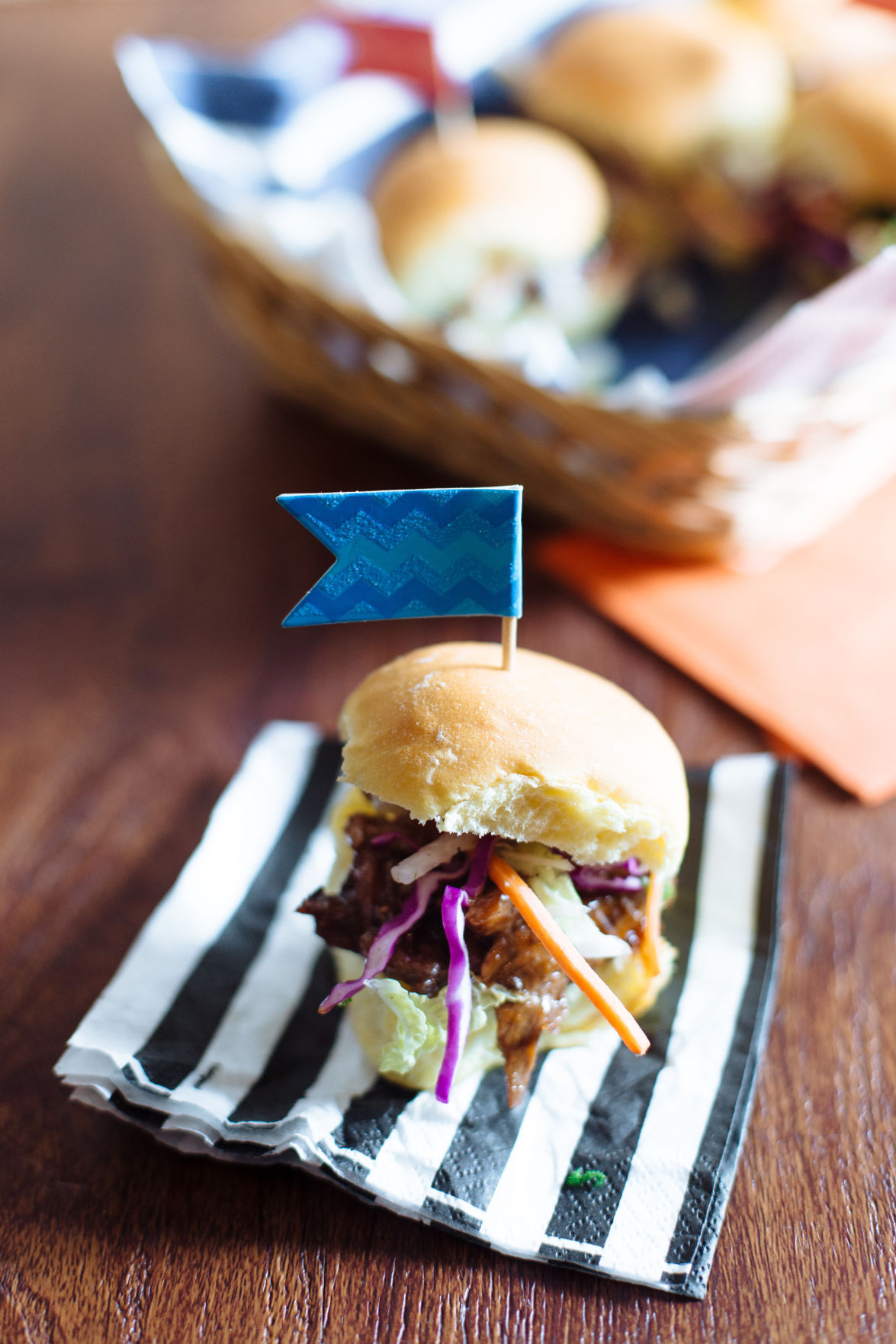 Having a little extra fat on the pork is especially nice if you're making this the day ahead and rewarming; it stays juicy and moist on its own, without the need to add extra liquid. Toasting the spices makes a huge difference in your flavor, too, so don't cheat and skip that step.
Spice Rub
2 tsp whole fennel seeds
2 tsp whole cumin seeds
1 tsp coriander seeds
6 juniper berries
4 allspice berries
1 Tbsp kosher salt
1 tsp freshly ground black pepper
2 tsp smoked Spanish-style paprika
2 tsp garlic powder
1 tsp chile powder
½ tsp ground ginger
¼ tsp cayenne pepper
Pulled Pork
5 to 6 lb bone-in pork shoulder,
excess fat trimmed as needed
spice rub (recipe above)
1 20-oz bottle barbecue sauce
1 package dollar rolls
| Preparation – Spice Rub |
In a cold stainless steel skillet over medium heat, add fennel, cumin and coriander seeds. Toast, flipping seeds frequently to prevent burning, until fragrant and toasted. Remove from heat and transfer to mortar and pestle. Add juniper and allspice berries, and crush with pestle until finely ground. Add remaining spices and stir until combined.
Set aside.
| Preparation – Pulled Pork | Preheat oven to 325°F.
Line a large lipped baking sheet with heavy-duty aluminum foil, up and over the sides. Set out pork shoulder for at least 30 to 45 minutes to take off chill. Using your hands, rub spice rub firmly into all sides of pork shoulder, and place fat-side up on prepared baking sheet. Cook for 3½ to 4 hours until meat is nicely browned and falls easily from bone when pulled. Remove from oven and cool for 30 to 40 minutes until easy to handle.
| To Serve | Shred pork from bone and transfer to slow cooker set on warm. Serve with barbecue sauce on dollar rolls.
+3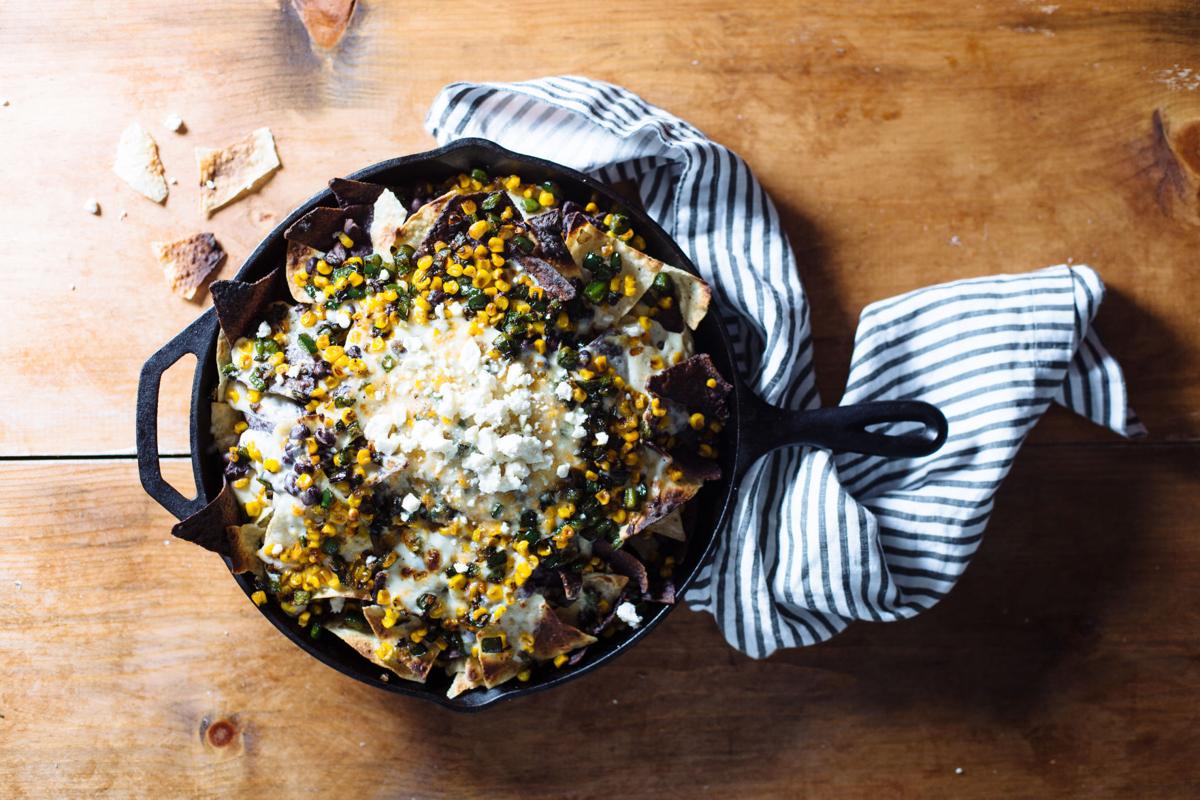 Halftime Loaded Skillet Nacho Bar – Serves | 4 to 6
They're called halftime nachos for a reason: They take mere minutes to make, and partygoers love something to munch on when they get up to stretch and refill drinks. These are vegetarian as written, but I advise the meat-lovers to throw some of the spice-rubbed oven pulled pork on these in lieu of or in addition to the beans before adding toppings.
Cheese Sauce
2¼ cups 2 percent milk
2 Tbsp unsalted butter
2 Tbsp all-purpose flour
4 oz shredded Monterey Jack cheese
4 oz shredded sharp white cheddar cheese
1 4-oz can Hatch green chiles, drained
Loaded Nachos
2 Tbsp olive oil
½ cup finely diced shallot
2 poblano peppers, stemmed, seeded, ¼-inch dice
1½ cups fresh or frozen corn (thawed if frozen)
sea salt and freshly ground black pepper
1 12- to 13-oz bag blue or mixed-color tortilla chips
1 15-oz can black beans, rinsed
1 to 2 oz shredded Monterey Jack cheese
To Serve
1 12-oz jar pickled jalapeño rings
16 oz sour cream
3 to 4 avocados, sliced
2 bunches fresh cilantro, roughly chopped
1 bunch scallions, cut in thin rings
8 oz crumbled queso fresco
| Preparation – Cheese Sauce | In a small saucepan, heat milk until steaming, stirring occasionally. Meanwhile, in a large saucepan over medium heat, melt butter; add flour and whisk until smooth and cooked, 3 to 4 minutes. As you whisk, slowly stream milk into flour mixture; raise heat to medium high, and continue to whisk until mixture is smooth and bubbling, and thickens slightly. Slowly add both cheeses, whisking as you do so, until smooth consistency forms. Decrease heat to low and stir in chiles; keep warm until ready to use.
| Preparation – Loaded Nachos | Preheat broiler and set a rack 8 inches from top of oven. In a large, heavy skillet set over medium-high heat, heat olive oil; add shallot and cook until softened, 1 to 2 minutes. Add peppers and corn, increase heat to high and cook for 8 to 10 minutes until vegetables are nicely charred in places. Remove from heat, season to taste with salt and pepper and keep warm.
In a 12-inch cast-iron skillet, spread out half of tortilla chips and top with half of black beans. Drizzle 1 cup cheese sauce over top, leaving a 1-inch border around edge of chips. Top with half of corn-pepper mixture, and drizzle another ½ cup cheese sauce. Repeat with another layer of chips, beans, cheese sauce and vegetables; finish with shredded Monterey Jack over top. Place in oven to broil for 10 minutes until cheese is bubbling, browned on top and heated through.
| To Serve | Place all ingredients in separate bowls and set up as a toppings bar. Serve nachos immediately straight out of cast-iron skillet alongside toppings.
+3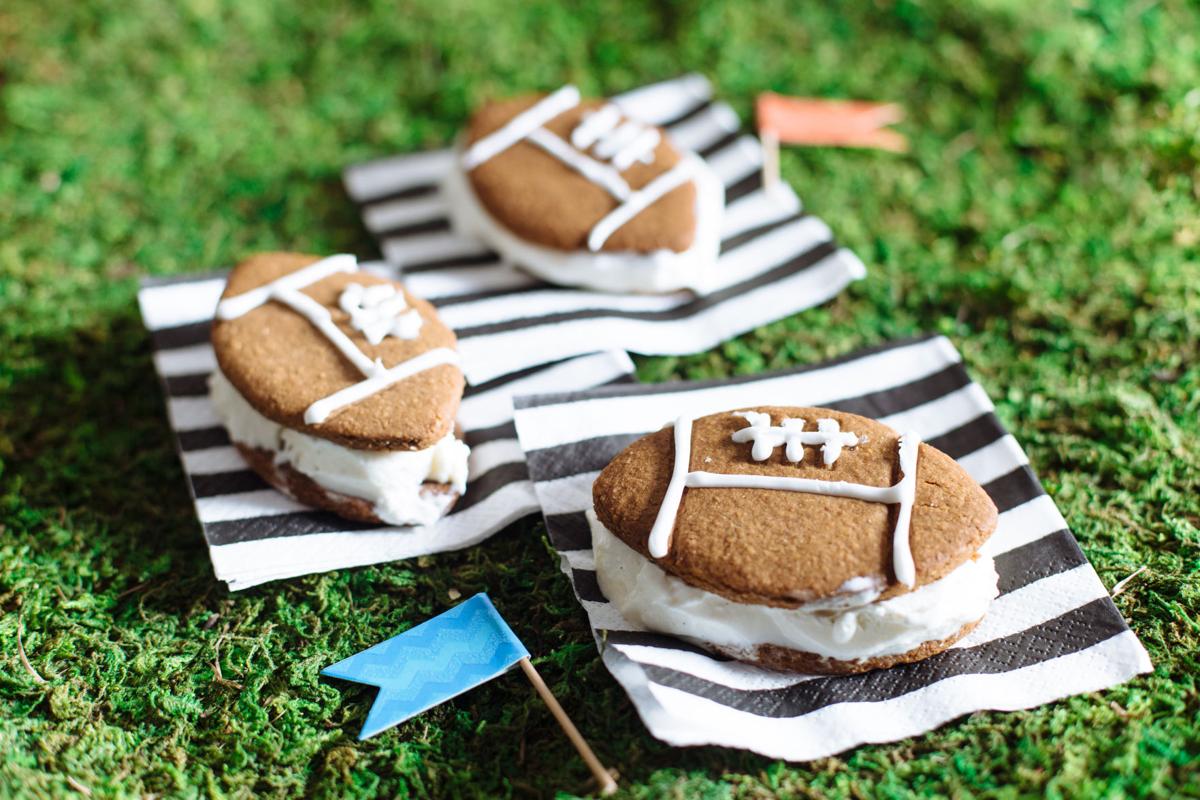 Homemade Graham Cracker Ice-Cream Sandwich "Footballs" – Yields | 16 to 20 sandwiches
These ice-cream sandwiches are a perfectly sweet end to any Super Bowl party. Make these with any ice-cream flavor you wish, or for a more indulgent treat, mix crushed chocolate candy into softened ice cream, refreeze and assemble.
Graham Crackers
1¾ cups unbleached all-purpose flour, more for dusting surface
1½ cups graham flour
1 tsp baking soda
½ tsp kosher salt
1 cup room-temperature unsalted butter
⅔ cup tightly packed brown sugar
3 Tbsp 2 percent milk
2 Tbsp honey
2 Tbsp molasses
½ tsp pure vanilla extract
Royal Icing
2 large egg whites
4 cups powdered sugar, plus more to thicken as needed
1 tsp pure vanilla extract
1 gallon vanilla bean ice cream (for assembly)
| Preparation – Graham Crackers | In a large mixing bowl, add both flours, baking soda and salt; whisk until combined and set aside. In bowl of a stand mixer on high, beat butter and sugar until light and fluffy, 7 minutes. Scrape down sides of bowl, and add milk, honey, molasses and vanilla, then beat until incorporated, 3 minutes, scraping down bowl as needed. Set mixer to low and add flour mixture to butter mixture in 2 parts; stir until just combined and mixture comes together. Release bowl from stand, and use a spatula to incorporate any dry patches. Transfer dough to counter, press together and shape into a 1-inch flat rectangle. Wrap tightly in plastic wrap, and refrigerate at least 4 hours.
Preheat oven to 350˚F, and line 2 rimless baking sheets with parchment paper. Remove dough from refrigerator, and set out on counter to soften slightly. Lightly dust work surface with flour, and roll out dough to ¼-inch thickness. Use an oval or football-shaped cookie cutter to cut out crackers, and set 1 inch apart on prepared sheets. Bake both sheets at once, rotating halfway through, for 15 to 17 minutes, until crackers take on a small amount of color around edges and bottom, being careful not to overbake. Remove and let cool on pans for 5 minutes, then transfer to a wire rack to cool completely.
| Preparation – Royal Icing | In a large bowl using an electric mixer, beat egg whites until foamy. Beat in powdered sugar 1 cup at a time, beating after each addition until incorporated. Stir in vanilla until combined, and check consistency: Icing should be smooth but solid enough to hold its shape when piped. Add more powdered sugar as needed to thicken, or use a little water to thin out until desired consistency is reached. Add icing to a piping bag with a rounded tip, and decorate half of crackers with lacing, then trim to resemble footballs.
| Assembly | Place cooled cookies on work surface, and remove ice cream from freezer. Using a small (1-ounce) ice-cream scoop, scoop 2 balls of ice cream onto an undecorated graham cracker, 1 right next to the other. Press a decorated cracker on top of the ice cream, firmly from center, until ice cream reaches edge of crackers. Use an offset spatula to smooth around perimeter so ice cream is even. Place all in a large, airtight container, and store in freezer immediately after assembling until ready to serve; if needed, layer between sheets of parchment paper to protect decoration. Remove from freezer and serve immediately when ready.