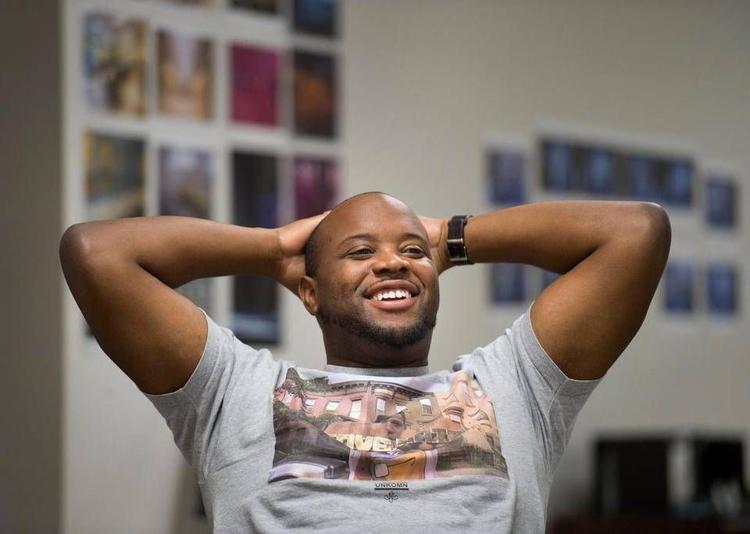 "Float like a butterfly. Sting like a bee." Before he became a heavyweight boxing champion named Muhammad Ali and uttered those famous words, he was Cassius Clay Jr., enduring a racially segregated childhood in Louisville, Kentucky. The powerful and poignant story of how this larger-than-life figure became an iconic sports hero and humanitarian is told through playwright Idris Goodwin's production, And in This Corner… Cassius Clay, presented by Metro Theater Co. through Feb. 28 at the Missouri History Museum's Lee Auditorium.
Brimming with raw emotion, the play – directed by Metro Theater Co. artistic director Julia Flood – follows the Olympic gold-medal journey of Clay (played by Trigney Morgan of Chicago), aided by his boxing coach and white police officer, Joe Martin (played by David Wassilak of St. Louis). But after returning home amid the civil rights movement, "The Greatest" discovers even international success can't snuff out segregation.
The production pulses with nonstop action, and the cast learned to box (and act like they're boxing) under the direction of fight choreographer Drew Fracher, who has 30 years of experience staging fights for more than 250 professional productions on and off Broadway.
Goodwin, a Chicago native, teaches performance writing and hip hop aesthetics at Colorado College. An award-winning playwright who also has penned Remix 38 (Actors Theatre of Louisville), Bars and Measures (B Street Theatre in Sacramento, California) and The Raid (Jackalope Theatre in Chicago). He recently shared with LN more about And in This Corner… Cassius Clay, which offers supplementary discussion and programs to elicit change once attendees leave the world Goodwin creates in the theater.
What inspired you to write this play?
StageOne Family Theatre in Louisville – Clay/Ali's hometown – wanted to create a piece based on Clay/Ali when he was an average kid growing up in Louisville at the start of the civil rights movement. As a boxing fan, a Clay/Ali fan and a fan of writing for young audiences, it was a match made in heaven. I joked that I would have paid them to let me write it.
Describe the play's premise.
It's a coming-of-age story about an African-American boy from a racially segregated community who discovered his passion for boxing could have impact in ways he couldn't imagine.
What are some of the production's most powerful scenes and themes?
Everybody is going to see and respond differently depending on who they are and what they're coming into the theater with. I tried to pack as much action as I could into an hour. The play is fast-paced like Clay/Ali [was] in the ring. This play floats and stings for sure – inside and outside the ring. It has boxing, prayer, rage, laughs and harsh truth.
What questions does the play tackle?
The biggest question is: "What remains?" That's always on my mind when I work on any historically based drama. Also, everybody has something that makes them powerful: knowledge, wit, physical strength, beauty, wealth, talent… So the question is: How do they apply it? Do they use it to build or destroy, empower or oppress? This is a play about an ordinary person who discovers his potential for greatness and wrestles with how he utilizes it.
What discussions do you think the play will spark?
That's why I write plays – to spark conversations that I haven't yet heard. I want to know what folks will make of it – what associations they will make. As long as there is some discussion, then we have done our jobs. If folks walk out ambivalent, then we did something wrong.
What will people take from the show?
Clay/Ali was a real-life hero, but he was humble and completely devoted to justice and equality. He also was willing to stand up, be vocal and use his platform to affect change. This is why he is so iconic. He has inspired me my whole life. Before I knew I wanted to be an artist, before I had any racial awareness, when I was just a snot-nosed, ashy-kneed kid, I knew he was someone to admire. I hope that folks will be inspired to discover how their stations in life can be platforms for affecting positive changes toward a more equitable and empowering nation.
Metro Theater Co. | 3311 Washington Ave. | 314-932-7414 | metroplays.org
Missouri History Museum | 5700 Lindell Blvd. | 314-746-4599 | mohistory.org
The Cassius Project
In post-Ferguson St. Louis, And in This Corner…Cassius Clay is sparking conversation beyond the stage.
Following each performance, audience members can participate in a discussion on equity and making a difference in St. Louis.
To further facilitate this discussion, Metro Theater Co., in partnership with educators, civic leaders and local organizations, created The Cassius Project – community programs, classroom curriculum, wraparound tools and resources aimed at educating and empowering audiences, especially the youth, to become involved in making St. Louis a stronger community.
When: Through Feb. 28
Where: Missouri History Museum's Lee Auditorium
Cost: $12 to $18
Tickets and information: cassiusproject.com; Metro Theater Box Office, 314-932-7414