There are jungles, farms and seascapes inside Christa Gleich's studio, colorful worlds of her own creation contained in frames. To craft each scene, she tears strips of bright paper and arranges them into friendly monsters, as well as whales, lighthouses and boats. Her process is thoughtful, yet straightforward: It's simply torn.
It's no coincidence that Simply Torn Art + Design is also the name of her one-woman business. She sells custom event invitations and stationery. In a world that's increasingly digital, Gleich has found a market of customers who appreciate art on the printed page.
"People said books would die, and they're still alive and well," she says. "This work makes me appreciate paper even more, and I love that I can share that with my clients."
Gleich has always had a captive audience for her art, from her mother (who found her drawing on the walls at the age of 3, when she was supposed to be napping) to her classmates at Springfield's Missouri State University, where she studied graphic design. Although she focused on layouts, it was in college that she first experimented with the torn technique for a project.
"My mom always jokes that she can't draw a straight line, and I can't either, and that's why I do this illustration type," she says. "It's so forgiving."
The torn technique, she says, reminds people that perfection is not the most important quality in any piece of art or, for that matter, in any person. Beauty can be found in imperfections. It's with that philosophy in mind that, while she was working full time at a print shop, Gleich experimented with creating prints featuring rocket ships, animals and dancers – cards and prints meant to appeal to both parents and children, and all "children at heart." Her mother later suggested she try wedding invitations, which Gleich says she was skeptical about. But she enjoyed creating them at the print shop and collaborating with clients on their color palettes and visions for their big days. She found a market for her designs, both through her website and at craft shows, and decided to make her side hustle her full-time gig in May.
"It's always a risk setting off full time, which is why I did it on the side to see what the market was like," she says. "And I built up more and more clients being repeat customers. Customers come to me when they're getting married and then return when they're expecting, so I follow their life journeys with them."
Since going full time, Gleich says she's transitioned primarily to doing event invitations and wedding suites, and has acquired many customers through word-of-mouth referrals. The invitations are entirely custom, and Gleich sits down with her clients to ensure a collaborative process. As part of her offerings, Gleich designs custom stationery, including save-the-dates, event and wedding invitations, day-of pieces and even thank-you cards for her clients. Depending on each couple's deadline, the design process can take anywhere from a few weeks to a little over a month. She currently meets with clients at her store on Big Bend Boulevard in Shrewsbury, though she says she is looking for another location to expand her growing business. Her products are also available online.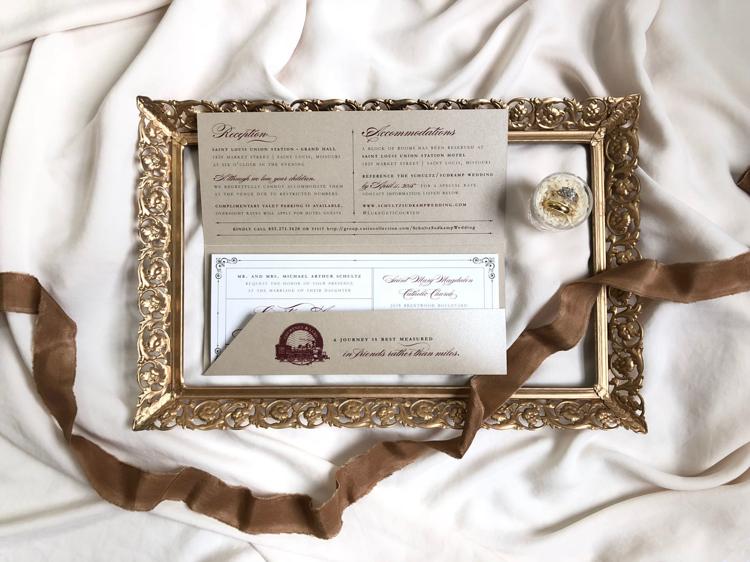 "The wedding invitations and save-the-dates are the first things guests see," she says. "I got married almost a year ago – I went through that whole process – so I love that I can be part of people's big days."
She's also found support in the small-business community in St. Louis and has found that other small-business wedding vendors, from photographers to cake decorators, have used her in their referrals, and she has reciprocated.
"St. Louis is such a great place to be as a small business," she said. "People always joke about asking, 'Where did you go to high school?' But I love that we all feel connected and networked in that way. I've been so happy to grow my business here."
Simply Torn Art + Design, 7616 S. Big Bend Blvd., 2nd Floor, Shrewsbury, 314-471-4842, simplytornart.com