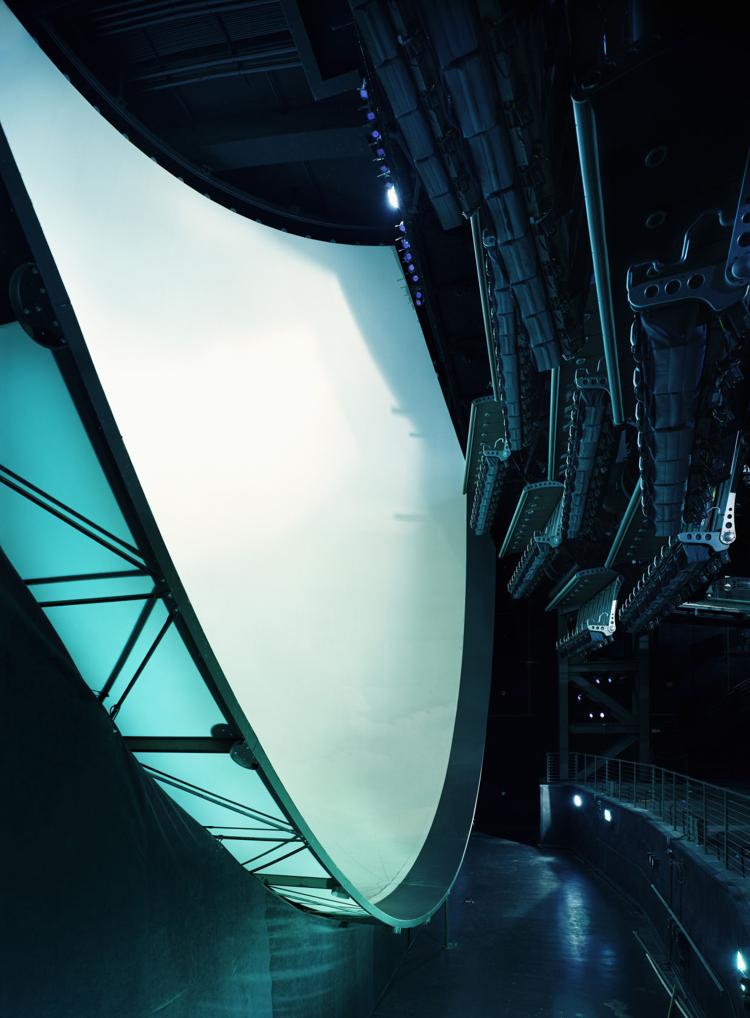 "The street finds its own uses for things."
More than three quarters of the way into "Burning Chrome" – the prescient 1982 short story by William Gibson, the grudging godfather of contemporary cyber-blather – the narrator makes that observation, which seems spookily relevant to an exhibition now on display at the Saint Louis Art Museum.
"Thomas Struth: Nature & Politics," the ticketed exhibition in question, opened Nov. 5 under the oversight of Eric Lutz, associate curator of prints, drawings and photographs, with Hannah Klemm, assistant curator of modern and contemporary art. It runs till Jan. 21 and strongly suggests that humanity itself may number among the "things" for which the street finds uses.
Struth, born in Germany in 1954, previously focused his artistic attentions – as well as a camera that allows the production of photographs more than 12 feet wide – on such subjects as streets, skyscrapers and, amusingly in this context, museums.
The present exhibition, notes a museum press release, focuses on "spaces which are not accessible to most people, such as aeronautical centers, robotics laboratories, surgical suites and nuclear fusion facilities," and derives from photo shoots in Asia, Europe, the Middle East and the U.S. (the last almost necessarily, in that Struth divides his time between Berlin and New York).
Lutz gamely discusses the exhibition, with one understandable proviso: "I don't want to cross the line too far in over-interpreting Struth's own images – especially because I think that he's deliberately building in a lot of ambiguity to them and letting them be points of discussion rather than making specific statements."
That said, the glorious jumble of one of the gallery exhibition's pieces – Stellarator Wendelstein 7-X Detail, Max Planck IPP, Greifswald, from 2009 – might tempt museum visitors to wonder whether Struth is arguing in his work that humanity's cultivating a new landscape or merely creating an upscale landfill. The piece calls to mind the interior of a manufacturer of some sort after a seismic disaster.
"I think the important thing here is that Struth's working in the present or near-to-present moment, where things are in flux – where we literally don't know if a big scientific experiment into which we've poured tens of millions of dollars will actually work," Lutz says.
Visually more sedate works like Mountain, Anaheim and Aquarium, Atlanta, Georgia, both from 2013, seemingly grapple with distinctions between authenticity and something like inauthenticity – para-authenticity, perhaps. The first involves a Disneyland attraction; the second, the Georgia Aquarium, one of the world's largest aquatic institutions.
"Both of these images do explore our relationship to nature – how it's so mediated these days and the extent to which we'd go to re-create nature for entertainment," Lutz says. "The technical requirements of maintaining the reef in the Atlanta aquarium are mind-boggling."
Otherwise, Struth's robocentric piece Golems Playground, Georgia Tech, Atlanta, also from 2013, references a Jewish folkloric entity whose existence depended on a single Hebraic letter, in a heavyweight distinction (in some accounts, anyway) between the words emet ("truth") and met ("death"). Lutz briefly mulls whether that title might have originated by accident or by design on Struth's part.
"I'm not sure I can say how accidental or purposeful the name Golems Playground might have been – I think the scientists who work there and named the space deserve some credit," he says. "But like so many of the images in the show, once you dig deeper, you discover these layers of meaning that are quite purposeful. So much of the show is about this notion of giving visual expression to creative ideas that are coming into physical being, so the name Golems Playground fits into that rather perfectly.
"There are other places in the exhibition where Struth directly confronts the engagement of the human body with technology – whether it's medical science and those undergoing surgery, or an ancient bronze sculpture that seems to be under attack by a huge particle accelerator, or even machines in laboratories that seem to evoke, in an anthropomorphic way, Frankenstein in some sense.
"Like Mary Shelley's Frankenstein, Struth would seem to be asking, 'What is technology being used for? When do we know if it's gone awry?'"
Finally, visitors to the museum might puzzle over whether Struth's 2010 Hot Rolling Mill, Thyssenkrupp Steel, Duisburg spotlights the Second Industrial Revolution
at a time when some prognosticators are celebrating (!) the fifth – and to ponder
how much his work in the exhibition spurns distinctions like that.
"I see Hot Rolling Mill in some ways as a nod back to Struth's teachers, Bernd and Hilla Becher, and their own focus in the 1970s on documenting a vanishing part of Germany's industrial past," Lutz says. "And in contrast to the shimmering complexity of many of Struth's recent subjects, this one points to a technology that we can all relate to – something straightforward and durable, making steel.
"But unlike earlier depictions of steel plants by folks like [American painter and commercial photographer] Charles Sheeler or [German photographer Albert] Renger-Patzsch, which were rather heroizing, Struth's image feels a bit dark and worn, with an underlying sense of unease – like an inferno."
Saint Louis Art Museum, One Fine Arts Drive, Saint Louis, 314-721-0072, slam.org