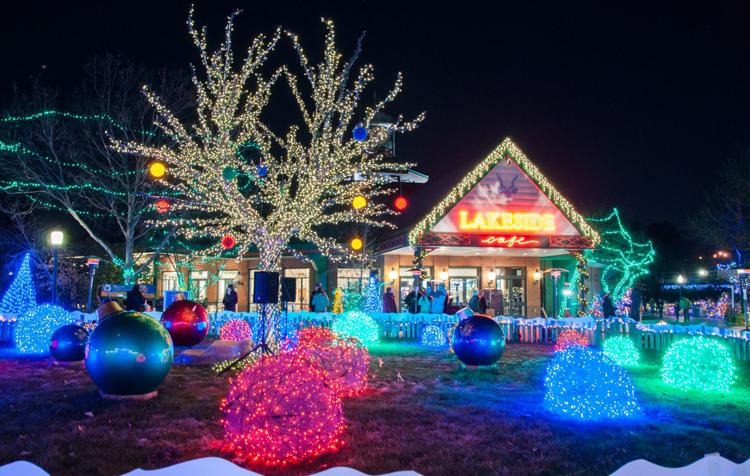 Each year, decade after decade, terra firma and the firmament have embraced joyfully throughout the metro area in exquisite holiday lighting – and 2017 constitutes no exception, with manifold displays of the confluence of stellar and earthly already delighting visitors.
Among such displays, one of the area's most reliable locales for getting lit remains equally reliable, at the holidays, for seeing the light: Anheuser-Busch's downtown St. Louis brewery.
Although some St. Louisans still feel less than star-struck by Stella Artois, even the most hardhearted anti-Belgians likely continue to revere the display at the magisterial landmark, which will blaze till Dec. 30.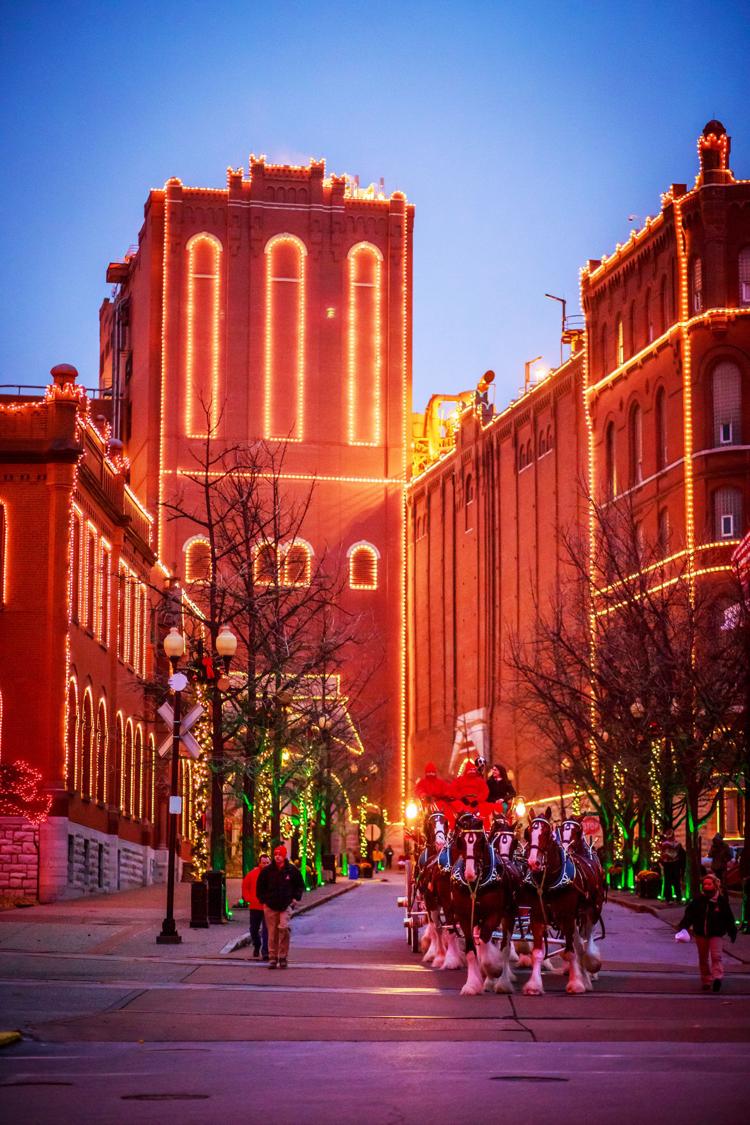 The Pestalozzi Street monolith is offering complimentary all-ages tours from 5 to 10 p.m. Thursday through Sunday, except on Christmas Eve and Christmas proper. Also, a wristband for a quintet of 5-ounce zymurgic treats will go to each tour guest of legal drinking age.
Beyond the tours, the brewery's offering an ice rink, a s'mores station, a buffet in the Biergarten, children's games on its patio, fire pit fun and three special packages. Some of those extra offerings carry a price tag, it bears noting; interested parties should call 314-577-2626.
More than half a million lights brighten another local landmark: the Saint Louis Zoo, near the city's western edge, in famed Forest Park.
Its display also includes illuminated animal fixtures – big surprise, in context – and other attractions and technically bears the title U.S. Bank Wild Lights, reportedly named one of the nation's top three zoo light displays by USA Today.
Like the brewery's display, the zoo's shines till Dec. 30, albeit from 5:30 to 8:30 p.m. every day of the week. Also, unlike the brewery's, this display involves a ticket price that varies in diverse ways. Here, interested parties should call 314-781-0900.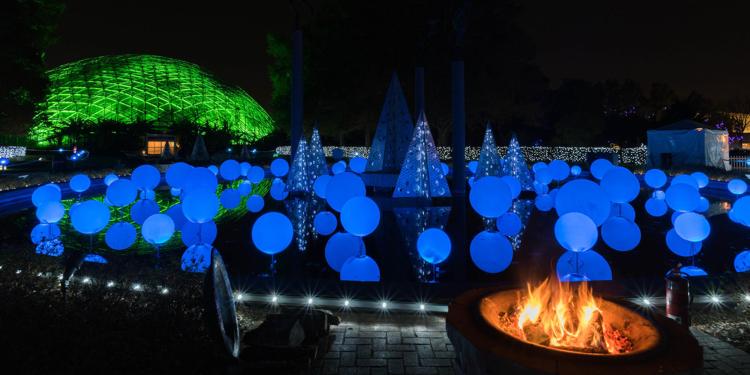 A third local landmark, the Missouri Botanical Garden, more or less at the center of the municipality of St. Louis, is tempting sidereal enthusiasts with an outdoor walk exceeding a mile and offering them the opportunity to go totally Copernican in its glorious Garden Glow.
That annual event runs daily from 5 to 10 p.m. through New Year's Day, and the garden's website helpfully suggests, "Mondays and Tuesdays are ideal for those hoping to avoid larger crowds." Ticket prices vary, by the way; interested parties should call 314-678-7442.
The garden's website also promotes the comforts and cuisine of its own Sassafras Café and Café Flora to visitors to the Garden Glow, which it similarly positions as an ideal romantic location for matrimonial proposals. The garden likewise offers special proposal packages for $175 to $250.
No exploration of local seasonal displays of luminosity could qualify as complete, of course, without a mention of Winter Wonderland in Ladue's own Tilles Park.
That stellar celebration – the website for which reads, "Celebrating 32 Years of Holiday Memory Making" – will twinkle till Dec. 30 (except on Christmas Eve).
Vehicular traffic and ticketed, advance-reservation carriage rides through Winter Wonderland run Sunday through Friday from 5:30 to 9:30 p.m. Saturday, it bears noting, remains reserved solely for carriage rides.
The price of admission, paid at the exit, varies according to the type of vehicle involved – whether a family auto, a limo, a commercial transport van or a tour bus – and the park accepts no credit or debit cards.
Otherwise, holiday light-lovers willing to travel just a trifle have three splendid options.
The first of those options, the National Shrine of Our Lady of the Snows in Belleville, Illinois, has been displaying holiday lighting since 1970.
Its display this year runs through Dec. 31 – although the shrine understandably closes Christmas Eve and Christmas proper – from 5 to 9 p.m. Monday through Thursday and from 5 to 10 p.m. Friday through Sunday.
Although admission to the shrine's display costs nothing, its website gently suggests, "Donations are accepted to help us continue bringing this family tradition to our community each year."
The website also notes, "Tuesday is a fabulous night to visit the Way of Lights to avoid large crowds and enjoy discounts on activities such as camel rides!" Self-evidently, certain attractions, like the camel rides, aren't free.
Candlelight Stroll of Faust Historic Village, the second of the "travel a trifle" options, takes place in Chesterfield's Faust Park on Friday, Dec. 8, from 6 to 9 p.m. and the next day from 5 to 9 p.m.
"Explore the customs of holidays of the past on this self-guided stroll through the festively adorned rooms with historically dressed docents in attendance," urges the display's website.
Admission prices vary, payable in cash at the gate, although the website notes that potential visitors can indeed use credit cards in advance by calling 314-615-8328 or visiting the St. Louis County Parks & Recreation website.
The third and final of the "travel a trifle" options, Holiday in the Park at Six Flags St. Louis, takes radiant revelers to Eureka. That event runs through New Year's Day.
Beyond its customary rides, edibles and family entertainment, Six Flags' website notes it "will be transformed into a winter wonderland with thousands of colorful lights, carolers performing classic yuletide favorites, personalized meet-and-greets with Santa and his helpers, and everyone's favorite Looney Tunes characters."
To further tempt potential visitors, the website cites "hot chocolate, cider, custom fudge, holiday-inspired funnel cake flavors and many other traditional favorites."
Dates, times and admission prices vary; potential visitors should contact Six Flags.
Ironically, just a year before the local Six Flags' 1971 opening, musical legend Joni Mitchell composed a song about revisiting paradise that the rock supergroup Crosby, Stills, Nash & Young then transformed into an anthem, a song titled "Woodstock."
"We are stardust," the chorus to that anthem assures listeners. "We are golden." Golden, yes – as well as argent and scarlet and cobalt and a host of other heavenly hues, now twinkling merrily throughout the metro area.
• Anheuser-Busch Cos. LLC, 1200 Lynch St., St. Louis, 314-577-2626, brewerylights.com
• Faust Historic Village, 15185 Olive Blvd., Chesterfield, 314-615-8328, stlouisco.com/parksandrecreation
• Missouri Botanical Garden, 4344 Shaw Blvd., St. Louis, 314-678-7442, missouribotanicalgarden.org
• National Shrine of Our Lady of the Snows, 442 S. De Mazenod Drive, Belleville, 618-397-6700, snows.org
• Saint Louis Zoo, One Government Drive, St. Louis, 314-646-4771, stlzoo.org
• Six Flags St. Louis, P.O. Box 60, 4900 Six Flags Road, Eureka, 636-938-5300, sixflags.com/stlouis
• Tilles Park, 9551 Litzsinger Road, St. Louis, 314-615-8371, stlouisco.com/parksandrecreation