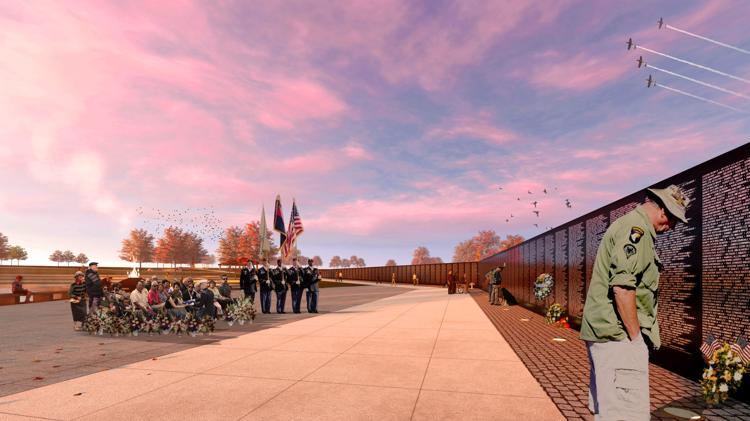 It tends to attract attention when a prominent artist starts characterizing an upcoming project as potentially definitive from a creative standpoint – and Harry Weber has been doing exactly that regarding his contribution to Missouri's National Veterans Memorial in Perryville.
Weber – a St. Louis native who served a six-year tour of duty in the U.S. Navy during the Vietnam War and who nowadays works as an esteemed sculptor from the piquantly named Bronze Fox Studio in Wright City, 40 or so miles west of Ladue – sketches the circumstances surrounding his still-inchoate involvement with the memorial, whose overall grand opening took place May 25.
"By way of introduction to Missouri's National Veterans Memorial, I was contacted by a colleague, Kevin Hale, with whom I've worked on other projects, here and in Tennessee," he says. "He is a granite specialist and is doing a full-size replication of [Washington, D.C.'s Vietnam Veterans Memorial Wall], along with many illustrated granite monuments at the site."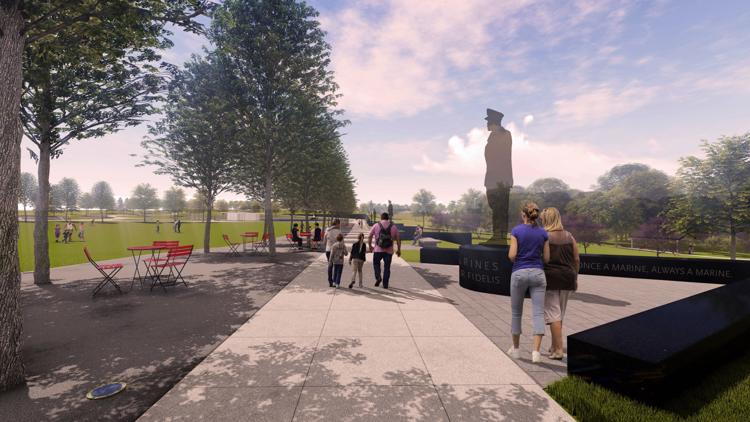 Weber, perforce, has visited that site. He expresses amazement at the projected memorial's scope, vision and location, "appropriately in the middle of the United States. It's a beautiful site, and when they described what they wanted from me, I felt it could be the definitive work of my career."
Perryville lies roughly 85 miles southeast of Ladue on Interstate 55 and, among other tourist attractions, boasts three sites on the National Register of Historic Places, one of them founded by St. Louis' Bishop Joseph Rosati, in a pastoral setting.
Like Weber, Perryville Mayor Ken Baer expresses enthusiasm for the memorial, stating that his city "has a long history of holding our veterans in high regard. Without their sacrifice, the world would be a very different place. It's an honor for Perryville to play a small part in thanking our veterans and recognizing the depths of their sacrifices. We're very proud to be home to the [memorial]."
Baer continues by expressing the hope that the new memorial becomes "the pre-eminent tribute where liberty is celebrated, veterans and families
are recognized, and all find a sense of peace. It's this celebration of liberty that will separate this memorial from many others throughout the country."
Nancy Guth, the memorial's executive director, details what inspired the Perryville project.
"Missouri's National Veterans Memorial began as the vision of several local veterans and citizens who wanted to honor and respect their fellow brothers and sisters in arms," she says. "This dream began to be realized with the help of one of our founding donors, Jim Eddleman, a Vietnam veteran who fought valiantly in the Tet offensive.
"Jim promised himself that if he made it home from Vietnam, he'd one day do something to honor his comrades and others who've served in uniform. After talking with friends and fellow veterans, he decided that Missouri's National Veterans Memorial would be his way of providing a lasting tribute to America's veterans.
"In addition to a significant monetary donation, he gave 46 acres of property that has been in his family for three generations to serve as the location for the site. He hopes that his story will be an inspiration for others to support the memorial."
Guth also recalls Weber's introduction to the memorial, noting that once the sculptor visited the site, "he was overwhelmed and wanted to support the project in the best way he knew how – through his art. He appreciated that Missouri's National Veterans Memorial went beyond a single war memorial with the mission, vision and concept. Upon securing the necessary funding, Harry has promised to create sculptures for the memorial and show his support."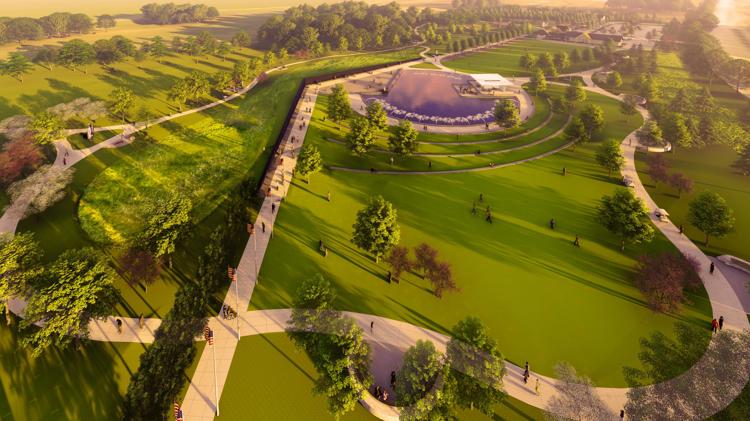 Referencing the St. Louis/Kansas City firm of SWT Design, the memorial's landscape architects, Weber expands on his own anticipated participation: "SWT architects have included at least six heroic sculptures in their design for Missouri's National Veterans Memorial – one representing the sacrifice of veterans near the park entrance and five lining the long walk to the Vietnam wall. These five would be designed to honor each branch of the service.
"While it hasn't been decided exactly how these will be portrayed, my first impulse is to represent the various services in different historical eras – the Navy in the Revolutionary War, the Army might be in World War I, the Marines in World War II and so forth."
That should delight admirers of the earlier works of Weber, who holds a degree in English and art history from New Jersey's distinguished Princeton University.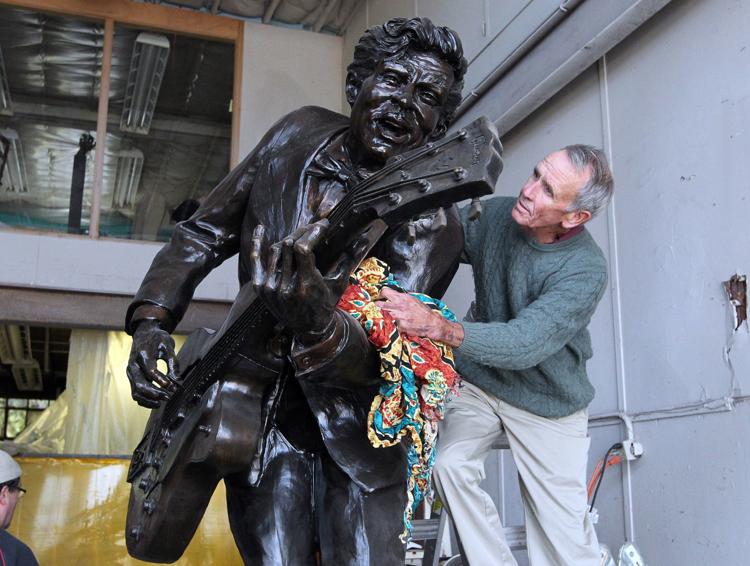 As a sculptor, over time, Weber has enjoyed considerable acclaim in the metro area, in the state and throughout the nation. His depiction of civil rights icons Dred and Harriet Scott looms large at the Old Courthouse in downtown St. Louis, for instance, and his tribute to rock 'n' roller Chuck Berry strikes an eternal chord on Delmar Boulevard in University City.
In sculpting athletes, though, Weber arguably has shone most brightly, with works of his gracing 12 pro and amateur sports stadiums nationwide. The 10 figures in the Plaza of Champions in St. Louis' Busch Stadium, for example, display a whipcord vigor and sculptural dynamism bordering on breathtaking – even those figures' clothing wrinkles slash like lightning.
"Many veterans carry the weight of their experiences alone," the Perryville memorial's website states. "This memorial will give them the opportunity to share their stories, connect with others and help us educate future generations on the difficulties they faced."
Perhaps reflecting his own military experience, Weber echoes that sentiment: "As a combat veteran and a sculptor, I'm drawn to war memorials. I would like to participate in a work of magnitude to honor all branches of the services and the entire scope of conflicts [that] have marked our history."
Missouri's National Veterans Memorial, 1172 Veterans Memorial Parkway, Perryville, 573-547-2035, mnvmfund.org