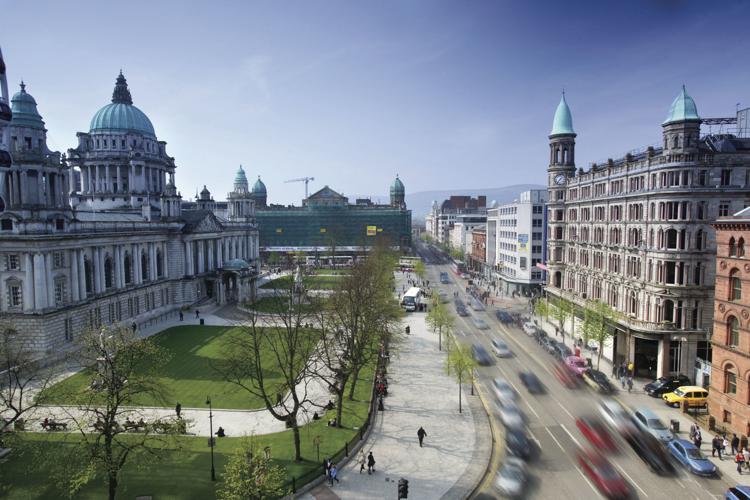 We first visited Belfast in Northern Ireland more than 15 years ago, at which time we toured the municipality's murals with a driver who knew the city's history – good and bad.
Those striking murals stood at the borders of the Catholic and Protestant neighborhoods and featured men clutching assault weapons and wearing black balaclavas (also known as ski masks). They functioned as a threat: Stay out of our neighborhood.
Today, tours of the murals no longer run, having been superseded by memorial tours. These new tours take an entirely different focus. Replacing images of masked men with weapons are portrayals of men and women killed in the "troubles," the political and nationalistic conflicts that raged in Northern Ireland in the latter part of the 20th century. The new focus serves to memorialize, not to threaten, and seeks to transform the hatred and prejudice of the past into a memory of those who died in those conflicts, looking to the future.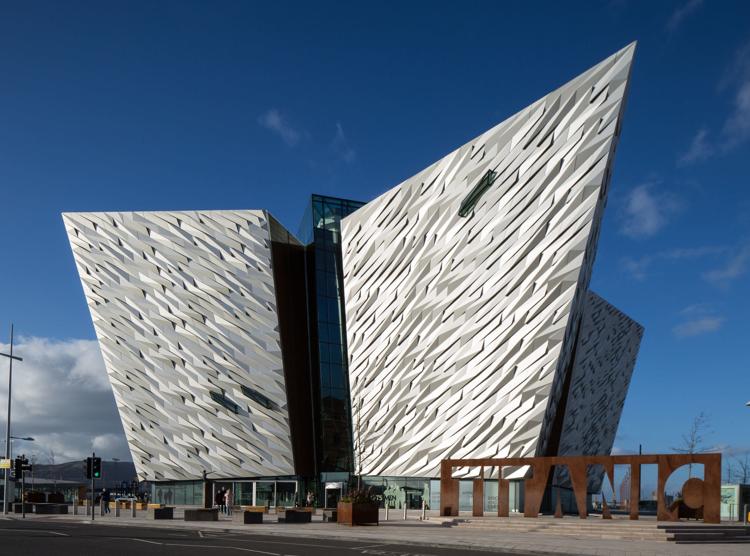 As our guide explained, biases still linger among the older population, and high walls between neighborhoods still stand. But younger Catholics and Protestants are working together in special programs, led by that younger generation.
The way forward for Belfast looks positive. Cranes dominate the skyline, with six hotels being built. Some 2,000 students once housed in the suburbs soon will move into dorms in the city center. Live music of many genres livens the night, every night, all over town. Great cuisine abounds. And as always, the ready Irish wit and verbal skill delight.
Without question, the newest big deal is the Titanic Belfast, an attraction devoted to the famous British passenger liner of that name. Although it prompted skepticism at first, the museum beautifully provides the context for the ship's construction. For example, it outlines how local capabilities, from the making of linen to custom heating, allowed Belfast to produce as noteworthy a vessel as the Titanic.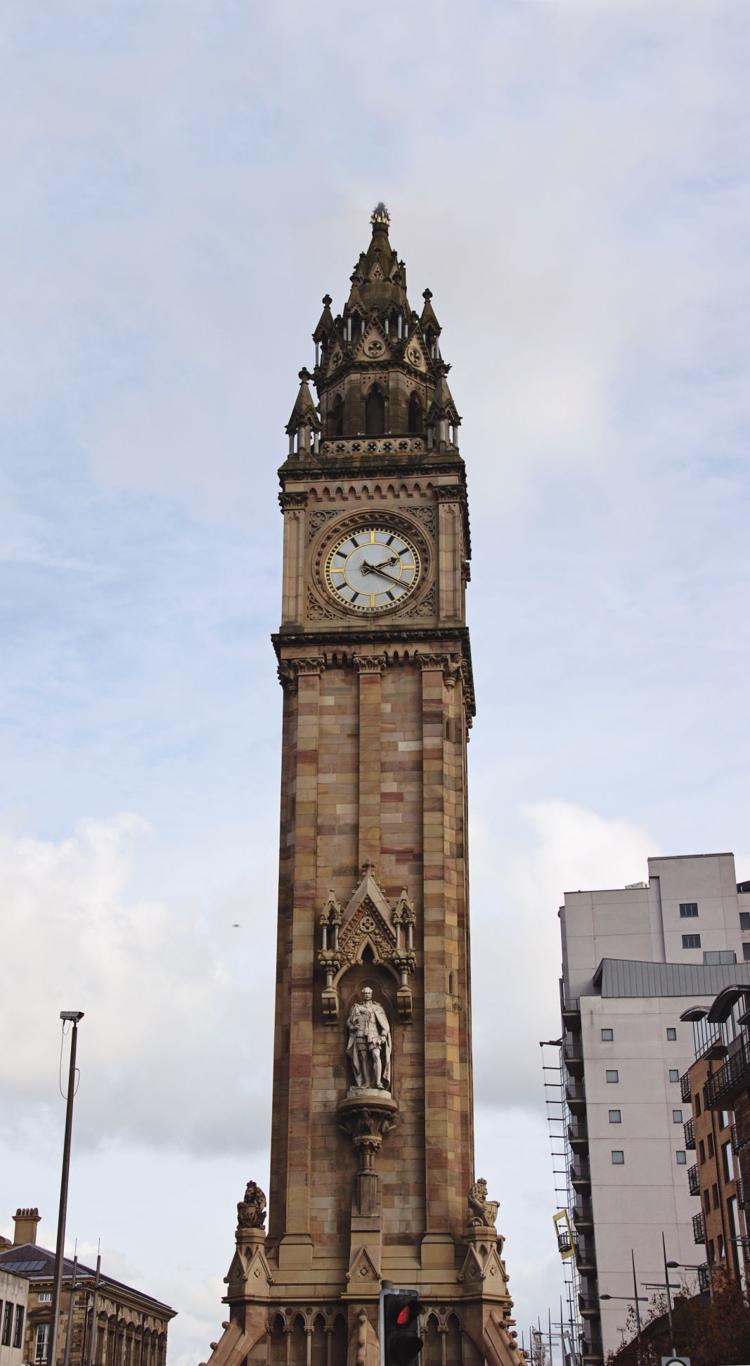 One particularly well-documented display in the museum relates how Catholic workers earned less and enjoyed fewer privileges than the dominant Protestant worker community. And near the end, the museum provides a real sense of drama surrounding the final moments of the great vessel and the 1,500 or so souls who died when it sank.
Although on our first visit to Belfast, we found excellent food, we found even better food some 15 years later. For example, at the wonderfully named Muddlers Club, I ate a sampler lunch of three different tastes, one of which – the one that caught my attention – involved an egg yolk a chef described as "cooked" at 65 degrees Celsius for 41 minutes. Delicious.
We supped twice at James St. South because that establishment was so good. Among many other things, it offers crab, partridge, monkfish on the bone and "champ," the Northern Irish version of mashed potatoes with scallions.
We took a day tour with friends who had joined us from St. Louis and elsewhere. The staff at the Fitzwilliam Hotel arranged a private van and an excellent driver/guide. Our tour started with the Giant's Causeway, a World Heritage Site and geologic phenomenon where a volcanic eruption millions of years ago pushed some 40,000 hexagonal basalt columns from the earth in a pattern suggesting (at least to the Irish imagination) a walkway for giants.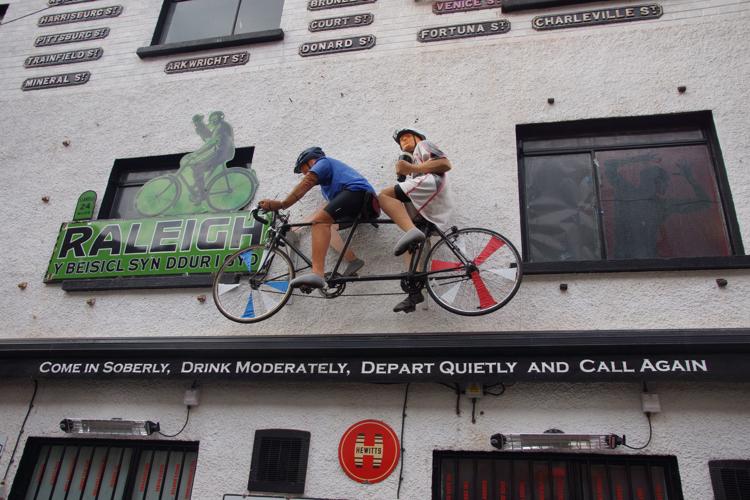 From there, we drove five minutes to the Old Bushmills Distillery, where the famous whiskey has been licensed for more than 400 years. The tour ends in a tasting room and a chance to sample such rare offerings as Bushmills 12-year-old single malt. For lunch, we visited Bushmills Inn, a five-minute drive from the distillery. The chowder tasted excellent, as did the "pheasant beaters nosebag" sandwich, which features ham roasted with honey, two slices of Irish cheddar, pickles, chutney and some salad.
Once we'd found sustenance, a short drive took us to the famed pedestrian Carrick-a-Rede Rope Bridge suspended over seas crashing on rocks below. After whiskey tastings and more drink at Bushmills Inn, though, no one in our party felt much enthusiasm for a span swaying over gushing waters. Instead, at the suggestion of our expert guide, we visited a nearby lookout to view and photograph the bridge (now incorporating steel cables, despite its historic name).
After a stop to photograph the ruins of Dunluce Castle, which dates from the 13th century, it was a drive back to Belfast.
I came home with three takeaway points. First, Belfast is looking to the future, past the "troubles." Second, Northern Ireland shares all the natural beauty of the neighboring Republic of Ireland – one reason it will host professional golf's 2019 British Open. And finally, Americans have too long overlooked Belfast, which only now is beginning to come into its own.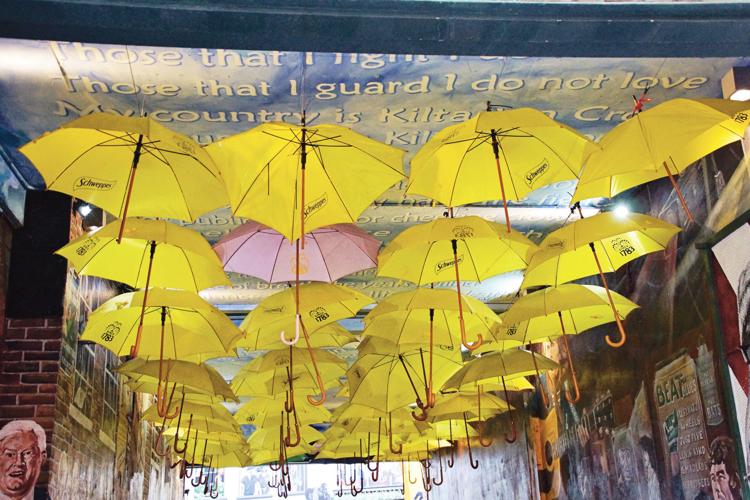 WHERE TO STAY
Fitzwilliam Hotel Belfast (Great Victoria Street, fitzwilliamhotelbelfast.com) occupies Belfast's major street, next door to the Grand Opera House and across the street from the venerable Crown Liquor Saloon and the quintuple Robinsons Bars. We thought the concierge staff was excellent and the breakfast delicious, with rooms both comfortable and well-designed. Evening chocolates with turndown never go unappreciated, as we also relished small welcome bottles of Bushmills Irish whiskey.
WHERE TO IMBIBE
The Crown Liquor Saloon (46 Great Victoria St., nicholsonspubs.co.uk/thecrownliquorsaloon), an 1826 Victorian classic, attracts great crowds for good reason: its unique beauty, including old tile, stained glass and woodwork – everyone seemingly wants to visit it. It includes 10 "snugs," semiprivate high-walled booths with doors. If you can't snag a snug for your group right away, be patient – or make friends with patrons who already occupy one. (Try offering to buy a round!)
The Duke of York (Hill Street and Commercial Court, dukeofyorkbelfast.com) has earned regular recognition for years now as the best Irish whiskey bar in Ulster, with column after column of whiskeys, including a 26-year-old Middleton and a 1949 Tullamore. Those who don't care for the water of life needn't worry, though: The venue also offers plenty of ales, porters and other beers for every taste and price, as well as live music seven days (and nights) a week. Covering every inch of the walls and ceiling is drinkers' and Irish paraphernalia.
Berts Jazz Bar at The Merchants Hotel (16 Skipper St., themerchantshotel.com), a beautiful and comfortable bar, features an extensive book of cocktails, new and old, as well as good nibbles and live jazz seven nights a week.
WHERE TO DINE
George's of the Market (St. George's Market, Oxford Street, georgesbelfast.com) features a chowder with smoked cod, crab, salmon and clams served in a "Belfast bap" (soft roll) – very good and reasonably priced. Also offered is an all-day breakfast, similarly substantial.
James St. South (21 James St., jamesstreetsouth.co.uk) offers à la carte and five-course tasting menus, with and without wine pairings. The restaurant serves contemporary Irish cuisine with excellent breads and intelligent service. We especially liked the pheasant breast with celeriac, monkfish on the bone, County Antrim beef fillet and chocolate-Guinness cake with buckthorn-berry sorbet.
We lunched twice at The Muddlers Club (Warehouse Lane, themuddlersclubbelfast. com) and enjoyed the nouvelle Irish cuisine tremendously. The kitchen pays enormous attention to detail with the simplest of ingredients, to wonderful effect. Incidentally, the restaurant's name comes from its former history as Peggy Barclay's Inn, where leading Irish revolutionaries met in secret to further their conspiracy. My bet: The food wasn't nearly as good then.
The Restaurant at Fitzwilliam Hotel (Great Victoria Street, fitzwilliamhotelbelfast.com) features a contemporary space in burgundies and blond wood. Contemporary Irish cuisine includes a pigeon starter and Himalayan salt-aged beef fillet, both of which we enjoyed. In the mornings, this space becomes the breakfast venue, and my go-to was smoked salmon and, if I felt really hungry, perfectly soft-poached eggs.
WHERE TO TOUR
Speak with your hotel concierge about a daytrip of attractions. He or she can recommend a driver and vehicle for your size group. As for attractions, consider Bushmills Distillery, Giant's Causeway, Carrick-a-Rede Rope Bridge and, at least, a photo stop at Dunluce Castle. Your drive to these sites will include much beautiful scenery, including spectacular coastal views.
Through the Fitzwilliam Hotel concierge, we arranged a memorial tour – a driving tour of the memorials of Catholics and Protestants who died in the "troubles." A good driver will have personal connections with the stories and the history memorialized on such a tour, and you'll likely soon learn how much the Irish excel as storytellers.
The new Titanic Belfast (1 Olympic Way, Queen's Road, titanicbelfast.com) ranks as an excellent museum in all respects, as its many awards attest. It skillfully showcases the history of the Titanic and the factory that built it, and promotes a sense of real drama and emotion around the last minutes of that doomed ocean liner. Also, this superb museum occupies the precise site where the Titanic was built and first slipped into the water to great acclaim.