+1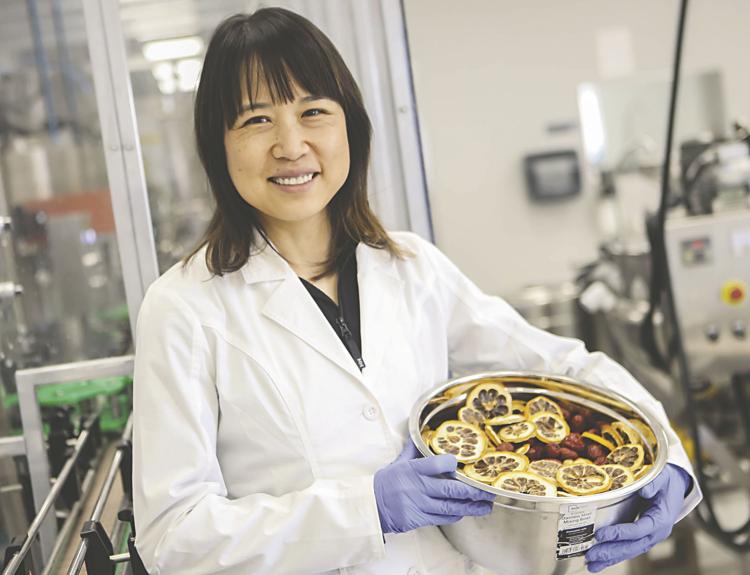 Our nation collectively is drowning in a riptide of high-fructose corn syrup, often overcharged with caffeine and chemicals, and Angela Zeng wants to throw Americans a life preserver.
Zeng serves as the chief executive officer of the startup beverage company Karuna, which she founded with her husband, Dr. Shawn Hu. She characterizes him as "a well-respected and experienced medical oncologist in St. Louis who has provided us with in-depth knowledge in medical and nutritional sciences, guided our ingredient selection and optimized the nutritional composition of our products."
Like her co-founder, Zeng herself can lay claim to fairly impressive credentials. More specifically – and intriguingly if incongruously – she holds a Ph.D. in pathology from Saint Louis University's School of Medicine, with a focus on cell motility and its relationship to cancer.
Assisting the couple at Karuna are Dr. Zebin Wang and Dr. Xi Wu, both of whom earned their doctorates in food science from Indiana's prestigious Purdue University. The former, Zeng says, "played a key role in our product development," adding that he also "worked as a research scientist/senior research investigator for DuPont Nutrition & Health for over 10 years"; the latter recently joined Karuna as its research-and-development/production specialist.
+1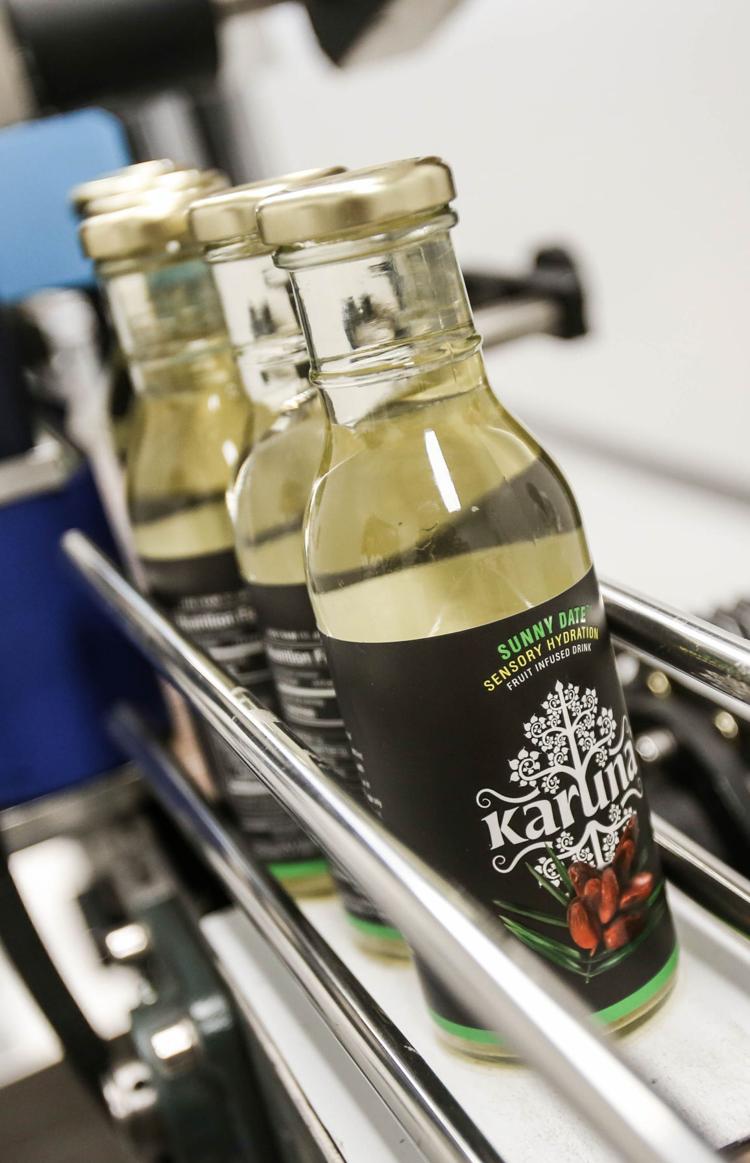 So, let's pop the cap and drink deeply, shall we?
"I have always had the idea of developing a line of healthy food products based on ancient East Asian recipes," Zeng relates of the process of conceiving and actualizing Karuna. "What has motivated me to finally start the company was seeing some disturbing trends in the natural-food market, especially the recent rise of cold-pressed juice products, which not only often contain high levels of added sugar but also create a huge amount of waste of valuable food plants and natural resources.
"The Karuna brand was created about a year ago, after we developed the prototype of our first product, a [mung] bean sprout and Aronia berry drink, by utilizing two highly renewable natural ingredients with proven health benefits. This Karuna signature product highlighted our success in combining ancient healing wisdom with modern nutritional science while shouldering our social and environmental responsibilities as a natural food producer."
Regarding theoretically similar offerings from, say, Naked, Bolthouse Farms or Evolution Fresh, Zeng briefly contrasts Karuna and its potential competitors regarding felicities of mouthfeel.
"From the beginning, we wanted to make sure that all our products had a genuinely natural taste that comes directly from the food ingredients themselves without adding any sugar or 'natural flavors,'" she says. "Many current natural drinks on the market are so-called 'formulated' products that are made of various protein and food extracts. Those products have to rely on added sugar and many other additives to generate consistency and simulated flavors. That has given those products a rather chalky taste and texture.
"In contrast to those products, all of our shakes and drinks come from simple food ingredients in their natural forms, without any added sugar or artificial materials. They offer a uniquely pleasant taste, with layers of flavor reflecting the synergy among the different natural plants in our drinks."
Ah, yes – those natural plants. In the context of nature-based, nutritional beverages like Karuna's, St. Louisans who know, say, cherries and bananas and blueberries might feel qualms about some Karuna ingredients – qualms that Zeng addresses.
Take mung bean sprouts, for instance. "Described in many ancient folk medicine literatures, mung bean sprouts have been widely consumed in many Asian countries for their 'detoxifying' benefits," Zeng says. "Nowadays, they've become more and more popular with consumers around the world, and you can find them in virtually all grocery stores. They're often used in salads or served as a low-carb and high-protein vegetable dish."
Zeng then cites herbalists and scientists alike regarding mung bean sprouts' use in treating various complaints (upset stomachs, for instance) and metabolic merits (antioxidants, for example).
Consider, as well, Aronia berries, not exactly an offering likely to rival raspberries and blackberries at the corner smoothie joint.
"Aronia – chokeberry – is a native North American plant [that] has long been used in many Native American folk remedies to combat colds and other infections," Zeng relates. "It truly is a nutrition powerhouse by all standards. The Aronia berry has the highest content of antioxidants among all fruits. In addition, the Aronia berry is rich in potassium, vitamin C, magnesium and iron.
"Preliminary studies of Aronia berry in cells and animal models have linked its positive effects on treating chronic inflammation, such as arthritis and inflammatory bowel disease; infection, such as urinary tract infection; and heavy metal intoxication.
"The reason that Aronia berry hasn't been widely consumed is largely due to its astringent taste. Thanks to Karuna's proprietary blending technique, the fusion of mung bean sprout and Aronia berry juice has generated a pleasant and refreshing flavor that's very unique. More importantly, this drink has capitalized on those incredible nutritional benefits and created a super detox drink with the power of antioxidants, protein and iron.
"It's a drink the market has never seen before, and we did it without any added sugar or synthetic materials."
Another Karuna ingredient unlikely to grace parfaits in area Dairy Queen Blizzards anytime soon: the longan.
"Stories about the longan berry are legendary, and it used to be a sacred fruit served exclusively to the emperors and royalties in many Asian countries," Zeng says. "This flavorful tropical fruit is thought by many to promote qi and blood, which mean 'energy' and 'endurance' in traditional Chinese medicine. Rich in vitamins B and C, iron, copper and other minerals, the longan berry is known to provide antioxidant effects, help blood cell production and bone strengthening, and prevent eye disease."
Finally, although most Missourians appreciate standard soybeans, certain Karuna offerings haze the landscape, oddly enough, with overspecificity by citing black soybeans.
"Rich in protein, fiber, vitamin A, folic acid, antioxidants, calcium, magnesium, iron and other minerals, the soybean has been an integral part of people's daily diet in Asia and many other parts of the world for thousands of years," Zeng says. "It's one of the very few plants on earth that contain all the essential amino acids that are equal to animal proteins. Among all soybeans, the black soybean is arguably the healthiest because of its antioxidant, rich, dark surface and high protein content. Numerous studies have linked black soybeans to potential benefits in lowering cholesterol, preventing heart disease and reducing inflammation."
As Karuna's chief executive officer, she next sketches some fairly forward-looking plans for its first five years. "Our current focus is to ensure a successful launch of the Karuna brand in the St. Louis market while preparing to enter regional and nationwide retail chains in a six- to 12-month period," Zeng says of her company's products, which can be purchased at select Dierbergs Markets, United Provisions and Whole Foods Market.
"In order to meet the rapidly evolving needs of American consumers, we're actively developing new products to expand our appeal. We anticipate a round of fundraising by the end of the year and [then] building another production facility in the metro St. Louis area."
The company's name, incidentally, derives from the Sanskrit term karuā, a concept important in Buddhism.
"I think that it's important to point out that, at the core, Buddhism is more about a philosophy rather than a strict religious doctrine," Zeng says. "The four fundamental lifelong pursuits in Buddhism are, first, to show kindness and mercy to everything around you, maitrī; secondly, to be compassionate towards people, animals and all living things, karuā; thirdly, to find happiness and joy from all aspects of a person's life, mudita; and finally, to seek equanimity, balance and peace with the world you're living in, upeksha.
"All of these are what people from every religion and background would be striving for, and that's exactly why Buddhist philosophy has such broad appeal. We believe that practicing karuā – to show compassion toward our own health and others' well-being, to care about animals and the environment around us – is the message of our brand that will resonate with everyone in our society."
Finally, treating Karuna products with a blanket recusal, Zeng names her personal go-to beverage.
"Kombucha is the drink I grew up with and is one of my favorites," Zeng confesses, referencing various fermented, lightly effervescent sweetened tea drinks that reportedly originated in northeast Asia more than two millennia ago. "My parents used to make kombucha at home, which is a much stronger version than those currently available on the market."
Then, with CEO canniness, Zeng adds, "I also like [other] tea drinks, and we're working on developing a unique line of Karuna tea products."
Karuna, 2600 Clark Ave., St. Louis, mykaruna.com