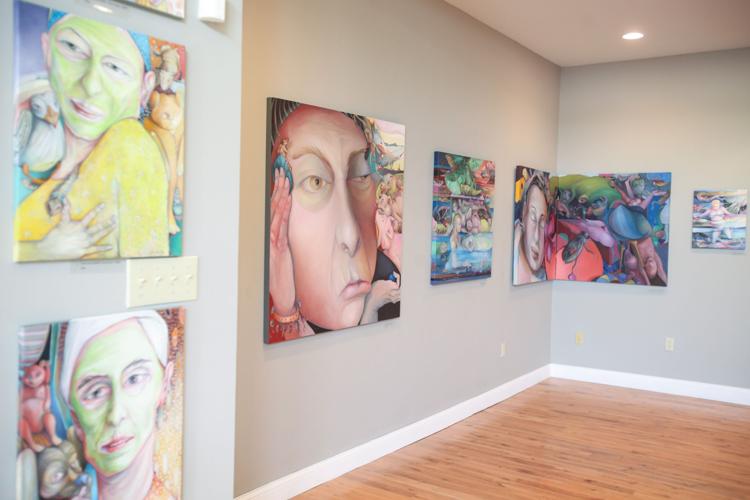 For the St. Louis metro area, the online media company YP The Real Yellow Pages lists 235 "Art Galleries, Dealers & Consultants" – but early last month, it really ought to have upped by one that impressive total.
On April 7, St. Louis' Central West End neighborhood welcomed at 4374 Olive St. Horsley Arts, a small and quite selective gallery owned by artist Linda Horsley.
Horsley briefly explains what inspired her not only to open the by-appointment-only gallery but also to open it where she did.
"The charm of the Central West End has grown while I have been away in Seattle for the past 12 years teaching art and with family," she says. "The arts are active here. Three blocks west of me is the Atrium Gallery, and two blocks over are the chain of McPherson [Avenue] galleries."
Likewise, Horsley briefly distinguishes Horsley Arts from other galleries in the metro area in general and in the Central West End in particular.
"This smaller gallery remains unique, as it has an inviting quality," she says. "People said it felt like a gathering of friends at the opening.
"Built in 1910, it's now renovated with a public restroom on the first floor and modern seated fixtures, and it seems airy for a smaller exhibition space of 75 feet long and only 20 feet wide."
Reflecting the comparatively compact area of the gallery, its opening involved only two artists: Bill Christman (the creator of Beatnik Bob's Museum of Mystery Mirth and Mayhem in downtown St. Louis' City Museum) and Horsley herself.
In general, their oeuvres contrast tidily, with Christman's signmaking bona fides and sculptural fondness for primaries and visual impishness counterbalancing the desaturated palette and disquieting funhouse-mirror distortions of much of Horsley's portraiture.
The gallerist sketches her rationale for opening with Christman's works and her own.
"The center space was taken up with robots, lights, signs and metal sculptures by Bill that have some whimsy, which I believe mixed well with my work on canvas," Horsley says, adding that Christman also used the property's long backyard to display certain larger robots. "This gallery space gave him the opportunity to extract or isolate the sculptures.
"Each of us has our own fantasy that mostly complements the other – 'state of playfulness.' The work shows a reaction to the social/commercial world we live in. Bill's world has a lot of the signs of the past commercial world in which to delight, and his sculptures recombine the usage of the material-industrial world. My oil paintings sometimes show social stress from this commercial world."
The initial exhibition, Horsley notes, will continue through May 30, after which no successor has yet been formalized.
"Our closing party is May 31, a Wednesday, from 5 to 8 p.m. – it's open to the public," she says, before adding, puckishly, "Bill hopes to sell more work so he doesn't have to take it all back to his place."
Given that her own work constitutes so integral a part of Horsley Arts' debut, the gallery's namesake addresses whether it will serve as a permanent exhibition space for her work – or whether her half of the debut simply reflects happenstance.
"The space may have only three or four shows a year, but [otherwise it] will remain an artist studio shown by appointment," Horsley says. "I will continue to show in this space, and local artists will be invited to exhibit."
Otherwise, Horsley revisits her concepts – physical and aesthetic alike – for the new addition to YP's 235.
"I had envisioned this smaller gallery to be something like an old-world salon with a twist of renovation," she says. "It's a comfortable space that doesn't look like a commercial storefront or even the typical whitewall gallery. It's also my studio upstairs and home above the exhibition space. The first floor has my kitchen in the back, which we used for refreshments [at the April 7 opening]. The space has modern fixtures, soft gray walls, tall ceilings and bright wood floors throughout.
"It's a comfortable gallery space, and people have enjoyed its unobtrusive environment."
To be considered for exhibition at Horsley Arts, contact Horsley at lindasue@live.com with a file of no more than five images.
Horsley Arts, 4374 Olive St., St. Louis, 314-243-3879, lindahorsley.com