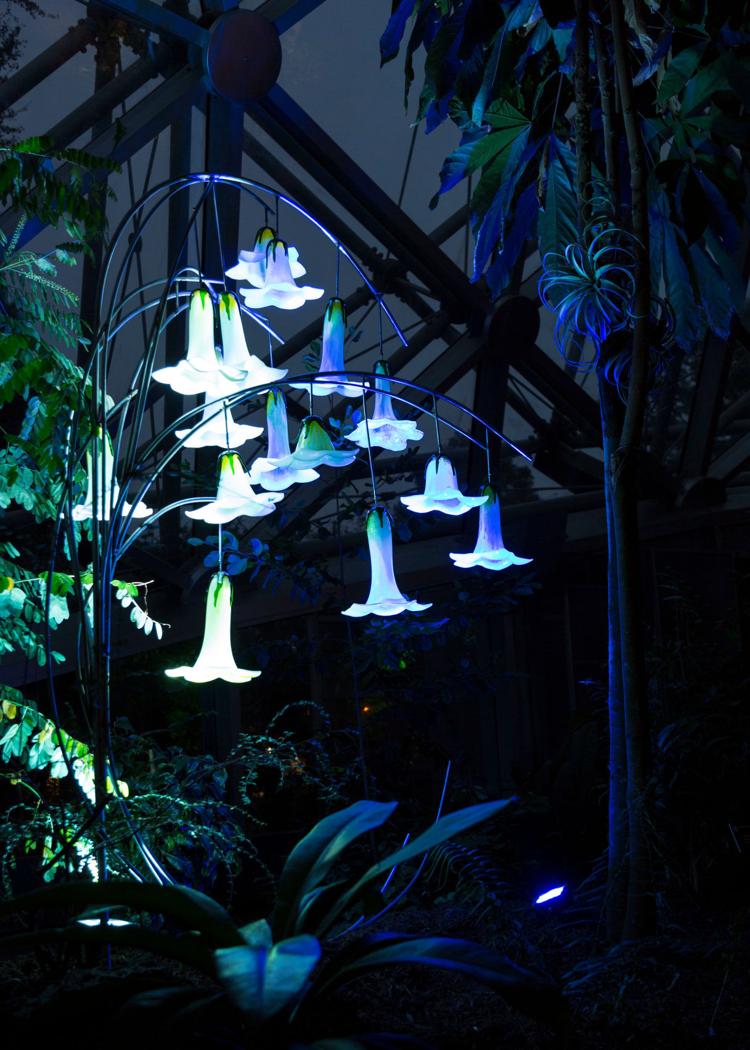 In addition to its customary organic wonders, the Missouri Botanical Garden (colloquially "MoBot") currently is greeting guests with an exhibition of inorganic loveliness.
That 30-piece exhibition, which opened May 13 and runs through Aug. 13, bears the title "Garden of Glass" and comes courtesy of artist Craig Mitchell Smith of Lansing, Michigan.
Katie O'Sullivan, MoBot's senior public information officer, sketches the origin of the glass-based exhibition by Smith. "He had been in contact with our event team," she says, "and stopped through Missouri after an exhibition at Disney's Epcot center in 2014 with some sample pieces."
Subsequently, she continues, Smith tailored the exhibition's components to MoBot's extant floral splendors.
"He worked throughout the last year on making pieces that fit well in the Climatron," O'Sullivan says. "Almost all of the pieces are Craig's variation of plants that appear on our grounds and in the Climatron or that are associated with [MoBot] projects."
An appreciation for nature's beauty has long guided his work, says Smith, whose website (craigmitchellsmith.com) states that he's been working in glass for more than a decade and that, at one point, he owned a flower shop.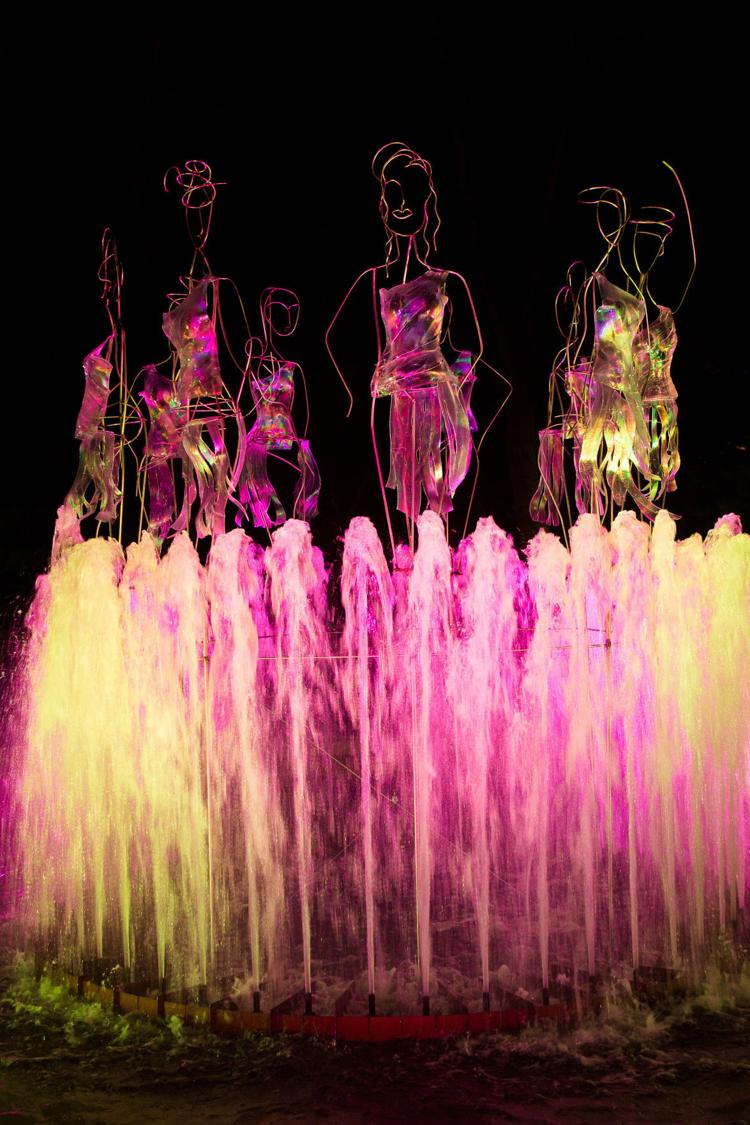 In addition to the Climatron, the exhibition's main site, work from it appears in MoBot's Linnean House, Ridgway Visitor Center and Sophia M. Sachs Butterfly House, with just a pair of pieces on exterior display.
Those wondering how works of art largely formed of glass will withstand the metro area's often-ferocious summer storms needn't fret, according to O'Sullivan. "Only two pieces are outside, but rest assured, they're sturdy," she says. "Most of Craig's other exhibits have been outside, and his pieces are built to last."
And well they should. The MoBot exhibition, for example, took "several years in development," Smith says, during which he enjoyed "free reign to produce what I wanted," after touring the local landmark several times to gain a better heuristic vantage on what, exactly, to craft.
"All my shows are custom-built for their environments," the artist says. "I feel strongly that it's important to integrate the work into the beautiful gardens. I don't insert exclamation points into a garden. Rather, I consider my work to be a comma, a place to stop and pause."
Here, Smith sought spaces that could accommodate works comfortably. After conceptualizing and designing, as well as (immediate) approval by MoBot, the physical artistry commenced.
"It took a full year for my crew and [me] to produce this work," he says. "I produce the metalwork as well as the glass here in my Michigan studio. Just as I strive to make the glass up here fluid and organic, I challenge myself to do the same in stainless steel. The scale of the show required the hiring of two additional welders."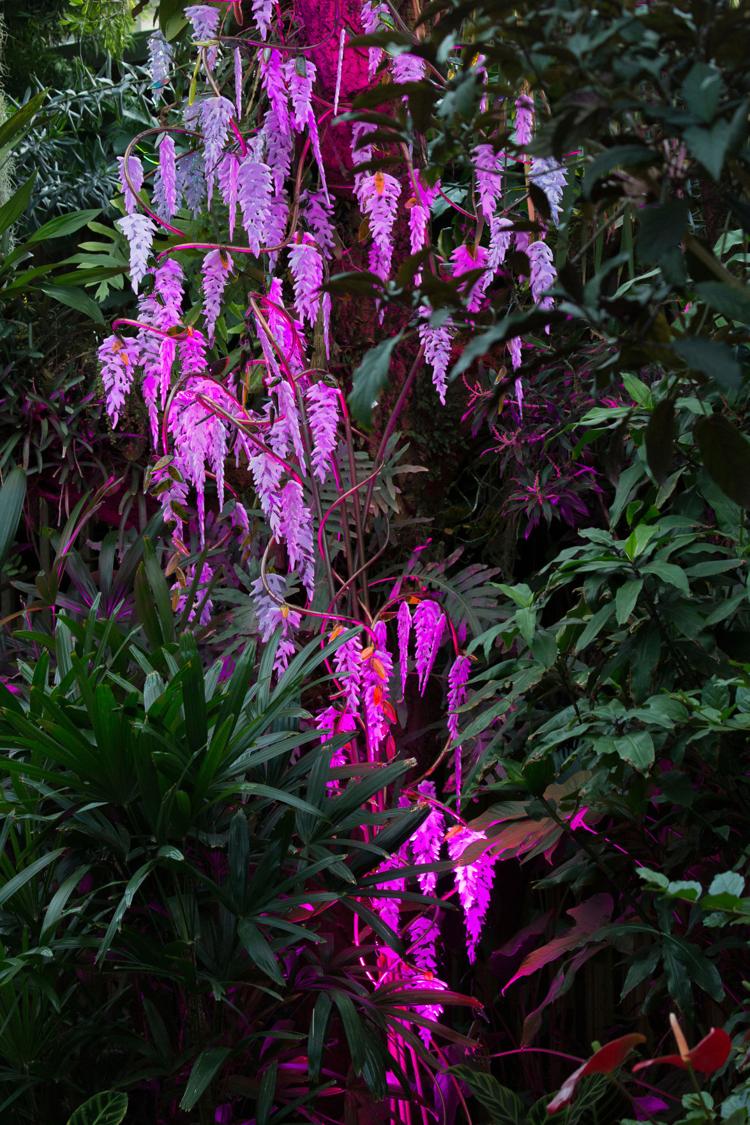 Even at that, Smith confesses, the MoBot exhibition posed various challenges.
"When designing a show, it's important to scale the work to the venue," he says. "The massive ceiling height of the Climatron required appropriately scaled pieces – hence the 47-foot-tall waterfall! Artists, like everyone else, must obey one law: the law of physics. I can imagine massive pieces, but will they stand up under their own weight? The engineering of the pieces requires an intuitive understanding of forces, and I push the envelope as often as possible."
Smith expands on that artistic modus operandi by focusing on a specific work.
"The dandelion piece, titled Making a Wish, is the tallest freestanding sculpture in the shell, at 22 feet," he says. "Supporting the piece and unseen by the public is a massive concrete and stainless steel [base] … If I do my job right, you shouldn't even think about what holds the work up – all of our efforts should seem effortless.
"The cabling of the individual drifting seeds of the dandelion is an engineering work of art in itself. The very talented staff at Missouri Botanical Garden ran nearly 8,000 feet of cable strung from tree to tree while I stayed on the ground and directed where I wanted the individual seeds to be placed. I have a terrible fear of heights and was most grateful to the staff for their fearlessness, either climbing ladders or being in the lift to install the glass."
Similar site-specific challenges, says Smith, centered on a tree "encrusted" with 1,000 monarchs and a tribute to a perfidious field of flowers from The Wizard of Oz. "Though there are, in total, 100 poppies, there are dozens of clusters of them throughout the conservatory," he says. "We took great care installing these pieces, making each blossom appear to react to its environment and its neighboring flowers, as if having a conversation.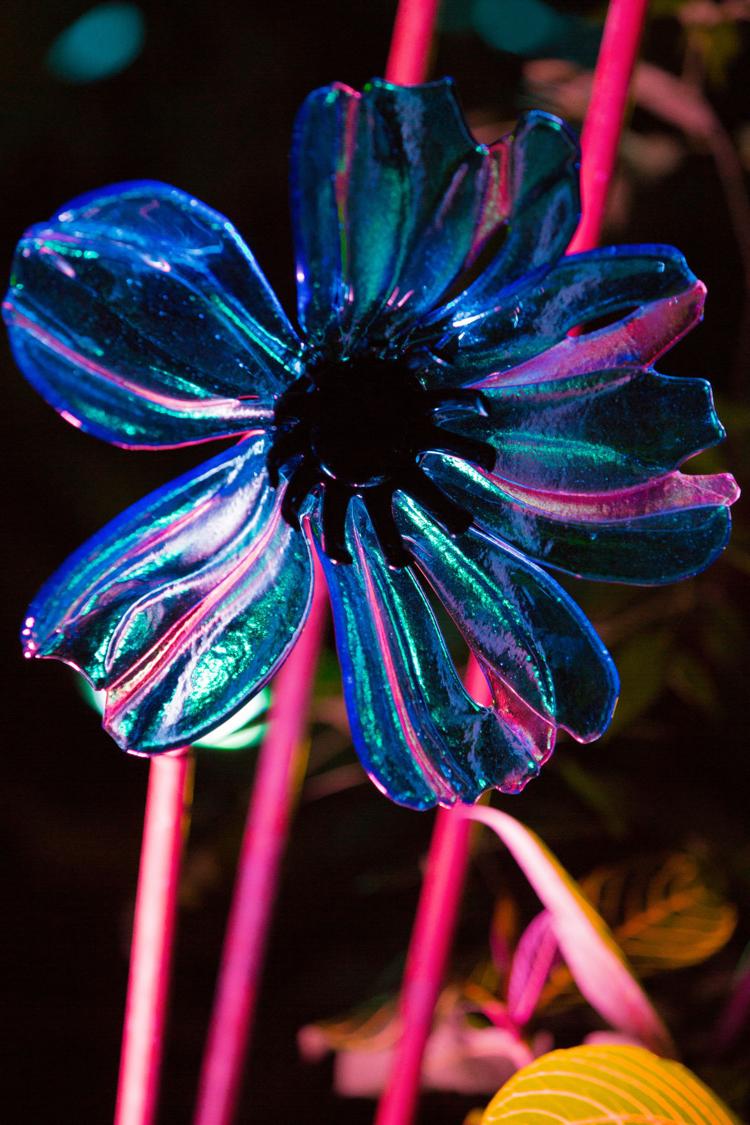 "I made a point of angling some of the blossoms, as though looking back at you. Bearing in mind that children attend the show, we positioned pieces at their height. I want the glass to interact with its environment and the people who view it."
Smith then revisits the exhibition's sheer scale as its most significant challenge. "My Michigan studio, at 4,000 square feet, seems ample until you use it to produce a show of this size," he says. "All the work had to be engineered to fit through my studio doors."
Nevertheless, Smith admits to relishing challenges, whether of topic, technique or timing.
"I'm happiest when producing something I've never done before," he says. "I'd much rather be too busy than not busy enough. … I am currently entertaining offers from several other gardens and will make my decision based on where I can learn the most."
Ticket prices for "Garden of Glass" vary, and all of Smith's pieces at MoBot can be purchased for collection or donation. Daytime admissions to the exhibition run from 9 a.m. to 5 p.m. through Aug. 13; evening admissions (Thursdays to Saturdays), from 7 to 11 p.m. through Aug. 12.
Missouri Botanical Garden, 4344 Shaw Blvd., St. Louis, 314-577-5100, mobot.org