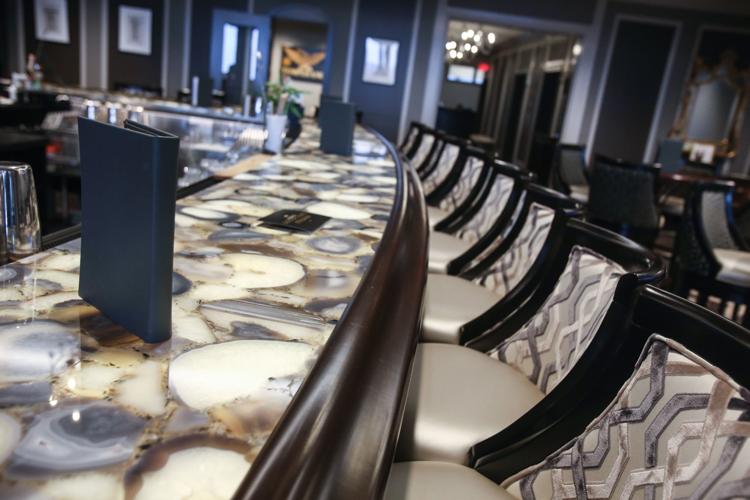 The superlative, by definition, recognizes no superior – one doesn't better the best. Yet as recent events at Clayton's distingué Saint Louis Club illustrate, remaining the acme in the hospitality industry demands perpetual fresh expressions of excellence.
The 53-year-old club – which occupies the top three floors of the Pierre Laclede Center, an aerie an eagle would envy for its views of mid-St. Louis County and beyond – recently recognized that demand by concluding a sweeping multistage renovation. The latest stage involved much of the club's 14th floor, its lowermost.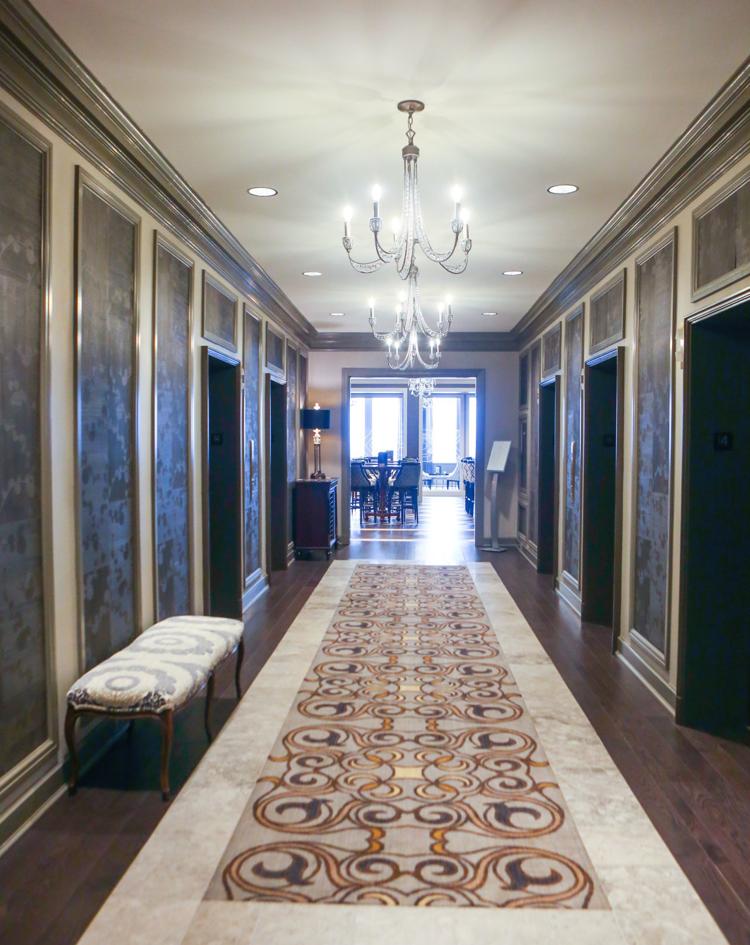 "Our renovation adds what you might call the next generation of the private city club experience," says Kelly Standing, the club's director of innovation and communications. "We aimed for 'approachable elegance' with the $1.8 million investment in our 14th floor – a technology-friendly, denim-friendly, flexible space with an all-day-café feeling from 7 a.m. to midnight."
Many years ago, Standing explains, board members anticipated that the club would inevitably require updates and innovations over time, so they added a modest $10 to $25 per month capital charge to hold in reserve for those necessary renovations. The 14th-floor renovation took place using that reserve and imposed no special assessment on club members, lasting a mere 107 days and culminating just two days before this past Thanksgiving.
Lee Murray, a former president of the club, chaired the committee that planned the renovation. Once it began, Webster Groves' Architextures (led by owner Christi Johaningmeyer) and Brentwood's Musick Construction (led by senior project manager Ron Gallagher) teamed to realize the renovation.
The final effort involved 9,500 square feet of that lowermost floor of the club, whose three-floor area totals roughly 45,000 square feet. At the macro level, it:
Replaced the club's small, formal French-inflected bar with a larger, casual bar and lounge incorporating tech upgrades like USB ports.
Altogether overhauled two small private rooms, replacing their solid walls and a dark corridor with glass.
Updated three larger private chambers (the St. Vrain, Founders and Louisiana rooms) that can accommodate up to 72 people for live entertainment, tastings of all types and other events.
Expanded the stunning views available from the 14th floor by removing heavy drapery and outdated woodwork that concealed nine east-facing windows.
Also, the palette of the bar and lounge underwent major alteration, Standing notes, from butter yellow to a très chic blend of light gray, dark gray and silver. Simultaneously, the construction team laid wooden flooring in black-and-white zigzags, and several exacting souls papered the ceiling in a print resembling small brushed-silver tiles. New appointments replaced old, meanwhile, and perhaps the most striking alteration involved the physical bar, now surfaced with a handmade material called Caesarstone Concetto in gray agate and underlit with rheostat-controlled light-emitting diode panels contoured to the bar's top.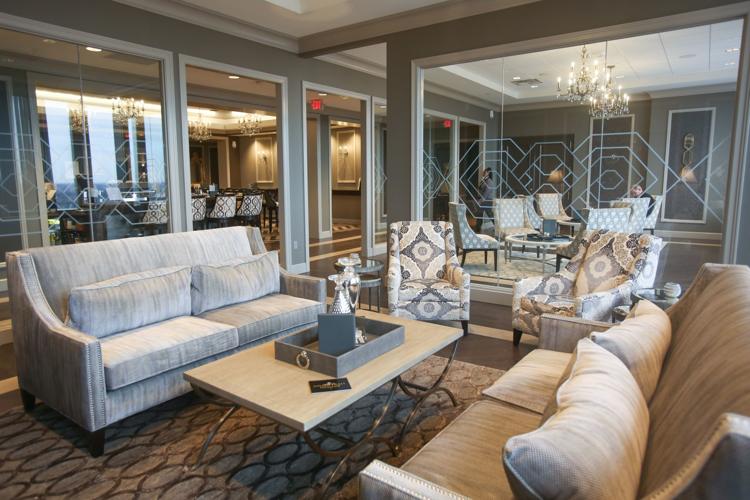 Otherwise on the 14th floor, The Back Door dining area – which adjoins the bar and lounge, with club management offices and the three larger private chambers mentioned previously – was updated six years ago as part of a 10-year plan to renovate the entire club, and at press time, it and that trio of rooms all were being renamed in a club contest.
Current members of the club praise its latest renovation without reservation.
"For me, my first impression of the lounge on the 14th floor was 'welcoming' – a lounge where I could bring business guests or social guests to enjoy one of the best cups of coffee with one of the best views in Clayton," says Maurice E. Quiroga, senior vice president and senior fiduciary advisory specialist with Wells Fargo Private Bank. "In many ways, I say this lounge can be my office away from my office."
Laura Bentele, a lawyer at Armstrong Teasdale LLP, also lauds the renovation. "The new bar is a complete departure from the more traditional areas of the club," she says. "While the space is still highly polished, it has a more relaxed feel. The long bar top in particular is very cool … and definitely provides ample happy-hour space."
Finally, Kathryn Armstrong – who chairs the club's Ambassadors Committee, basically its membership committee – echoes Quiroga and Bentele. "My first impression was 'Now this is where St. Louisans are going to want to be,'" she says. "In keeping with the tradition of elegance and sophistication, the space is rich in contemporary décor and yet now teeming with the SoHo innovative club-concept mindset of cosmopolitan cities coast to coast. … I thought, 'This is where Brooks Brothers can hobnob with UNTUCKit on the way to Busch Stadium – or the VP Ball.' Our club has never been more relevant."
A fact sheet from the club notes that the 14th-floor renovation concludes a decade-long clubwide renovation under Henry B. "Terry" Pflager III, who now serves as president.
According to that fact sheet, the overall renovation took place in response to a survey of such constituents as entrepreneurs, C-suite executives, and both midcareer and millennial corporate, civic and philanthropic leaders.
Regarding its constituents, the club's official color brochure states: "The founding members of the club included virtually all of the community leaders of their time; this tradition has carried forward to the current membership."
Platinum Clubs of Excellence – which, according to its own website, ranks the top 5 percent of private clubs nationwide against seven exacting criteria in five categories – includes Saint Louis Club among its top 50 in the "City" category.
No other Missouri facility graces that category – for reasons Saint Louis Club members well appreciate and visitors should quickly discern.
Saint Louis Club, 7701 Forsyth Blvd., St. Louis, 314-726-1964, stlclub.com