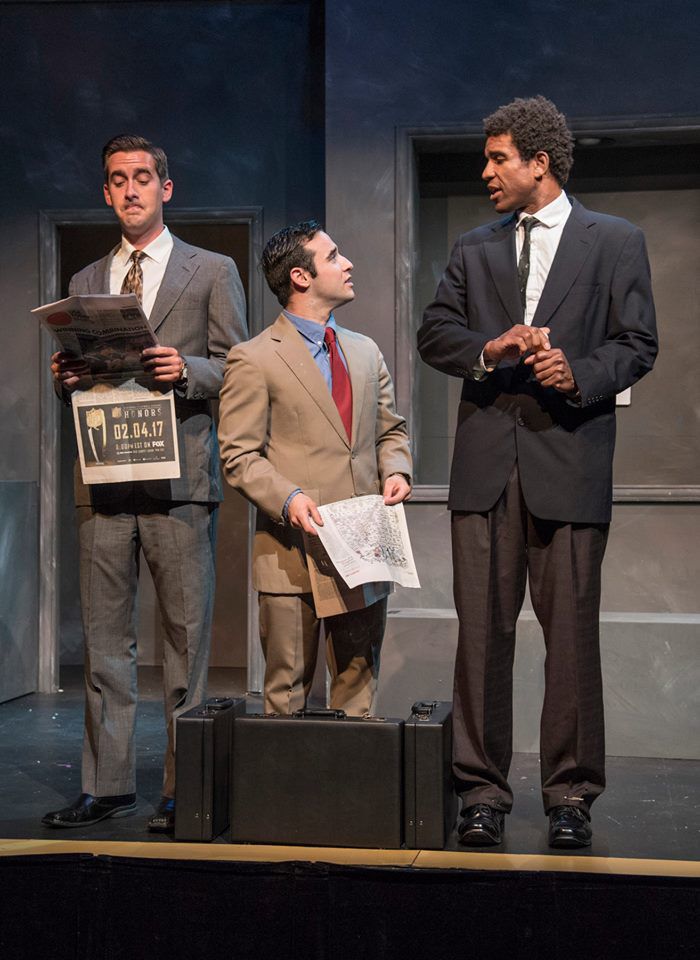 July in the metro area, dramaturgically, means writer Neil LaBute is coming to visit, to oversee new work for the sixth edition of the LaBute New Theater Festival presented by St. Louis Actors' Studio (STLAS).
Several years back, after corresponding with the controversial playwright, STLAS founder and producing director William Roth struck a responsive chord with LaBute when he mounted the inaugural LaBute New Theater Festival at The Gaslight Theater in St. Louis' Central West End neighborhood in 2013.
For that first festival and every year since, LaBute has contributed an original work to be performed throughout the (mostly) monthlong festival's run. This year's effort by LaBute, titled The Fourth Reich, involves a monologue presented by a man who shares his views on a particular artist/politician and how history has affected his legacy.
The Fourth Reich will be staged with three other plays in the first set of the festival, from July 6 to 15, and then again with three different new plays in the second set, from July 20 to 29. STLAS solicits entries to the festival, which customarily – and impressively – number between 200 and 400 annually. Submissions for each year's festival are accepted only from October through December of the previous calendar year.
Roth and LaBute, in their correspondence, learned they share similar ideas about theater. Furthermore, LaBute enjoys working with smaller troupes like STLAS. The playwright liked Roth's idea of the LaBute New Theater Festival and agreed to contribute an original work for the inaugural edition.
Each year, LaBute also strives to attend the festival, which focuses on "reaching out to emerging playwrights," says Roth. This year, he's scheduled to attend the Friday, July 6, opening-night production, as well as the high school play readings on Saturday morning, July 7.
In addition to LaBute and Roth, the festival's creative team comprises actor/professor Nathan Bush, actress/teacher Emily Baker, actress Andra Harkins, writer/arts administrator Ann Haubrich, actor/director Michael Hogan, teacher/novelist Edward Scott Ibur, actor/teacher/director John Pierson, documentary film editor and script development editor Julie B. Schoettley, actress/writer/director/professor Elizabeth Helman and teacher/STLAS associate director Patrick Huber.
Finalists for Set 1 (July 6-15) of the 2018 festival follow:
The Fourth Reich by LaBute, directed by John Pierson
Shut Up and Dance by Barbara Blumenthal-Ehrlich (Montclair, New Jersey), directed by Wendy Greenwood
Advantage God by Norman Kline (New York City), directed by Pierson
Hipster Noir by James McLindon (Northampton, Massachusetts), directed by Pierson
Finalists for Set 2 (July 20-29) include the following:
The Fourth Reich by LaBute
Unabridged by Sean Abley (Los Angeles), directed by Ryan Foizey
The Gettier Problem by Michael Long (Alexandria, Virginia), directed by Greenwood
The Process by Peter McDonough (Chicago), directed by Foizey
Winning plays written by high school students follow:
Prodigal by Sydney Cimarolli (Webster Groves High School senior)
This Is Piracy by Erica O'Brien (Webster Groves High School senior)
Our Last Kiss by Nick Kime (John Burroughs School senior)
In Utero by Ann Zhang (John Burroughs School sophomore)
Notably, Blumenthal-Ehrlich ranks as a repeat finalist, following the presentation of her earlier effort, Sacred Space, in the 2017 festival. The plays written by high school students will be presented as readings at The Gaslight Theater on July 7 at 11 a.m. Admission to those readings will be free.
Three years ago, Roth expanded the festival by taking a version of it to New York City in January 2016. The festival returned there in both January 2017 and January 2018, again featuring new pieces by LaBute. The well-attended performances in New York have been held each year at 59E59 Theaters (whose name derives from its location at 59 E. 59th St. in the Big Apple).
"We are thrilled that Neil will be working with us again," Roth says. "Lending his name and talents to foster new works in the theater is just another example of his generosity and commitment to the arts, and we could not be more proud to host this ongoing event."
Performances take place at 8 p.m. Thursdays, Fridays and Saturdays and at 3 p.m. Sundays at The Gaslight Theater. Tickets cost $30 for students and seniors, with $35 general-admission tickets for adults available for purchase by calling 1-800-982-2787 or by visiting ticketmaster.com or the theater box office an hour prior to performances.
St. Louis Actors' Studio at The Gaslight Theater, 360 N. Boyle Ave., St. Louis, 314-458-2978, stlas.org, gaslighttheater.net