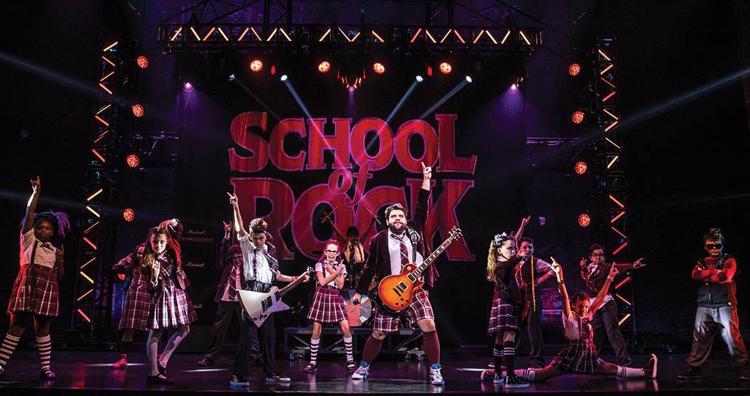 Holiday celebrations have concluded, kids have returned to school and the workaday world spins again – alas! Not all the good times have rolled, though. With the new year comes a slate of shows set to premiere in the next few months, among them the following:
The Fabulous Fox Theatre opens a two-week School of Rock touring production on Jan. 16. The musical based on the eponymous 2003 movie blends songs from the movie with a score by Andrew Lloyd Webber, lyrics by Glenn Slater and a book by Julian Fellowes. After his band ditches him, a rock guitarist poses as a substitute teacher for a fifth-grade class, challenging both the kids and their prim headmistress.
Weekend runs of The Sound of Music (Feb. 2 to 4), The Wizard of Oz (Feb. 23 to 25) and Chicago (March 2 to 4) dot the calendar before The Color Purple returns from March 20 to April 1. Following it is Lin-Manuel Miranda's Tony-winning smash, Hamilton, which opens April 3 and continues through April 22.
On its Mainstage from Jan. 3 to 28, The Repertory Theatre of St. Louis opens its season with The Marvelous Wonderettes, a paean to pop tunes from the 1950s and '60s set at a high school prom and a 10-year high school reunion. Downstairs, on Jan. 17, the Studio Theatre opens with Faceless, a drama about a young female terrorist on trial and the Harvard-educated Muslim attorney prosecuting her.
The 2016 Tony-winning Best Play, The Humans, runs next from The Rep, from Feb. 7 to March 4, and centers on three generations of a family gathered for Thanksgiving in a New York City apartment. From March 14 to April 8, the Garson Kanin classic comedy Born Yesterday concludes the Mainstage season. Caught, a drama with a multilayered plot and an ever-changing set of rules, closes The Studio season from March 7 to 25. The Rep then presents its annual Ignite! Festival of New Plays from March 28 to April 7.
Peabody Opera House greets a touring production of the smash Broadway musical Kinky Boots on Jan. 13 and 14, followed by Buddy: The Buddy Holly Story on Feb. 9 and 10 and the Broadway musical comedy sensation A Gentleman's Guide to Love and Murder on March 9.
New Line Theatre goes to the undead with its Jan. 8 public reading at The Marcelle of a "new/old" musical titled The Zombies of Penzance – supposedly, according to a New Line news release, a long-lost first draft of Gilbert and Sullivan's Pirates of Penzance. Uh-huh. The troupe continues its 2017-18 season with Cole Porter's masterpiece, Anything Goes, from March 1 to 24.
The St. Louis Black Repertory – now on its second journey through August Wilson's epic Pittsburgh Cycle, 10 dramas singularly set in Pittsburgh in differing decades of the 20th century, reflecting the African-American experience – presents Fences from Jan. 3 to 21. Set in the 1950s, Fences (at the Edison Theatre of Washington University in St. Louis) focuses on a former Negro Leagues baseball player embittered by Major League Baseball's "color barrier," which quelled his chance at stardom.
Winter Opera Saint Louis continues its 2017-18 season with Bizet's Les Pecheurs de Perles (The Pearl Fishers) on Jan. 26 and 28, followed on March 9 and 11 by Donizetti's comic opera L'Elisir d'Amore (The Elixir of Love) – both at the Skip Viragh Center for the Arts at Chaminade College Preparatory.
Metro Theater Company's 45th season continues with Bud, Not Buddy from Feb. 3 to 25 at The Grandel. In this "concert play" produced with Jazz St. Louis and featuring a 13-piece jazz band, a 10-year-old orphan tries to find his father during the Great Depression.
The How and the Why focuses on the difficult choices faced by women of every generation; the drama concerns an intellectual battle between an established leader in evolutionary biology and a graduate student half her age and runs from Jan. 24 to Feb. 11 from The New Jewish Theatre.
Charles Busch wrote the "radical comedy" Red Scare on Sunset, which Stray Dog Theatre stages from Feb. 8 to 24 at Tower Grove Abbey; in it, a woman takes action when her husband unwittingly joins the Communist Party in Hollywood at the height of Sen. Joseph R. McCarthy's early-1950s obsession with tracking communist sympathizers.
Upstream Theater artistic director Philip Boehm has translated Albert Ostrmaier's Infected, a German play whose American debut Boehm's troupe celebrates at the Kranzberg Arts Center from Feb. 9 to 25.
Newcomers claiming to see angels threaten the tranquility of women in an 1830s Shaker community in Arlene Hutton's As It Is in Heaven. Mustard Seed Theatre presents the drama from March 15 to 31 at the Fontbonne University Fine Arts Theater.
St. Louis Actors' Studio continues its season from Feb. 9 to 25 at the Gaslight Theater with the provocative, arresting drama Blackbird by playwright David Harrower; in it, a 56-year-old man is tracked down by a 27-year-old woman – 15 years after their relationship.
A woman yearning to be an astronomer but barred from doing so because of her sex takes the spotlight in Silent Sky, which dramatizes the true story of Henrietta Swan Leavitt and female "computers" in the late 19th century. West End Players Guild stages the drama from Feb. 9 to 18.
The perennially popular Menopause the Musical returns to the Playhouse @ Westport Plaza for an extended run from Jan. 9 to March 31. Finally, Tesseract Theatre Company presents a new play by Ben Jolivet titled Cold, concerning the tension between two women over an experimental surgery that could save their daughter; it takes the stage in February at the .ZACK.
So – the holidays were fun and relaxing, yes. Now, though, the time has come to exercise those mental muscles with a visit or three to your favorite local theater. Curtain's up!