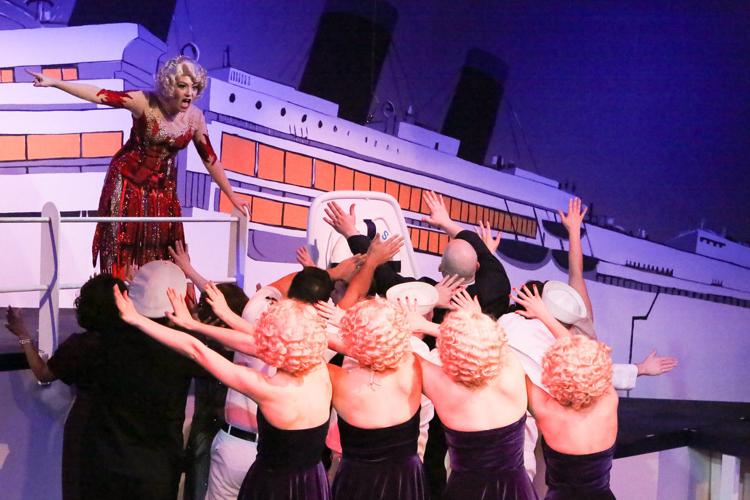 Story: It's anchors aweigh as the SS American prepares to depart New York City for England. On board is Wall Street magnate Elisha Whitney, who plans to spend the journey wheeling and dealing, as well as having a bit of fun. He entrusts his aide, Billy Crocker, to take care of business while he's away, but the young broker instead has love on his mind.
Billy has fallen instantly in love with a young woman he saw in a taxi shortly before heading to the American. Seeing her board the ship, Billy stows away to meet her, even though he's learned the girl, Hope Harcourt, is engaged to marry an Englishman named Sir Evelyn Oakleigh – an arrangement engineered by Hope's imperious mother, Mrs. Evangeline Harcourt.
Also making the voyage are evangelist-turned-nightclub singer Reno Sweeney and her backup quartet, the Angels, as well as Moonface Martin, a bumbling gangster known as "Public Enemy No.13," and his gal pal, Bonnie Letour. Moonface and Bonnie take a liking to Billy and resolve to help him win Hope's heart, while Reno sets her sights on the quirky but charming Sir Evelyn.
When Billy's discovered and mistaken for Snake Eyes Johnson – a missing pal of Moonface and Bonnie, who also ranks as Public Enemy No. 1 – he's lionized for his celebrity status by the American's passengers and crew alike. When that doesn't sit well with Hope, Billy identifies himself and promptly is thrown in the brig along with Moonface.
It'll take some doing, but with the help of Reno, Moonface and Bonnie, it's just a matter of time before "anything goes."
Highlights: In the role of Reno, Sarah Porter sparkles like one of the fabulous gowns she wears to accentuate this rollicking, infectious good time. With a smart, energized supporting cast deftly directed by Scott Miller and Mike Dowdy-Windsor, New Line Theatre blends silly comedy, stylish music and effervescent performances in a winning combination which cleverly utilizes all hands on deck.
Other Info: With music and lyrics by the incomparable Cole Porter, Anything Goes first hit Broadway in 1934, featuring a book written by Guy Bolton and P.G. Wodehouse with substantial contributions by Howard Lindsay and Russel Crouse. There actually have been four versions of the show, including the 1962, 1987 and 2011 revivals.
The 1962 version of Anything Goes – the one followed in New Line's production – incorporates some tunes written by Porter originally for other shows. No matter. Porter's tunes are so wonderful and intelligent it's a joy to hear them at any time and in any musical.
The other Porter, Sarah, takes the pivotal role of Reno and completely captures the siren's vivacity and joie de vivre in her portrayal. In the '62 version, Reno and Billy are just friends, with the worldly Reno surprisingly setting her sights on the square, but likable, Sir Evelyn. Porter also uses her excellent voice to entertain the audience, whether duetting with Evan Fornachon as Billy on "You're the Top," soloing on "I Get a Kick Out of You" or leading the ensemble on rousing versions of the revival number "Blow, Gabriel, Blow" and the title tune.
Fornachon makes an irrepressible Billy, full of good nature and better intentions which go awry given Billy's hapless predicament. A joy to watch as he warbles "You're the Top" with Porter, Fornachon gets down with the comedy in singing "Friendship" with Porter and Aaron Allen as Moonface or serenading Eileen Engel as the fetching Hope with "It's De-Lovely" and singing the charming ballad "All Through the Night."
Allen mines the comedy as the amiable if bumbling Moonface, working well opposite Porter and Fornachon, as well as Sarah Gene Dowling as the sexy scamp Bonnie, Moonface's gal pal with a flavor for agreeable sailors. Dowling leads the troupe with lusty versions of "Heaven Hop" and "Let's Step Out," numbers which take advantage of the effective choreography contributed by Michelle Sauer and Sara Rae Womack.
Sauer and Womack constitute half of the appealing Angels, who also include Larissa White and Alyssa Wolf, as fine a quartet of tap-dancing lovelies as you're likely to encounter on the high seas. Ideal as the winsome Hope, Engel has great fun opposite Fornachon's lovelorn Billy and suffers suitably under the thumb of the browbeating Mrs. Harcourt, played to the overbearing hilt by Kimmie Kidd-Booker in a fine comic performance.
Not to be outdone, Zachary Allen Farmer personifies the right-proper heritage of Sir Evelyn while also falling under the sway of the determined Reno. Jeffrey M. Wright brings home the bombast and confusion of powerbroker Whitney, suitably stumbling about without his spectacles for much of the show. Dominic Dowdy-Windsor, Will Pendergast, Jason Blackburn and Clayton Humburg do well in minor parts.
Pianist Nicholas Valdez capably conducts the New Line Band, which features trumpeter Ron Foster on the "Blow, Gabriel, Blow" number, as well as fine contributions by Clancy Newell on percussion, Adam Rugo on guitar and banjo, Jake Stergos on bass and Joel Hackbarth on second keyboard. Positioned at stage right, the lively and entertaining sextet presents Porter's score without being intrusive.
Miller and Mike Dowdy-Windsor keep the pace relatively smooth and move the sizable ensemble effectively enough throughout Rob Lippert's handsome scenic nautical design, which Lippert lights as well. Colene Fornachon contributes the appealing costumes, Ryan Day adds sound, and Kimi Short offers some amusing props.
Cole Porter knew how to write tunes with smart lyrics and snappy music, and New Line Theatre finds the heart in this 1962 version of the good-humored Anything Goes.
Company: New Line Theatre
Venue: The Marcelle, 3310 Samuel Shepard Drive
Dates: March 9-10, 15-17, 22-24
Tickets: $15 to $25, plus specials for high school and college students, educators and military (see New Line's Facebook page or newlinetheatre.com); contact 314-534-1111 or metrotix.com
Rating: A 4.5 on a scale of 1-to-5