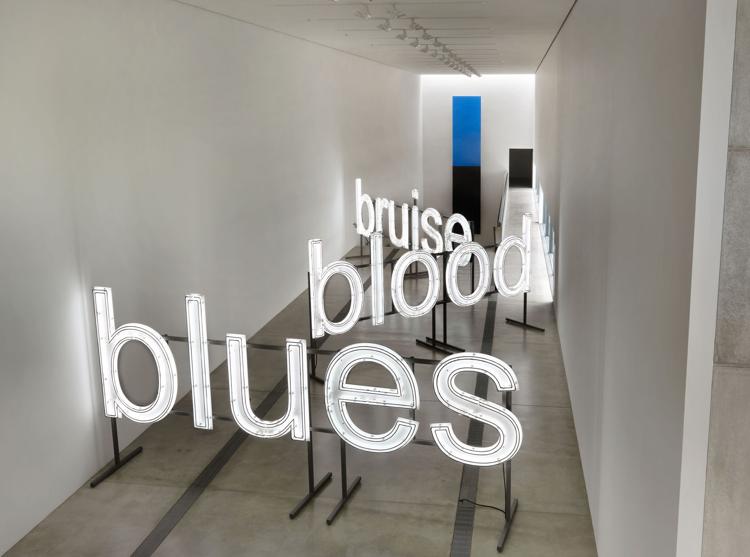 To those of a waggish bent, the publicity surrounding a free exhibition now on display at the Pulitzer Arts Foundation may well suggest a variation of the goofy children's "newspaper riddle": What's blue and black and re(a)d all over?
"Blue Black," the exhibition in question, opened June 9 – yet already, five days earlier, it had enjoyed major ink in the form of a full-page think piece in The New York Times.
Subsequently, among other coverage, "Blue Black" (which runs through Oct. 7) earned a mid-August follow-up from the Times and a noteworthy 2,000-word meditation from Brooklyn, New York's online Hyperallergic, self-described as "a forum for playful, serious and radical perspectives on art and culture in the world today."
"We're thrilled that 'Blue Black' has resonated with so many people both in St. Louis and at a national level," says Cara Starke, director of the Pulitzer Arts Foundation. "I'm delighted that the press coverage from such thoughtful writers and editors has shared the project with audiences more broadly."
Despite its (nontouring) situs in St. Louis, the exhibition owes its origin, ironically enough, to two native New Yorkers, one of them deceased.
The first, painter, sculptor and printmaker Ellsworth Kelly, died less than two years ago, after experiencing acclaim and midlevel success in works often rapturous with bold geometries and primary colors. In 2000, in fact, the Pulitzer commissioned him to create one such, Blue Black, a stunning two-panel construct of aluminum measuring less than 6 feet wide but 28 feet tall and painted, aptly enough, blue (bordering on indigo) and black.
Kelly's construct subsequently inspired the second, anything-but-deceased New Yorker, "conceptual" artist Glenn Ligon, on a site visit here at Starke's invitation, according to the Times.
On viewing Blue Black last year, Ligon related to a reporter from that journalistic institution, "I had this very funny aural hallucination where I kept hearing Louis Armstrong's voice singing, 'What did I do to be so black and blue?'" (In Ligon's aural hallucination, it bears noting, the beloved African-American jazz trumpeter was reprising "(What Did I Do to Be So) Black and Blue," the 1929 musical standard from Harlem jazz multi-instrumentalist Thomas Wright "Fats" Waller with lyrics by Harry Brooks and Andy Razaf.)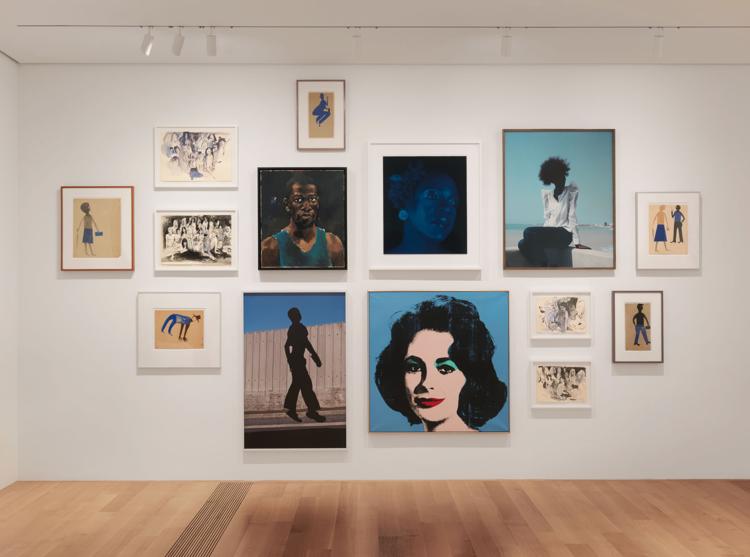 One thing led to another, with Ligon agreeing to guest-curate the present exhibition. "Blue Black," according to a May press release from the Pulitzer, constitutes a collection of "more than 50 works ranging from abstraction, to portraiture, to 'outsider art,' experimental film, textiles and more" that "explores a multiplicity of meanings and uses of the two colors."
"Working with Glenn Ligon to develop this exhibition has been an incredible experience, …" Starke says. "From the beginning, we've seen a highly engaged and vibrant crowd come to see the exhibition, as well as the related public programs. From the artist talk at opening weekend with Glenn and Thelma Golden, director and chief curator of The Studio Museum in Harlem, to the recent performance by the acclaimed composer and pianist Samora Pinderhughes, there have been a number of ways to connect with the exhibition. We continue to see new and returning visitors at the museum …"
In the Times in June, Ligon characterized "Blue Black" as "a meander," a series of "encounters and collisions." The Hyperallergic meditation, meanwhile, lauded it as a "liberating voyage taken by and through skin so black, so dark, it coruscates blue," adding that Ligon "organizes the show less like a curator and more like a poet" – doing so "with debilitating force."
True to Ligon's own characterization, the exhibition constitutes a blissful cornucopia of often powerful juxtapositions.
Its works range from the touching innocence of Blue Black Boy from 1997 by Carrie Mae Weems, an Oregonian turned New Yorker mainly famed for her photography; through the simplified sidereal splendor of New York painter Ross Bleckner's Galaxy Painting from 1993; to, almost inevitably, the knowing latter-day La Gioconda smile of Liz #4, a 1963 portrait of film icon Elizabeth Taylor by pop nonesuch Andy Warhol.
"Blue Black" also includes a thought-provoking portrait of an African-American law enforcement officer, Untitled (policeman) from 2015, by Birmingham, Alabama, native turned Chicago painter/sculptor Kerry James Marshall. "The content of Glenn's work is incredibly meaningful in the context of St. Louis, being the epicenter of the Black Lives Matter movement," Starke told the Times in June.
Among the exhibition's manifold pleasures, though, the museum's director specifically mentions the inspiration for "Blue Black" coupled with a companion piece, an installation (according to the May release) measuring 6 feet tall and a staggering 66 feet long. "Visitors seem to be connecting with many works in the show," Starke says, "but one highlight appears to be the pairing of Ligon's A Small Band (2015) in our main gallery with Kelly's Blue Black (2000), the work from which the exhibition was inspired.
"Ligon's monumental neon work fills the room with three words – 'blues,' 'blood,' 'bruise.' Here Ligon is referencing Steve Reich's sound piece Come Out, which was commissioned by a civil rights activist in 1966. Reich's piece quotes the testimony given by Daniel Hamm, one among a group of young residents of Harlem who were wrongfully convicted of a crime in the early 1960s. The pairing of Ligon's text-based work alongside Kelly's wall sculpture speaks to the complexities of Ligon's curatorial thesis in this exhibition."
Those complexities – the manifold, vibrant hues of an era whose figurative palette seems increasingly predominated and muddied by clashing complementary colors – may well resonate with Pulitzer visitors long after they've exited "Blue Black."
Pulitzer Arts Foundation, 3716 Washington Blvd., St. Louis, 314-754-1850, pulitzerarts.org