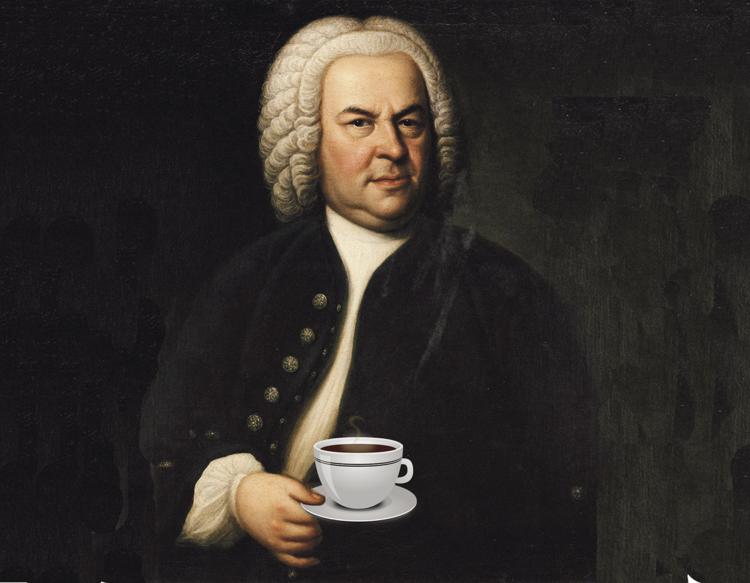 Johann Sebastian Bach scares the snot out of a lot of folks, but with its monthlong 2017 festival, the Bach Society of Saint Louis seeks to provide musical (and mucosal) solace even to the most nervous of J.S.B. newbies.
"Although Bach can rightly be called a genius, he didn't compose for other geniuses – he wrote his music to speak directly to you and me," explains Dr. A. Dennis Sparger, the society's music director and conductor, regarding the festival, which opened yesterday and which runs through May 21.
Well, yeah, OK, but.
We're not contemplating Beethoven here – no friendly bust topping the toy piano of Schroeder in Peanuts. Moreover, we're not contemplating Mozart – no cackling vivacity from actor Tom Hulce in director Miloš Forman's unlikely 1984 cinematic blockbuster, Amadeus. And we're not contemplating Brahms – no … well, he wrote a lullaby, for pity's sake.
No, we're contemplating Bach, who, in portrait after portrait from the time, looked as stern and unforgiving as an old-school hanging judge and who, in his 65 years, achieved rock-star status two centuries before rock-and-roll even came into existence.
Hilariously, for instance, his surname alone earns a discrete entry (as B-A-C-H) in The New Harvard Dictionary of Music as a succession of pitches in the context of German nomenclature, and The Norton/Grove Concise Encyclopedia of Music rhapsodizes, "He opened up new dimensions in virtually every department of creative work to which he turned, in format, musical quality and technical demands."
(In true rock-star fashion, Norton/Grove adds, Bach also found the time and energy to sire seven children with his first wife and another 13 with his second.)
Fortunately, Sparger expands on his informal primer on the composer.
"From 1717 to 1723, all of his compositions were written to please a musically well-trained prince, but everything else was heard by common people, either in a church or a coffeehouse," he says. "Some of his music sounds rather complicated – think chess instead of checkers – but other pieces are direct, emotional and easily accessible. It's wonderful to discover all the differences that can be found in his large body of compositions.
"Most of us realize that to get something out of a book, a novel, we first have to invest some time to get some background and a sense of plot. In music, we also have to invest some time to allow our skills of concentration to develop and discover what magic can be found.
"One of the things the Bach Society does best is present music in smaller venues where the listener can see the performers and feel a closeness to the music that's being made. We often meet with our audiences after a performance to discuss what they observed. Our wonderful soloists, selected from the best rising stars in the nation, are also available to meet with audience members.
"In the end, it's about great music that allows people to connect with other people, to experience the same or similar emotions and, most of all, to feel it together."
Melissa Payton, the society's executive director, highlights another reason for jubilation among area classical devotees. "The Bach festival used to be a huge part of our history, but it hasn't been performed in decades," she says. "So just the fact that it exists – with a goal of continuing it each year – is huge!"
Sparger agrees and enlarges on Payton's comment.
"While the St. Louis Bach Festival has been an important part of our history since our second season, in 1942, it took a long break nearly 20 years ago because of funding difficulties," he says. "But the last several years have seen a growth in audiences as well as individual and corporate support, culminating in a very successful 75th anniversary last year." The success of that diamond anniversary helped restore the sparkle to the festival's return this year.
"Our board of directors is committed to marching forward and helping the Bach Society reach more lives in our region with the great music we perform," Sparger continues. "When we posed the idea of resurrecting the Bach festival, they were thrilled by the challenge and the opportunity.
"Since we hadn't organized a festival in many years, we quickly learned they take more planning than we imagined. But we're so excited by how this festival will affect our fellow St. Louisans, we're already talking about 2018."
In that mode, Payton summarizes the festival's goals and, at the risk of naming favorites, sketches aspects of this year's festival that most excite her as an individual.
"We're using the festival not only to celebrate the breadth of Bach's works but [also] to introduce our community to the music of Bach in new and creative ways," she says. "The festival has also allowed us to open up the door of collaboration with other arts organizations in the community, including The Sheldon, Union Avenue Opera and the St. Louis Classical Guitar Society. I'm personally very excited about three unique events."
The first of those events, The Spiritual Bach, partners Bach's organ works with African-American spirituals. "Both styles of music help the listener to get to a place of hope out of a place of despair," Payton says, "demonstrating how music can help us face the challenges of our own time, connecting us and speaking from the heart to the heart."
Bach & Jazz, Payton's second favorite, showcases the composer's improvisational skills and emphasizes similarities between his music and jazz for "a better understanding of how the 'Master of Baroque' continues to influence modern jazz."
Regarding her third favorite, Coffee With Bach, Payton says: "Coffee has been loved and worshipped like few other beverages. Bach was also apparently a coffee enthusiast and even wrote a witty 'mini-opera' about the beloved drink called the Coffee Cantata."
On the subject of those three events and the festival's other six in the next four weeks, Sparger provides insight into the creation of the festival's final bill.
"Melissa and I worked together in selecting the types of programs and collaborations we wanted to include," he says. "After that, Melissa took the lead in making the contacts, selecting the dates and venues, creating the promotional materials and bringing it all together.
"My efforts for the Bach festival are directed more toward two of the events. For the past few years, concertmaster Lenora-Marya Anop and I have discussed altering our chamber music program to a 'Bach by candlelight' evening to highlight several of our orchestra members, and the Bach festival presented the perfect time to make this move.
"For many years, I have been interested in programming Bach's Christmas Oratorio, a work known to be his most joyful and delightful piece. However, because our annual Christmas Candlelight Concert must include carols and the candlelight procession [that] is the highlight of that concert, we could never include this extended major work in this special evening. The Bach festival provided the perfect opportunity to finally present this entire work."
In that the Christmas Oratorio comprises six parts and reportedly approaches three hours, though, Sparger does make one confession, about a concession.
"To be honest," he concludes, "I'm making a few minor cuts to bring the performance time down to a comfortable 'sit' for the audience!"
Bach Society of Saint Louis, 314-652-2224, bachsociety.org
A Stroll in the Grove
Beyond manifold other accolades and accomplishments, the Bach Society of Saint Louis' Dr. A. Dennis Sparger has contributed to one of the most monumental and distinguished authorities published in the new millennium.
Specifically, Sparger wrote the entry on a lutenist and composer named Andrzej Hakenberger for the 2001 edition of the 29-volume New Grove Dictionary of Music and Musicians.
"Long before I was invited to join the Bach Society as its sixth music director and conductor [in 1986], I wrote my doctoral dissertation on an obscure Polish composer from the early 17th century," Sparger recalls. "The music of Andrzej Hakenberger is much closer to the style of Giovanni Gabrieli and other Italian composers who excelled in the polychoral music that was the latest rage at that time. In fact, it was the opulent sound of Hakenberger's music that secured him a position at St. Mary's Church in Gdańsk (Danzig)."
As a measure of Hakenberger's obscurity, Wikipedia – the digital fount of all information or something approximating information – includes no entry on him.
"It's because of the dissertation that I was invited to provide the article on him and his music for the New Grove Dictionary," Sparger continues. "But his work does not at all resemble the music of Bach, other than it was written in service to God."
Wryly, Sparger concludes, "We have performed a few of his pieces over the years, and every spring I get a royalty check for about $12 for my publications of a few Hakenberger motets!"
Program (and Musical) Notes
The Bach Society of Saint Louis' 2017 St. Louis Bach Festival comprises nine events, both free and ticketed, throughout St. Louis:
The Spiritual Bach, which features soprano Marlissa Hudson and organist Marvin Mills, juxtaposes the composer's organ works with African-American spirituals. It takes place this Sunday, April 23, at 3 p.m. at Ladue Chapel Presbyterian Church. Tickets cost $20 apiece.
Bach Chamber Music by Candlelight offers a full-immersion experience of the composer's chamber music in an intimate setting. It takes place May 5 at 7 p.m. at the Church of St. Michael & St. George in Clayton. Tickets cost $25 apiece.
Attendees to the free Vocal Master Class can learn to sing and love Baroque recitative. Presented in collaboration with Saint Louis University's music program, this event takes place May 8 at 3 p.m. at St. Francis Xavier College Church on the university's campus.
For the free Christmas in Leipzig Lecture, Bach specialist David Gordon describes the origins of Bach's Christmas Oratorio and its 1734 premiere. This event takes place May 21 at 1:30 p.m. at First Presbyterian Church of Kirkwood.
In the Young Artist Recital, the Bach Society Young Artists present their favorite Bach solos and highlights from their operatic and oratorio repertoire. Presented in collaboration with the Couts Music Series, this free event takes place April 30 at 4 p.m. at Second Presbyterian Church in the Central West End.
The Classical Guitar Concert, presented in collaboration with the St. Louis Classical Guitar Society, showcases favorite Bach melodies transcribed for a guitar. It takes place May 7 at 3 p.m. at Salem United Methodist Church in Town and Country. Tickets cost $15 apiece.
Bach & Jazz spotlights the similarities between improvised jazz and the composer's music, and takes place May 9 at 6 p.m. at Jazz at the Bistro in St. Louis proper. Tickets cost $35 apiece.
Coffee With Bach attendees can enjoy java and doughnuts before hearing Bach's Coffee Cantata, his famed mini-opera, and other favorites from the classical and musical-theater repertoire. Presented in collaboration with The Sheldon Concert Hall & Art Galleries and Union Avenue Opera, this event takes place May 17 at 9 a.m. at the former, and tickets cost $18 apiece.
The chorus and orchestra present Bach's rarely heard Christmas Oratorio with soloists Kim Leeds, Stephen Morscheck, Sherezade Panthaki and Kyle Stegall. This finale to the festival also takes place May 21, at 3 p.m., at First Presbyterian Church of Kirkwood. Tickets cost between $25 and $45 apiece.