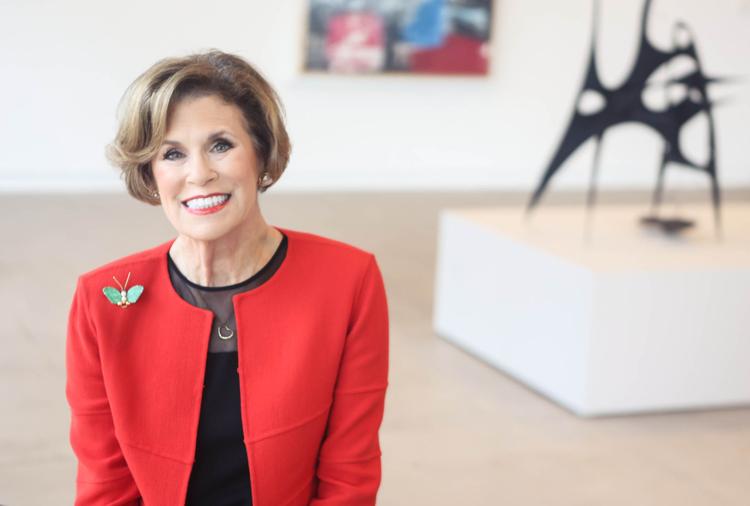 Lynn Hamilton's combined devotion to art, seniors and volunteerism has turned into a golden asset for the St. Louis community.
An art history major in college, Hamilton had an entrepreneurial bent that led to her owning an art gallery and The Chocolate Lady, a chocolate and pastry shop that's now closed. Earlier in life, as a stay-at-home mom, she crafted ribbon pillows and necklaces in her Creve Coeur home.
Long a champion of older adults and the arts, Hamilton pursued a major volunteering endeavor in 2010 by founding Maturity and Its Muse, a 501(c)(3) not-for-profit where she created an innovative model program for seniors to enjoy and experience art while enhancing their quality of life.
"Maturity and Its Muse began as my way of exploring the question of how the resourceful, energetic lives and experiences of mature, seasoned artists can serve as positive, productive examples of aging for all of us," she says. Hamilton, now 71, met many St. Louis artists during her days as a gallery owner, and as she was getting older, so were they. To celebrate older adults and inspire others, the first event of Maturity and Its Muse was an art exhibit of the same name at The Sheldon Art Galleries in 2010, featuring professional area artists age 70 or older. Each artist created new art specifically for the show to highlight his or her current thoughts about themselves and the world around them. Although professional artists their entire adult lives, some of the contributors had never exhibited work in a gallery.
At the time she founded Maturity and Its Muse, Hamilton was working full time for a computer company. "Volunteerism was my nighttime career that combined mature adults and art, and it became like eating peanuts – I could not stop," she says. "What began as a visual art show soon morphed into programs featuring all art disciplines."
Her latest venture is Celebrating Art for Senior Engagement (CASEfest). Hamilton, now serving as Maturity and Its Muse's executive director, is coordinating a 10-day communitywide festival April 20 to 30. Now in its second year, the festival will feature arts events at 40 to 50 venues in the St. Louis metropolitan area.
"In 2016, CASEfest was the first areawide festival dedicated to our community's older adult population," Hamilton says. "This year, it will again showcase and applaud the creative work, expression and achievements of seniors; promote creative aging programs; feature positive images of older adults in the community; and build respect and understanding between generations." Hamilton is interested in engaging the senior St. Louis community at all levels and experiences, and hopes to further the older population's participation and relationship with the arts. "We are interested in inspiring folks and making St. Louis a great place for all to artfully age," she says, noting that the majority of the events at CASEfest are free and open to the public. "Artists have the ability to inspire all of us to try our hand at something we have always wanted to do," she says. "The ability to appreciate and create art doesn't stop just because we're getting older. I like to serve as a conduit who puts people and organizations together."
Sheila Suderwalla, executive director of Artists First and a participating organization in CASEfest, agrees with Hamilton's assessment. "Participation in the arts, especially for older adults, can influence physical and mental health," she says. "It can strengthen social bonds and provide a sense of productivity and independence."
The 2017 CASEfest presents myriad opportunities for seniors to be entertained by and get involved in the arts. Highlights include free daily docent-led A-Musing Art tours of the permanent collection galleries at the Saint Louis Art Museum. The Mildred Lane Kemper Art Museum at Washington University in St. Louis will feature Family Fun Day, a variety of interactive art-making activities for all ages on April 22. Participants are invited to create multimedia collages and flipbooks, play games, enjoy a performance and explore the galleries. The Sheldon will showcase a gallery talk on April 25 with artist Barbara Holtz and Olivia Lahs-Gonzales, director of The Sheldon. Holtz, 92, has received multiple awards for her paintings and has been included in numerous national and international group exhibitions. 
Additionally, the St. Louis Banjo Club will hold a free performance of music from the first half of the 1900s at Schlafly Bottleworks at 7:30 p.m. on April 27. Seniors will have the opportunity to create self-portraits at most St. Louis County Library locations, and the results will be showcased at the end of the festival. The Holocaust Museum & Learning Center, a department of the Jewish Federation of St. Louis, will feature a film series. 
Hamilton's activities and interests to improve the quality of life for seniors were recognized in 2016, when she was honored as a Woman of Achievement for her dedication to "Older Adult Services." Decades before founding Maturity and Its Muse, Hamilton spent years organizing social group activities and providing congregate adult dining services for older adults in St. Louis Housing Authority buildings.
She sold her elderly support business in 1988 and decided to concentrate on other business interests, including her art gallery, as well as take a run for state representative. "I lost in number of votes but won because I never knew I could do this," she says. "It was a great experience. You're never too old to try something new. I enjoy inspiring people to share things and engage in the arts."
Hamilton, who calls herself a "St. Louisan always," says she dreamed of being a volunteer when she was growing up. She served as a candy striper at Jewish Hospital (now Barnes-Jewish Hospital), was active in Jewish Federation Sundays and was a Brownie Scout and Girl Scout. She graduated from Ladue Horton Watkins High School in 1963 and Centenary College for Women two years later, then attended Finch College for one year. 
Today, the mother of three and grandmother of four is president-elect of Women at the Kemper and will assume leadership of the organization in January 2018. She is a sustaining member of the Junior League; a member of the National Council of Jewish Women, Fashion Group International, Clayton-Ladue Rotary Club and Barnes Jewish-Hospital Auxiliary; and a "Friend" of the Contemporary Art Museum St. Louis and the Saint Louis Art Museum. She is a board member of Covenant Place, where she has volunteered to spearhead an art project to bring an artist in residence to the senior housing complex. 
In keeping with her love of art and design, the fashionable Hamilton looks as put-together and comfortable in a stylish dress and high heels as she does in a pair of jeans, a T-shirt and tennis shoes. She laughs when asked if she receives a paycheck for the work she does each day. "My volunteer time is my paycheck – the doing is my joy!" she says. "It inspires me and keeps me going. It's my focus; it's what I love and makes me happy."
For a complete listing of all 2017 Celebrating Art for Senior Engagement events, running Thursday, April 20, to Sunday, April 30, visit maturityanditsmuse.org/calendar.