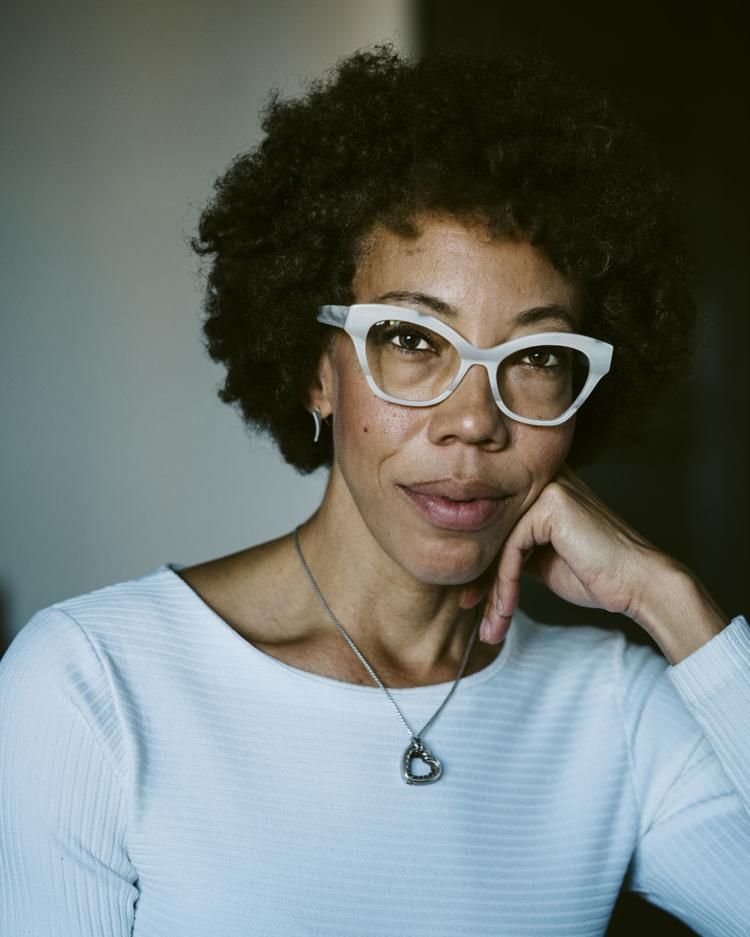 Consider, if you will, the homophones coo (the pleased-sounding cry of a dove) and coup (a brilliant achievement) – as in the observation that the Contemporary Art Museum St. Louis collectively may be cooing over a current coup.
That coup, the free exhibition titled "Amy Sherald," runs through Aug. 19 in CAM's Front Room gallery. It constitutes the first major solo museum showcase of the painter who recently skyrocketed to fame with Michelle LaVaughn Robinson Obama, her official oil-on-linen depiction of this nation's former first lady for the Smithsonian Institution's National Portrait Gallery.
Admittedly, the local exhibition (opening on the date this issue hits the stands) almost necessarily excludes that artistic marvel, following its Feb. 12 unveiling with Kehinde Wiley's painting of former President Barack Obama.
On general principles, though, a comment from Dorothy Moss – curator of painting and sculpture at the National Portrait Gallery, whose "20th Century Americans" exhibition Sherald's striking painting of the ex-first lady now graces – suggests the level of interest potentially facing CAM, for reasons involving both empowerment and Sherald's technique (grisaille, a monochromatic painting effect designed to suggest three-dimensionality).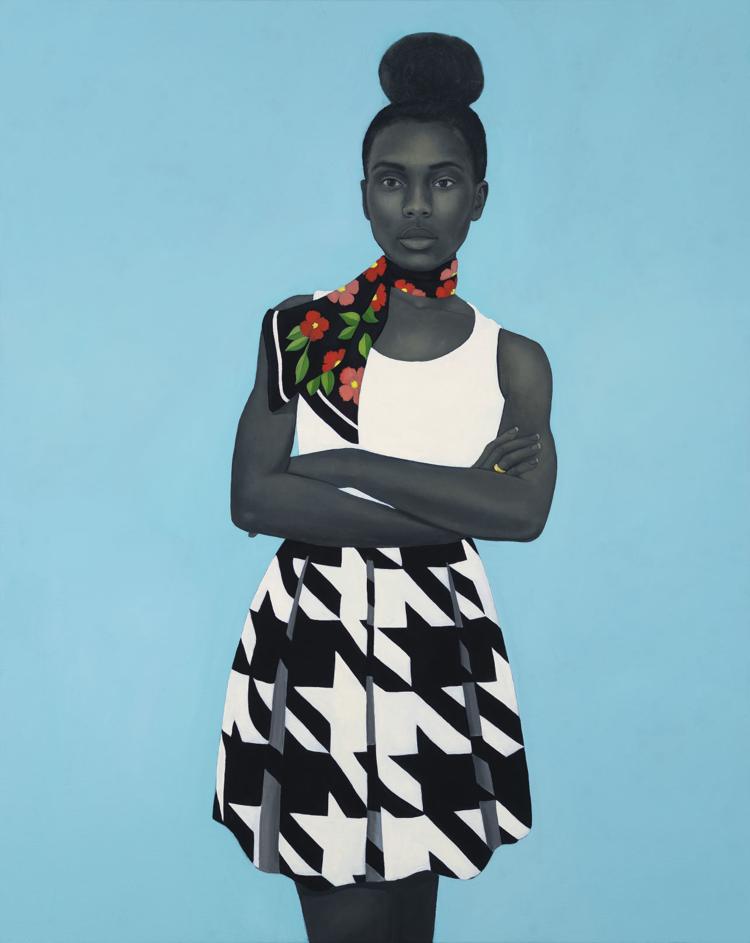 "Museum attendance has increased dramatically since the Obama portraits were unveiled," Moss relates. "I have especially noticed the excitement on the faces of young girls who come to see Michelle Obama's portrait.
"It's a joy to watch how this portrait inspires and how community forms around the portrait. It's also wonderful to listen to visitors engage in meaningful dialogue about portraiture while standing in front of Amy Sherald's portrait of Michelle Obama."
Lisa Melandri, CAM's executive director, organized "Amy Sherald" for the St. Louis institution. "CAM is a museum that loves its firsts, so the idea of extending an invitation to an extraordinarily talented artist to have her first solo museum show with us was a perfect fit," Melandri relates by way of providing background on the exhibition's origin. "We like to be thought of as a launchpad for unheralded artistic vision.
"I first saw Amy Sherald's work in 2016, and her singular power was immediately evident. A little more than a year ago, I made an inquiry to Amy about an intimate exhibition at CAM, and I was absolutely delighted when she accepted. With her recent recognition, I feel it's terrific that more people can see and know her exceptional work."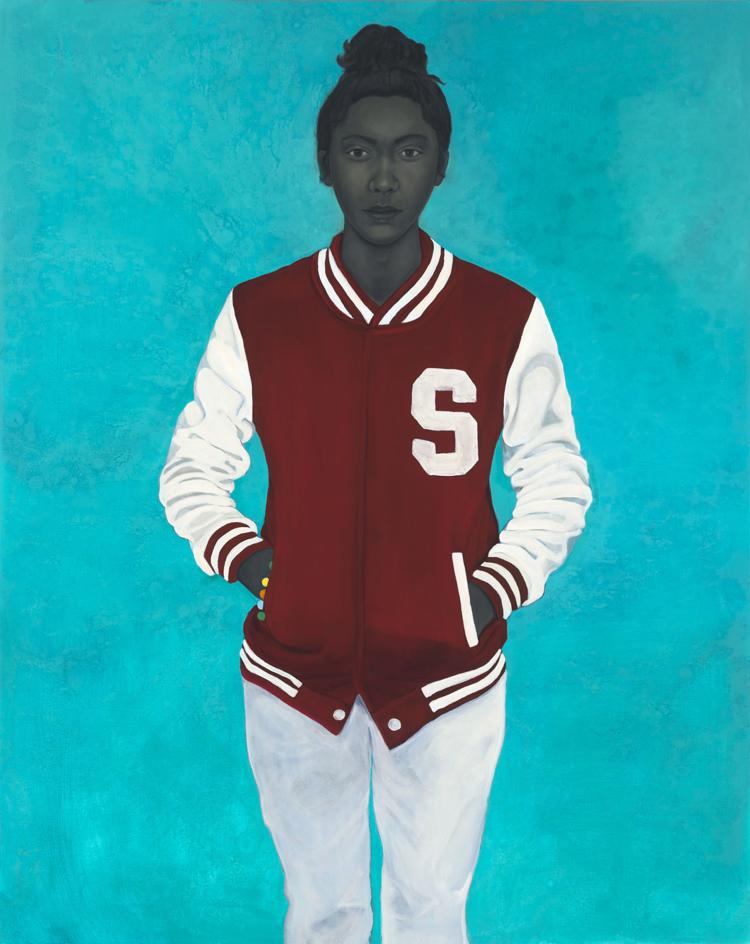 With regard to staging the exhibition, Melandri unstintingly praises Monique Meloche Gallery, which has long fostered Sherald's artistry. "It's a great pleasure to work on any project with Monique," she says of the Chicago institution's namesake. "Her gallery is known for maintaining attentive and supportive long-term relationships with their artists. I also think it's important to acknowledge that Monique knew this was good work before Amy received broader recognition. Monique has been incredibly helpful at every stage of this exhibition."
Although a request for a brief interview with Sherald went unanswered, Melandri, more or less in passing, explains why – the artist is both exacting and quite busy.
"Part of the reason we thought of doing an intimate exhibition was from taking into account that Amy makes [only] 10 to 12 paintings a year, and she wanted to create new work especially for the show," she says.
"With new works as the exhibition centerpiece, we were also interested in including works with single figures, the more rare works with two figures, as well as a combination of portraits at the 4½- by 3½-foot size she usually employs along with larger-scale works. So even with a small presentation of paintings, you get a range of her stylistic choices and the range of her sitters, all completed in just the last three years."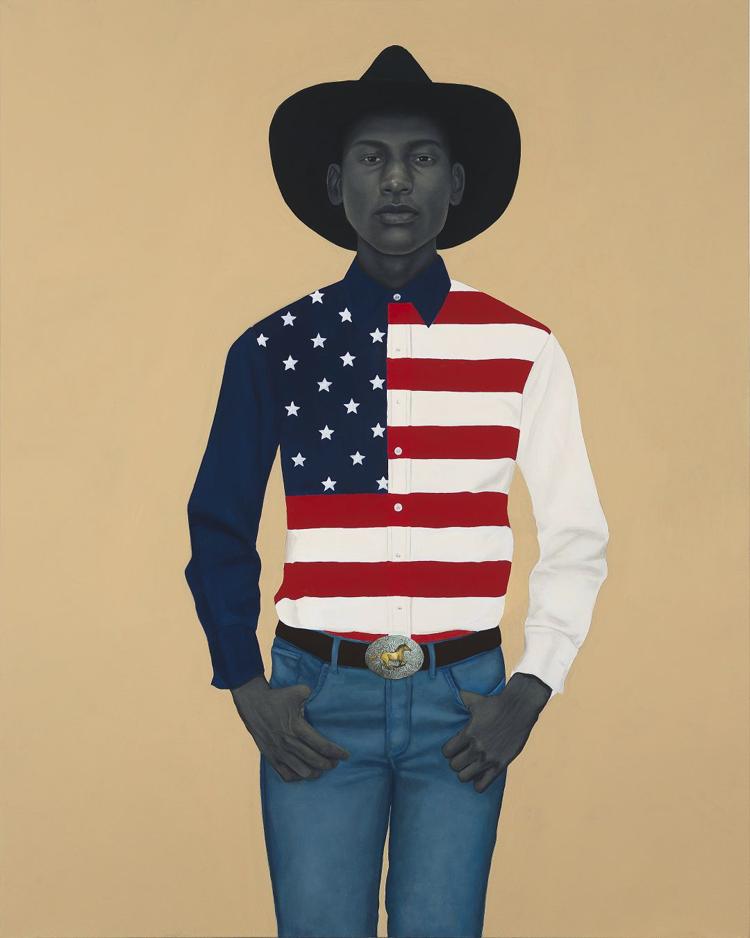 When asked to name her personal favorite among the pieces in "Amy Sherald," Melandri waffles just a bit, perhaps understandably. "That's an incredibly difficult question to answer, because every work in the exhibition is moving and appealing, which is why they've been selected," she says.
"I think A clear unspoken granted magic shows Sherald's signature style – the exacting rendering of the young woman's face against the monochrome background combined with the bold geometric patterning in her clothing."
Melandri also sketches information about a CAM document to commemorate the exhibition: "It'll be a modest publication featuring an in-depth interview with Amy and documentation of the exhibition. We decided to include an interview so that Amy's vision and voice would be central."
To highlight CAM's achievement even further, it will take two years for Sherald to enjoy what's been characterized as "a major retrospective" in her own hometown, under Christopher Bedford, director at the Baltimore Museum of Art. Nonetheless, almost necessarily, he shares Melandri's general enthusiasm for Sherald's work and the specific enthusiasm of the portrait pilgrims mentioned by Moss.
"I think portraiture by black American artists occupies an extraordinarily important position in contemporary culture," Bedford says. "Museums nationwide are searching for ways to represent communities of people traditionally unrepresented on museum walls.
"As if in response to this, artists like Amy Sherald have made great strides in reinventing portraiture for a new audience in 2018. The survey exhibition of her work being organized by the BMA examines almost 15 years of portrait painting. Debuting in Baltimore in 2020, before touring, the show could not feel more timely."
Contemporary Art Museum St. Louis, 3750 Washington Blvd., St. Louis, 314-535-4660, camstl.org