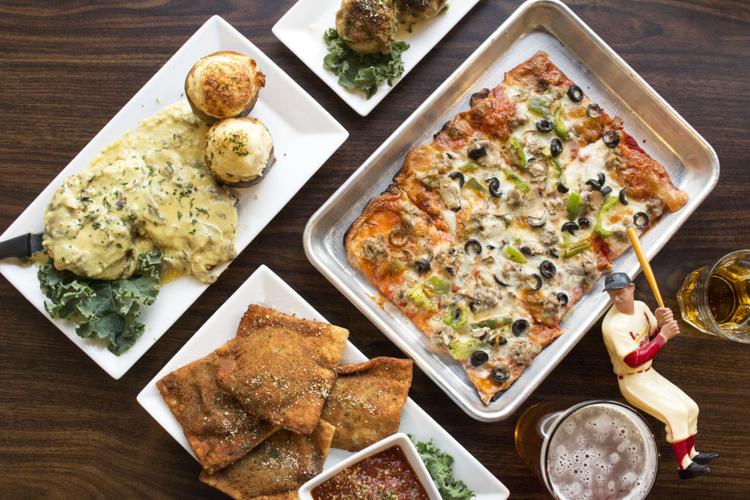 In Des Peres, a new restaurant and tavern recently debuted with a decidedly St. Louis theme. Circa STL opened in late October, featuring area memorabilia and an American-food menu with plenty of traditional local dishes.
The concept fills the 5,000-square-foot space previously occupied by Zydeco Blues, outfitted from wall to wall with owner Brian Walsh's collection of local kitsch and treasures. Walsh has compiled the veritable museum of St. Louis-themed eye candy over nearly 45 years.
"I've always loved St. Louis history. I've lived here my entire life, and no one's ever done a strictly St. Louis place," Walsh says. "I've been talking about it for years. I retired and said, 'I'm going to do this.'"
The casual, family-friendly eatery offers seats for around 300 guests, with nostalgia around every corner. Walsh and his wife, Sheila, once owned an antique shop in Old Town Florissant and, in Circa STL, put their background in salvaging and refurbishing historic items to use.
Display cases and framed pieces define the space, featuring area manufacturers, sports teams and more. Many collectibles predate Prohibition.
"It's like going to a museum of St. Louis history, and you don't have to leave to get a bite to eat or something to drink," Walsh says.
Chef Melissa Molden heads the kitchen, which features a variety of appetizers, soups and salads, entrées, pizzas and sandwiches. Choose from area favorites such as homemade toasted ravioli – an oversized breaded and fried pasta shell filled with beef, cheese and spinach, served with marinara dipping sauce.
Other regional highlights include a barbecue pork steak sandwich with coleslaw and St. Louis-style thin-crust pizza. Specialty topping options include a meat lover's pie and a white pizza with alfredo sauce, grilled chicken, tomatoes, spinach and onions topped with mozzarella and Provel.
The kitchen also re-creates another classic: Famous-Barr's French onion soup. Additional highlights included pan-seared cod with lemon aioli, stuffed mushrooms and chicken modiga, which features chicken coated in Italian bread crumbs that is grilled and topped with a mushroom-cream sauce.
On the dessert menu, guests will find a St. Louis mainstay: gooey butter cake. From the bar, choose from a dozen beers on tap, an extensive wine list and cocktails with a local twist. With so many options, Circa STL makes a perfect eatery before catching one of the many shows in this season's theatrical lineup.
"All I wanted to do was get my collection out in the public and share it," Walsh says. "The décor is outstanding, and the food and staff are great, too."
Circa STL, 1090 Old Des Peres Road, Des Peres, 314-394-1196, circa-stl.com