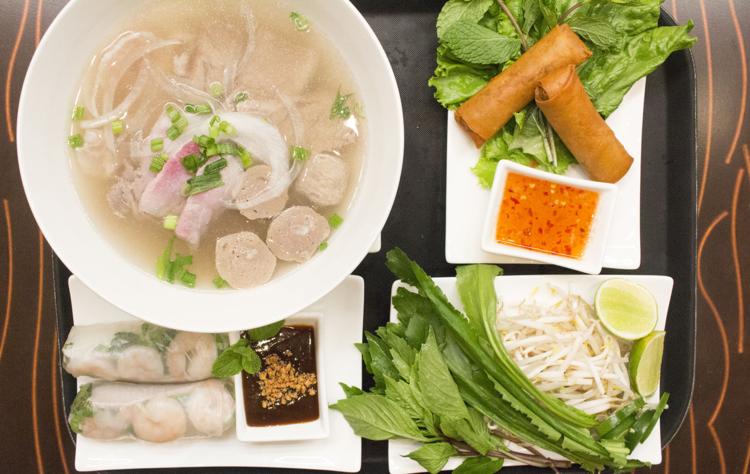 At River City Casino, an addition that debuted in September features a new baccarat room and restaurant: Asia Noodles. The opening follows the launch of Ameristar Casino's Asia.
While Asia features full service, Asia Noodles offers a quick-service-style setting with a smaller menu that focuses primarily on noodles and Vietnamese dishes.
The entire room, including the gaming area, dining area and kitchen, totals 3,000 square feet, with approximately 600 square feet allocated to the dining area, which seats 27. Like its sister restaurant, the space features a black-and-red color scheme in a contemporary setting.
The kitchen is headed by River City Casino's executive chef, Joshua Schlink, along with sous chef Thuy Nguyen and specialty cook Quoc Huynh. Asia's chef de cuisine, Hai Ying Bushey, advises on a number of dishes as well.
For instance, Bushey's pho and wonton soup are prominent highlights that cross over from Asia's menu. The pho features a broth made from beef knuckle and beef-marrow bone, simmered for 10 to 12 hours with spices including star anise, cinnamon, ginger and onion.
Choose from a variety of options for the pho, including phở đặc biệt – a special combination with sliced eye of round beef, tripe, tendon, lean beef brisket and meatballs.
Additional items unique to Asia Noodles' menu include egg-noodle and clear-noodle soups such as a hủ tiếu mì đặc biệt, with barbecue pork, shrimp, crab stick and vegetables. Gỏi gà, or Vietnamese chicken salad, is made up of shredded free-range chicken tossed in fish-sauce vinaigrette. All of these dishes would make perfect choices before seeing boom from R-S Theatrics.
Other highlights include more carryover items from Asia's menu, such as crispy, caramelized, garlic-sauce-covered chicken wings, Vietnamese eggrolls and spring rolls stuffed with vegetables, vermicelli noodles, shrimp and pork.
Asia Noodles also offers a section of standards including pad thai, General Tso's Chicken, beef and broccoli, and house-fried rice with your choice of chicken, beef, pork, shrimp or vegetables.
The beverage menu features sodas, beer, wine, juice and a selection of Vietnamese staples such as café sũa nóng made with roast-chicory coffee, ice and sweetened condensed milk. Iced green tea and soybean milk also are available.
Asia Noodles, 777 River City Casino Blvd., St. Louis County, rivercity.com/dining/asia-noodles