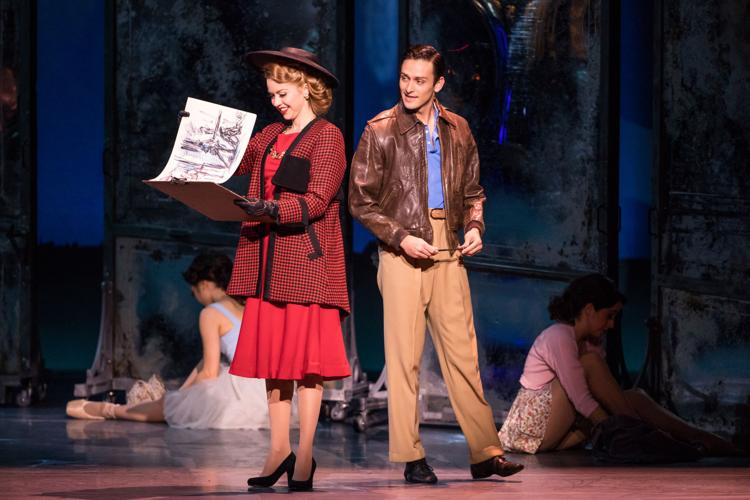 Now that we've bid 2016 so long and welcomed a bright, shiny new year, St. Louis Theater Circle members are making nominations for its annual awards ceremony (March 21 at the Skip Viragh Center for Performing Arts at Chaminade).
Meanwhile, many local professional companies are getting 2017 off to a rousing start. Herewith, a preview of just some of the shows scheduled to be performed from January through March:
The Black Rep presents Lines in the Dust from Jan. 11 to 29 at Washington University's Edison Theatre. Nikkole Salters' drama focuses on a woman searching for a way to get her daughter a better education than in their underperforming neighborhood school. The troupe then moves to Harris-Stowe State University for August Wilson's Seven Guitars, which runs from March 29 to April 23.
First Run Theatre, which presents original works most often by local playwrights, continues its 2016-17 season with Caleb King's drama Prometheus' Dream, termed "a modern retelling of Frankenstein." The show, which runs from Jan. 13 to 22 at De Smet High School, looks at the troubling relationship between a controversial doctor and his test subject, "Adam," when Adam begins to rediscover parts of his past and regains a sense of self.
The Fabulous Fox Theatre is the place from Jan. 17 to 29 for An American in Paris, the four-time Tony Award-winning musical from 2015 about "an American soldier, a mysterious French girl and an indomitable European city," featuring music and lyrics by George and Ira Gershwin and inspired by the Academy Award-winning movie.
That's followed from Feb. 7 to 19 by Something Rotten, the just-closed Broadway musical comedy about the Bottom brothers, Nick and Nigel, and their desperate efforts to write a play that can compete with their contemporary rival, William Shakespeare. Then, the Roundabout Theatre Company appears from March 7 to 19 for a 50th-anniversary presentation of Cabaret in an interpretation shaped by Sam Mendes and Rob Marshall. Motown the Musical then takes the stage from March 21 to 26.
At Emerson's Bar & Grill, jazz and blues icon Billie Holiday is the subject of Lady Day, a portrait of the late singer's struggles with addiction, racism, love and loss, and her ability to mine humor from hardship and the transformative power of song. Alexis Roston portrays Holiday in the Feb. 17-March 4 presentation by Max & Louie Productions at the Kranzberg Arts Center.
The Midnight Company will present Donal O'Kelly's comic thriller Little Thing, Big Thing from Jan. 27 to Feb. 11 at Avatar Studios, 2675 Scott Ave. Joe Hanrahan and Rachel Tibbetts star in this tale of a nun sent on a mission by a frightened child in Nigeria to deliver a roll of film to a mysterious man in Dublin and her encounter with an Irish ex-con who accidentally joins her on the dangerous assignment.
Rohina Mahlik's play Yasmina's Necklace had its world premiere in Chicago last January. From Jan. 27 to Feb. 12, Mustard Seed Theatre stages this tale about a young man whose quest to hide his cultural identity is challenged when he meets a beautiful woman from his Iraqi father's homeland.
Intimate Apparel, a drama about a black seamstress in early 20th-century New York City who secretly loves a Hasidic shopkeeper, is coming from New Jewish Theatre from Jan. 26 to Feb. 11. That's followed from March 16 to April 2 by Never the Sinner, a drama by Jonathan Logan about Nathan Leopold and Richard Loeb, two handsome, intelligent and wealthy young men who committed the "Crime of the Century" in 1924.
New Line Theatre continues its 26th season with a production of the John Kander-Fred Ebb musical Zorba from March 2 to 25 at the Marcelle Theater. Zorba is based on the 1946 novel Zorba the Greek by Nikos Kazantzakis and its 1964 film version, as well as letters from the real-life Zorba found by Kander and Ebb. The musical focuses on the title character, his philosophy of living life to the fullest and a dramatic, emotional, tragic but life-affirming encounter with a young man and love.
The Peabody Opera House has a busy schedule this winter, starting with Hedwig and the Angry Inch, which plays from Jan. 27 to 29. The Stephen Sondheim musical Into the Woods has a one-night engagement on Feb. 19, followed, on March 2, by Let It Be, a what-if reunion concert by the Beatles on October 9, 1980, the occasion of John Lennon's 40th birthday.
Menopause the Musical returns to The Playhouse at Westport Plaza for an extended run from Jan. 5 to Feb. 12. That's followed by the jukebox musical Pump Boys & Dinettes from Feb. 14 to 19 and then the comedy Graeme of Thrones, which runs from Feb. 22 to 26. A comic takeoff on Disney princesses, Disenchanted!, will play from Feb. 28 to March 5, and then Cannibal: The Musical takes the stage from March 9 to 12, followed by The Male Intellect: An Oxymoron? from March 14 to 26 and One Funny Mother from March 30 to April 2.
The Repertory Theatre of St. Louis continues its 50th-anniversary season on the Mainstage with productions of the classic Arthur Miller drama All My Sons from Jan. 4 to 29, followed by Harper Lee's classic To Kill a Mockingbird from Feb. 8 to March 5 and the one-act jukebox musical Million Dollar Quartet, about a jam session featuring Elvis Presley, Johnny Cash, Jerry Lee Lewis and Carl Perkins, from March 15 to April 9.
In its Studio Theatre, The Rep presents the two-character play called Constellations, described as "a vibrant collision of love and theoretical physics," from Jan. 18 to Feb. 5, and then The Royale, a drama loosely based on early 20th-century black boxer Jack Johnson and his fight for recognition in a prejudiced world, from March 8 to 26.
From March 10 to 12, Slightly Askew Theatre Ensemble presents the Aphra Behn Emerging Artists' Showcase, a festival of new plays written and directed by promising female artists including Shualee Cook, Erin Renee Roberts, Alyssa Ward, Kate McAllister, Hannah Ryan and Kristin Rion. The short plays, ranging between 10 and 30 minutes, are presented each day of the festival as part of the troupe's Season of Adaptation.
Saint Louis Shakespeare continues its 32nd season with a presentation of The Comedy of Errors by the Bard from March 31 to April 9 at the Ivory Theatre, 7620 Michigan Ave.
St. Louis Actors' Studio continues its 10th-anniversary season with a production of The Way We Get By, Neil LaBute's play about a man and a woman who wake up together and then begin to wonder how much they really know about each other and how much they actually care about what anyone else thinks. The Way We Get By runs from Feb. 10 to 26 at the Gaslight Theater.
Next onstage at the Tower Grove Abbey is Stray Dog Theatre's presentation of the classic Henrik Ibsen 19th-century drama A Doll's House, about a woman who learns in what esteem – or lack thereof – she's held by her husband when she is being blackmailed. A Doll's House runs from Feb. 2 to 18.
Tesseract Theatre returns to its new home, the .ZACK Incubator in Grand Center, when it teams with V-Day St. Louis to present The Vagina Monologues from Feb. 3 to 12. Prior to that, Theatre Lab presents its third full-length production at its new home – the same .ZACK Incubator, at 3224 Locust St. – with a presentation of Patrick Marber's 1997 drama Closer, which focuses on four lives intertwined over the course of 4½ years. Closer plays from Jan. 13 to 22.
The American premiere of South African playwright Joanna Evans' The Year of the Bicycle takes the stage courtesy of Upstream Theater from Jan. 27 to Feb. 12 at the Kranzberg Arts Center, 501 N. Grand Ave. The drama centers on the relationship between two children from very different backgrounds growing up in post-apartheid South Africa.
West End Players Guild continues its 106th season with The Ice Fishing Play, a comedic look at a funny pastime that also delivers some important lessons about life, in a production that runs from Feb. 10 to 19 at the Union Avenue Christian Church on Enright Avenue one block north of the intersection of Delmar and Union.
And Winter Opera continues the celebration of its 10th-anniversary season with Gioachino Rossini's La Cenerentola conducted by Kostis Protopapas, artistic director of Opera Santa Barbara, on Jan. 27 and 29. Winter Opera then concludes its season with a presentation of Georges Bizet's Carmen, conducted by Darwin Aquino, on March 3 and 5. All performances take place at the Skip Viragh Center for the Performing Arts at Chaminade.
As you can see, the winter calendar's chockfull of goodies for the artistically adventurous – so brave the elements and prepare yourself for some fine theatrical experiences.