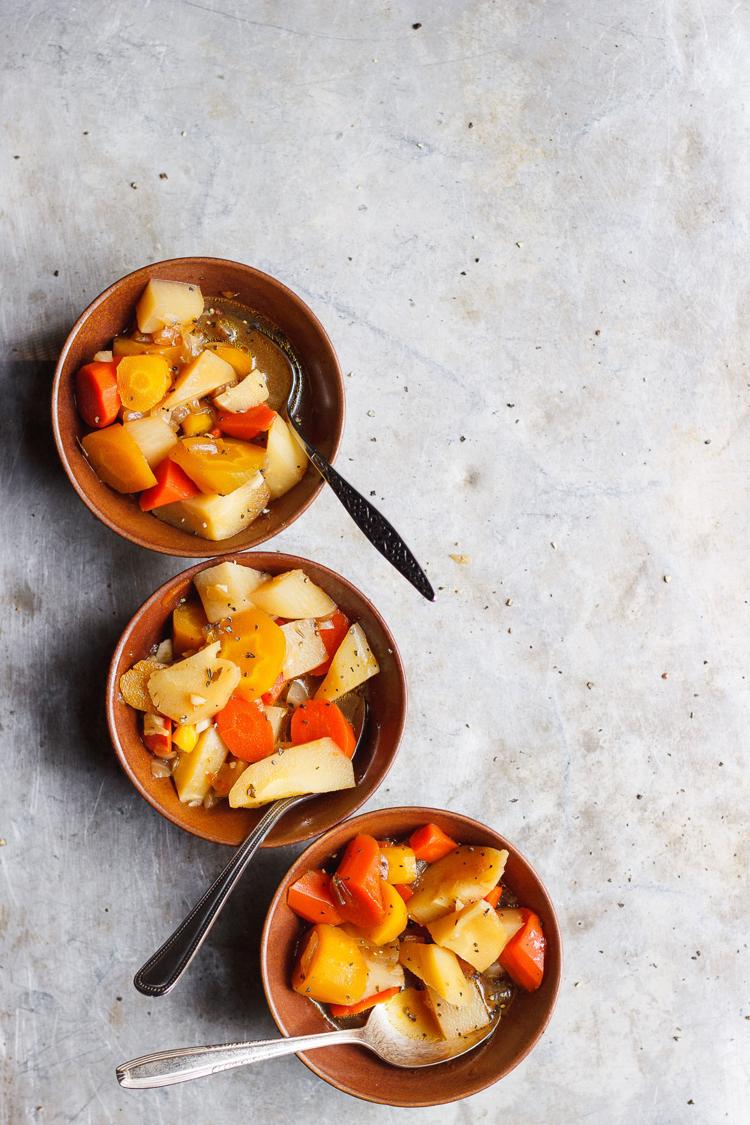 On a chilly fall day, few things can comfort us more than a piping hot bowl of soup – except maybe soup made with beer.
If you've never experimented with cooking with beer, this recipe should help you ease into doing so. This root vegetable stew, which is cooked with ale to add flavor and complexity, comes together in just 30 minutes, but tastes as if it's simmered on the stove all day.
Use carrots, parsnips, turnips and golden beets or any other root vegetables you like. Red beets instead of golden beets, sweet potatoes instead of carrots, russet potatoes instead of parsnips – only your imagination limits ingredient combinations for this stew.
Root Vegetable-Ale Stew
Any type of ale-style beer will work well in this recipe.
Serves 4 to 6
¼ cup olive oil
1 cup white onion, diced
1 cup celery, diced
1 cup carrots, diced
12 oz. bottle ale-style beer
5 sprigs fresh thyme
5 cloves garlic, sliced
1 cup golden beets, diced
1 cup parsnips, diced
1 cup turnips, diced
sea salt and freshly ground black pepper, to taste
water
Preparation
In a large stockpot over low heat, heat olive oil. Add onion, celery and carrots, and sauté for 5 minutes.
Increase heat to medium, and stir. Continue to sauté, stirring occasionally, for another 5 minutes. Add ale, thyme and garlic. Stir and simmer for another 5 minutes.
Add golden beets, parsnips and turnips. Season with salt and pepper, and add enough water on top to just barely cover vegetables. Leave stew uncovered to simmer for 10 minutes or until root vegetables are tender. Serve warm with crusty bread or a green salad.
Sherrie Castellano is a health coach, photographer and private chef based in St. Louis. She writes and photographs the seasonally inspired vegetarian and gluten-free food blog With Food + Love. She has contributed work to Driftless Magazine, Vegetarian Times, Go Gluten-Free Magazine, Food52 and Urban Outfitters, among others. You can find her hanging with her aviation-enthusiast husband, sipping Earl Grey tea, green juice and/or bourbon.