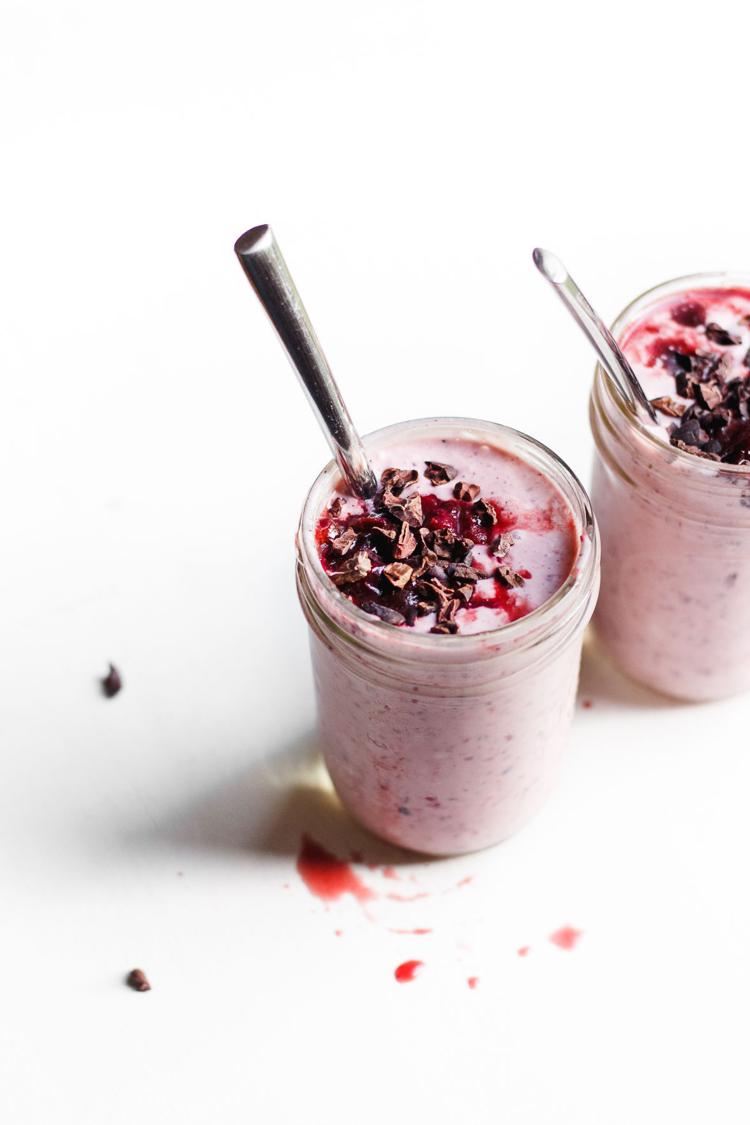 Typically, I make dairy-free milkshakes by swapping out whole-milk ice cream for coconut cream as the base, but sometimes you just want to treat yourself to the classic, rich and creamy real thing.
I also love to sweeten homemade milkshakes with cocoa nibs, dark chocolate and/or fresh fruit instead of granulated sugar. This recipe achieves a deeper, more complex cherry flavor by roasting the fruit, and doing so also draws out its natural sugar.
ROASTED CHERRY-COCOA NIB MILKSHAKE
Give this milkshake a boozy kick by adding 3 ounces of vodka to the blender when you add all of the ingredients at the end.
Serves | 4 |
3 cups cherries, pitted and halved
¼ tsp ground cinnamon
¼ tsp sea salt
tsp sunflower or grapeseed oil
cups vanilla ice cream
½ cup whole milk
¼ cup cocoa nibs, plus more for garnish
| Preparation | Preheat oven to 400 degrees. Line a baking sheet with parchment paper.
In a large mixing bowl, add cherries, cinnamon, salt and oil – tossing to combine. Spread cherry mixture onto prepared baking sheet, and roast for 20 minutes, flipping mixture after 10 minutes.
When cherries are finished roasting, refrigerate baking sheet until mixture cools to room temperature.
Reserve ¼ of cherry mixture for garnish. In a blender, combine remaining cherry mixture with ice cream, milk and cocoa nibs – blending until smooth. Add more milk depending on thickness desired. Divide milkshake into four tall glasses, and top with reserved cherry mixture and a sprinkle of cocoa nibs. Serve.
Sherrie Castellano is a former health coach turned food writer, photographer and pop-up chef based in St. Louis. A collection of Sherrie's recipes, stories and images can be found on her Saveur Blog Award-nominated website, With Food + Love. Sherrie is currently the marketing director for Midwest-based Big Heart Tea Co.