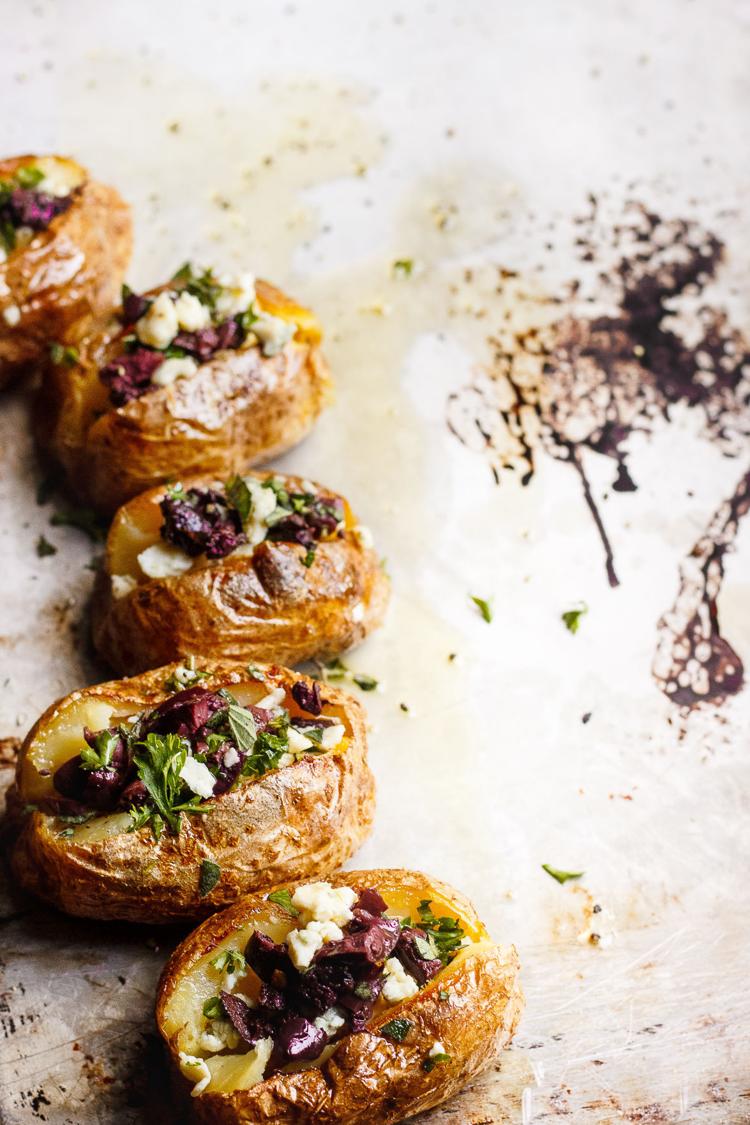 December abounds with gatherings with friends and family over hearty, festive meals. This month, we'll dine on an abundance of indulgent small bites, quaff any number of cheery cocktails and call it dinner – basically, the best time of the year. Still, because everything should be just a little fancier at holiday parties and get-togethers, trade your favorite cheesy potato-skins appetizer for these fun, fuss-free loaded fingering potatoes.
These potatoes, in my opinion, epitomize cozy comfort finger-food with just a touch of refinement. Topped with a combination of deep red, green and white ingredients, they reflect the colors of the season. They also require almost no time to make, ensuring you spend more minutes entertaining your loved ones than laboring in the kitchen. 
LOADED FINGERLING POTATOES WITH CHEESE, OLIVES AND HERBS
Serves 10
• 20 fingerling potatoes
• 2 Tbsp olive oil, divided
• sea salt and freshly ground black pepper, to taste
• ½ cup crumbled Gorgonzola or blue cheese
• ¼ cup Kalamata olives, pitted and sliced
• 1 bunch curly parsley, chopped
Preparation | Preheat oven to 425 degrees. In a large mixing bowl, toss potatoes in 1 tablespoon olive oil. Evenly spread potatoes on a baking sheet, and roast in oven for 20 minutes or until soft and tender. Flip potatoes and slice lengthwise. Roast for additional 15 minutes. Allow potatoes to cool to the touch.
Carefully widen cut in potatoes, and pour remaining 1 tablespoon olive oil over top. Season generously with salt and pepper. Sprinkle cheese over top, then sliced olives and chopped parsley, lightly tucking into opening of potatoes. Serve warm or at room temperature.
Sherrie Castellano is a former health coach turned food writer, photographer and pop-up chef based in St. Louis. A collection of Sherrie's recipes, stories and images can be found on her Saveur Blog Award-nominated website, With Food + Love. Sherrie is currently the marketing director for Midwest-based Big Heart Tea Co.