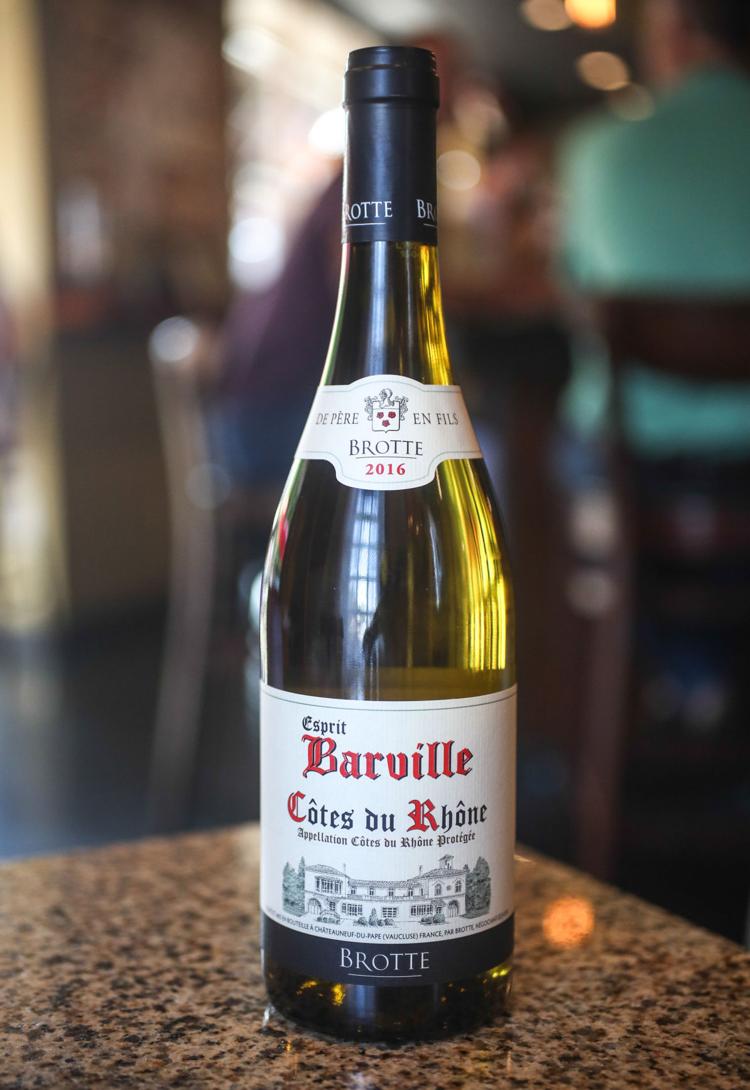 2016 DOMAINE BROTTE, BARVILLE – CÔTES DU RHÔNE, RHÔNE, FRANCE
Grape: Grenache Blanc, Clairette, Viognier
Owner: Laurent Brotte
Aged: Stainless steel
Approximate Retail Price: $18
TASTING NOTES:
Color: Golden straw
Aroma: Tart peach, ripe melon, white flowers
Taste: Apricots and ripe Meyer lemons, rolling into a full texture in the mouth and a fresh but lingering finish
Charles Brotte built Maison Brotte winery in 1931 in the heart of southern Rhône in the French appellation d'origine contrôlée (AOC) of Châteauneuf-du-Pape. Since then, through the success of its wines and the growth of exports, the winery has grown to four properties throughout the Rhône region: Domaine Barville, Domaine Grosset, Château de Bord in Laudun and Domaine de l'Aube. It also works with well-known northern Rhône wineries to produce such wines as Côte-Rôtie and Hermitage, to name two. Along with their properties and other wineries, Maison Brotte produces wines from most regions of northern and southern Rhône – currently exporting to 90 countries.
Today, the wineries are managed by Laurent Brotte, the founder's grandson. From the heart of southern Rhône, Maison Brotte tries to showcase the noble grape there, grenache – the base for most of the wines in the region, although many blending grapes are permitted. Maison Brotte owns approximately 148 acres with some of the best soil vineyard sites. It believes in quality with sustainable farming practices and all harvesting by hand.
In 1952, Charles Brotte developed a special bottle that twists slightly, representing the mistrals that batter the grenache vines in southern Rhône. A local ceramic competition led to this, involving taking bottles when they were being made, burying them in sand and twisting them. Maison Brotte named this wine Fiole du Pape and made a special cuvée, or blend of several vintages, of Châteauneuf to create a house style, as Champagne does with its nonvintage Champagnes.
In 1970, Maison Brotte built a museum on its estate to display old winemaking tools and educate visitors on the Rhône region, especially Châteauneuf-du-Pape. After renovations in 2002 and 2014, it remains both educational and fun, presenting exhibitions "in the footsteps of the winegrower." Now augmented with an audio guide in many languages, the museum welcomes around 35,000 visitors yearly.
Food Pairings: This wine's lushness will pair well with bigger-textured seafood, scallops and salmon, as well as barbecued shellfish, pasta with cream sauces, chicken, pork and salads with some citruses.
Certified Sommelier Stanley Browne owns Robust Wine Bar in Webster Groves and Downtown at the MX, as well as Snax Gastrobar in Lindenwood Park.