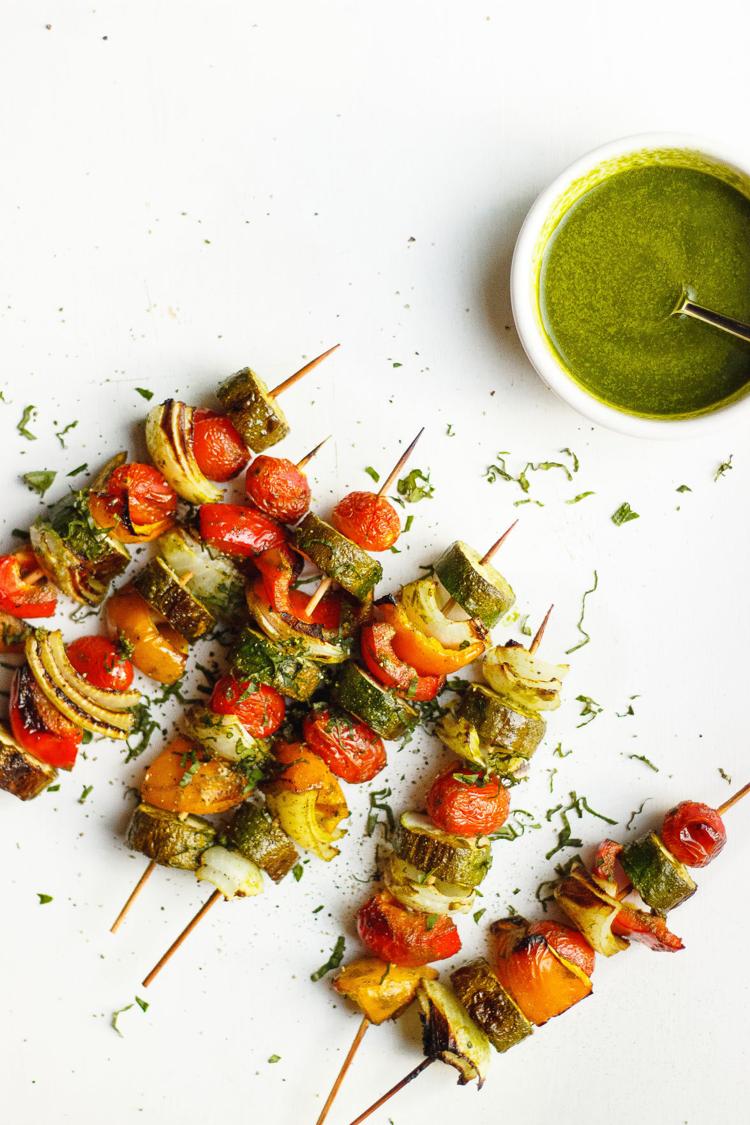 My favorite summer meals take place alfresco. With a chilled glass of wine or a cold beer in hand, as well as fresh food sizzling away, life feels fine. I love shopping at the local farmers market on sunny Saturday mornings, gathering whatever seasonal produce and herbs I can get, and then grilling everything for a fresh, summery lunch or dinner.
My style for easy meals, especially during summer, always leans toward what I call the "no-recipe recipe." Aside from throwing some oil, aromatics and acids into a blender for the dipping sauce, the following recipe mostly consists of layering fresh, vibrant vegetables on skewers – and then quickly grilling and serving them.
SUMMER SQUASH SKEWERS WITH BASIL DIPPING SAUCE
The vegetables listed below make a great guideline for fresh summery skewers, but feel free to experiment with your own seasonal favorites. Fresh eggplant, tomatillos, stone fruits and melon would all make splendid additions or substitutions on these skewers.
Yields | 10 skewers |
BASIL DIPPING SAUCE
1 cup roughly chopped fresh basil leaves
1 Tbsp roughly chopped fresh oregano leaves
¼ cup plus 1 tablespoon olive oil
2 Tbsp white wine vinegar
1 Tbsp lemon juice
½ tsp honey
¼ tsp sea salt
¼ tsp freshly ground black pepper
SUMMER SQUASH SKEWERS
1 package wooden skewers, soaked in water per package instructions
1 cup cherry tomatoes
1 red onion, large dice
1 red bell pepper, large dice
1 green bell pepper, large dice
1 zucchini, sliced into medallions
1 summer squash, sliced into medallions
| Preparation – Basil Dipping Sauce | In a blender, combine all ingredients and blend until smooth. Set aside.
| Preparation – Summer Squash Skewers | Heat an outdoor grill or stovetop grill pan to medium-high.
Remove skewers from water. Layer each skewer with an equal number of cherry tomatoes and segments of onion, red and green bell pepper , zucchini and summer squash. Brush vegetables lightly with basil dipping sauce. Grill each skewer for about 5 minutes on each side, or until golden-brown. Serve with extra basil dipping sauce on the side.
Sherrie Castellano is a former health coach turned food writer, photographer and pop-up chef based in St. Louis. A collection of Sherrie's recipes, stories and images can be found on her Saveur Blog Award-nominated website, With Food + Love. Sherrie is currently the marketing director for Midwest-based Big Heart Tea Co.