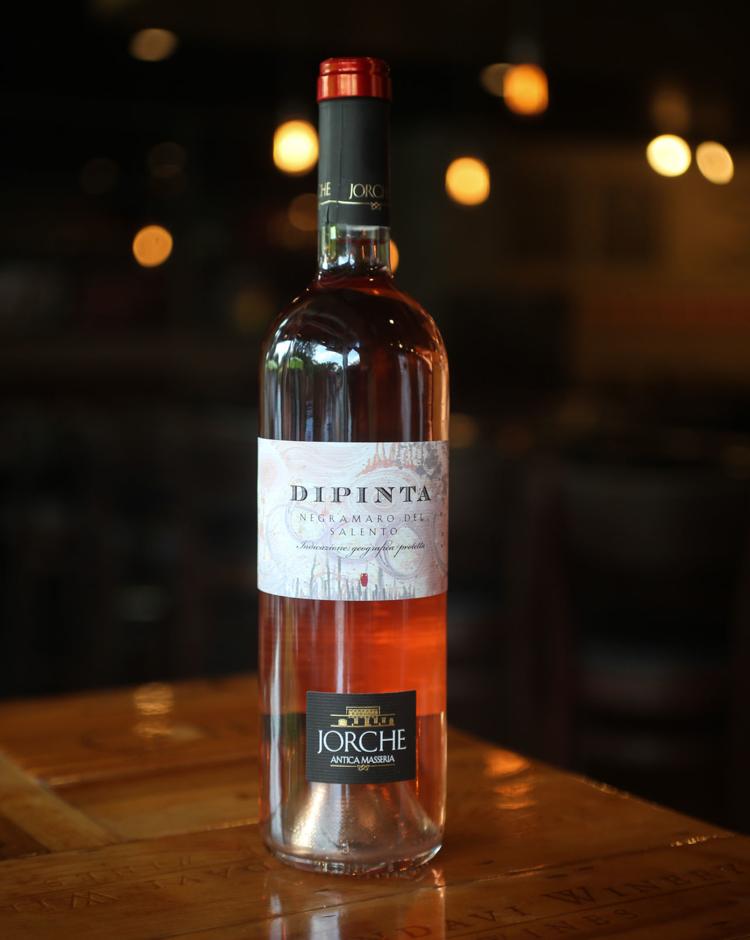 2017 JORCHE ANTICA MASSERIA, DIPINTA ROSATO – PUGLIA, ITALY
Grape: 100% Negroamaro Del Salento
Owner/Winemaker: Dalila and Emanuela Gianfreda, Giovanni
Aged: three months in bottle
Approximate Retail Price: $15
TASTING NOTES:
Color: Medium salmon with pink and orange highlights
Aroma: Rich in fruits like strawberry and wild mulberry, followed by floral notes of white rose petal and lilac
Taste: Excellent balanced fruit dancing on the tongue with a dry, lingering finish and tangy acidity
In southernmost Italy, just inside its own bootheel and minutes from the Ionian Sea, lies the winery of Jorche, known internationally for its rich, spicy primativo and negroamaro reds.
The Jorche Dipinta rosato – many Italians prefer to use this word, saving the term rosé for sparkling wine – ranks less as a labor of love than as an out-and-out artistic creation. Winemakers Emanuela Gianfreda and her sister, Dalila, deliberated for years about how to approach their rosato. They wanted to produce a lighter, more feminine style in contrast to the typical rosatos of the Salento region, which are usually darker with much bigger fruit.
The pair decided to use a more vin gris style, offering little to no maceration (extended contact with the skin). They continued to use the traditional grape used for rosato in the region, negroamaro. Doing so resulted in a lighter, more elegant expression.
The Dipinta makes a passionate artistic endeavor for Emanuela Gianfreda, who also paints – so what better way to present the wine than to have her paint its label? Every vintage will bear a new painting by her, inspired by the wine itself.
Moreover, the wine's name itself, Dipinta, carries a double meaning. In Italian, painting translates to dipinto, a masculine word – so the two sisters decided to change the word to a feminine and use that for the name of their creation. Dipinta also forms an acronym for them: donne insieme per il nostro territorio Apulia. Roughly translating to women together for our Puglia, it signifies for them immense pride, as women, in the history, traditions and winemaking of their region.
Not only does Jorche sport a fantastic winery, but also it boasts their Masseria, a 16th-century building providing lodging and a restaurant – a perfect place in the one of the best parts of Italy to vacation, relax and take in the nation's beauty.
So raise a glass to the fifth generation of the family behind the Jorche winery, sisters Dalila and Emanuela Gianfreda. Cheers!
Food Pairings: This elegant rosato pairs well with fresh seafood and seafood pasta dishes. It also goes well with a nice, light bowl of fruit, mild cheeses or maybe even just the sunshine in which you're now basking.
Certified Sommelier Stanley Browne owns Robust Wine Bar in Webster Groves, as well as Snax Gastrobar in St. Louis' Lindenwood Park neighborhood.