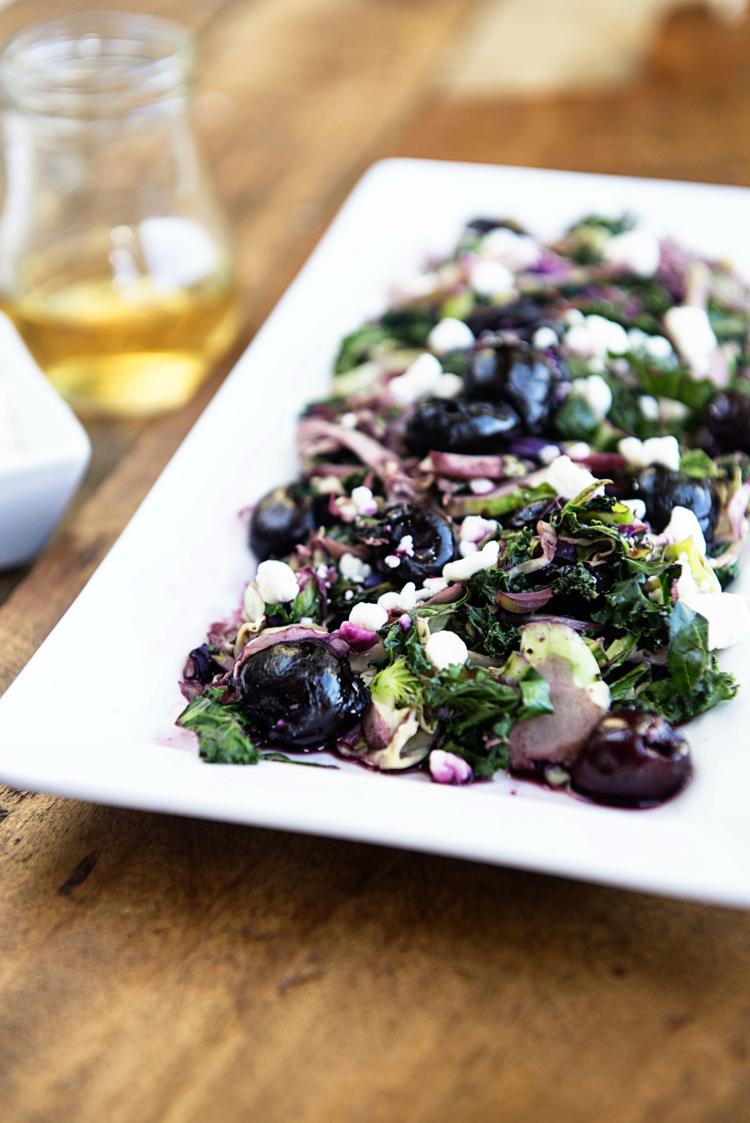 All winter, I dreamed of fresh cherries, and now, at last, cherry season – May and June in Missouri – has arrived!
My favorite ways to work with the fruit involve grilling, roasting or simply sautéing it on the stove. The tartness and sweetness inherent in cherries provide an ideal foil for savory flavors, so use the fruit fresh to make a glaze for chicken or the base of a salad dressing.
This sautéed cherry and wilted vegetable salad incorporates cherries in two ways: sautéed whole, to add pops of color and flavor to the salad and then, through their juice, to coat and soften hearty cruciferous vegetables.
This salad constitutes more than a side dish, though; very slightly cooking the shredded vegetables in a blend of fresh cherries, cherry juice and white balsamic vinegar results in a salad full of crunch and natural sweetness. 
SAUTÉED CHERRY AND WILTED VEGETABLE SALAD
To shred these hearty vegetables and greens easily and fast, use a mandolin. Also, feel free to use a different combination of veggies here – either different proportions of the ones listed or a new blend altogether. Other hearty vegetables and greens like cauliflower, arugula, bok choy, kohlrabi and radishes would work well.
Serves 4
4 Tbsp white balsamic vinegar, divided
2 cups fresh, dark sweet cherries, pitted, seeds removed
1 cup Brussels sprouts, shredded
1 cup broccoli, shredded
1 cup red cabbage, shredded
1 cup green cabbage, shredded
1 cup kale, shredded
¼ cup crumbled goat cheese
Preparation | In a large saucepan over medium heat, add 2 tablespoons of white balsamic vinegar and cherries. Sauté until cherries start to soften and cherry juice begins to thicken, 7 minutes.
Add Brussels sprouts, broccoli, red and green cabbages, and kale, and sauté for an additional 2 minutes or until vegetables become wilted and slightly soft.
Divide mixture evenly between 4 salad plates. Drizzle with remaining white balsamic vinegar, and top with crumbled goat cheese. Serve.
Kristen Doyle is the creator of award-winning website dineanddish.net. Since early 2006, she has been sharing her favorite recipes, photos and life stories with an ever-growing audience of engaged readers. Beyond her blog, Doyle has expanded her freelance food and travel writing and photography career to include work with major brands, as well as providing editorial content and direction for nationwide print publications and websites. Follow Doyle on social media @dineanddish.