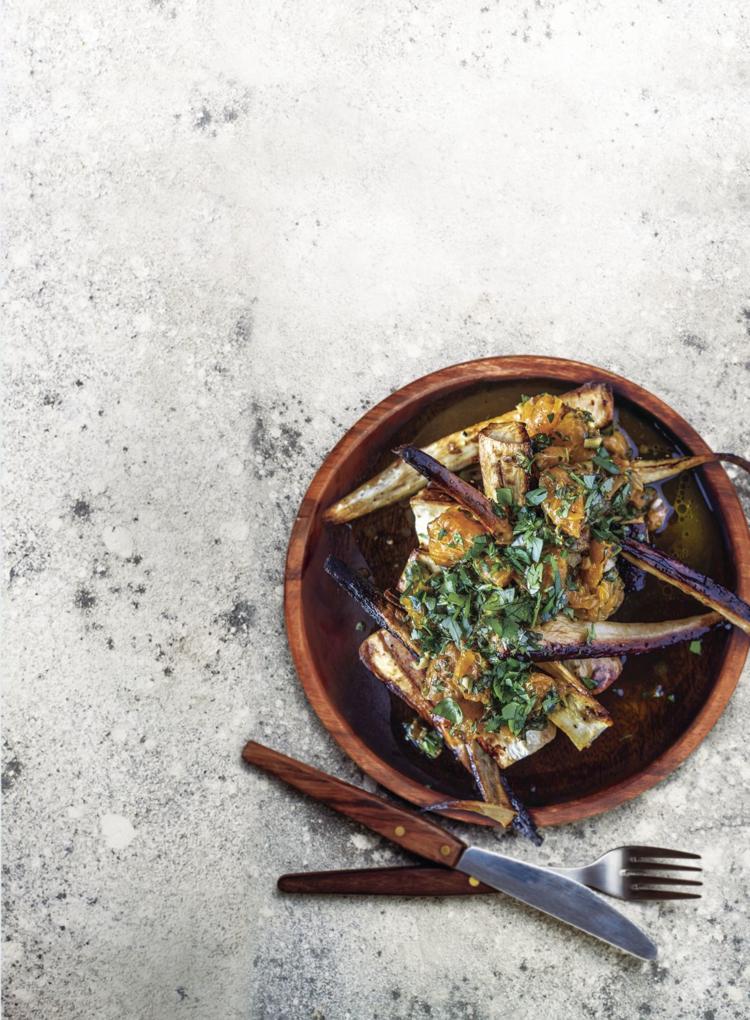 To me, the beautiful thing about winter is the abundance of root vegetables. In this recipe, I'm highlighting one of my favorites that's often underused: parsnips. Parsnips share some characteristics with carrots, but are also related to the parsley family. The roots have been eaten since antiquity and were often used as a sweetener before the introduction of cane sugar to Europe. Like any root vegetable, the flavor can vary based on how and where they're grown, so if you find one that roasts up super sweet and tender with little work, you know you have a good one. In this recipe, I've glammed up parsnips with chimichurri and caramelized mandarin oranges, perfect for serving as a bright, comforting side for holiday meals. 
ROASTED PARSNIPS WITH CHIMICHURRI-CHARRED MANDARIN ORANGE SALAD
Serves | 4 to 6 |
Parsnips
1½ lb parsnips cleaned, peeled and halved
2 Tbsp olive oil
1 Tbsp honey
salt and freshly ground black pepper, to taste
Chimichurri
5 fresh mandarin oranges, peeled and sliced
⅓ cup olive oil plus 1 Tbsp, divided
5 cloves garlic, finely chopped
1 cup fresh cilantro, finely chopped
½ cup fresh parsley, finely chopped
½ cup fresh oregano, finely chopped
¼ cup sherry vinegar
salt and freshly ground black pepper, to taste
| Preparation – Parsnips | Preheat oven to 375 degrees.
In a large mixing bowl, toss parsnips with ⅓ cup oil and honey, and season with salt and pepper to taste. Transfer to a lipped baking sheet and roast for 15 to 20 minutes or until nicely charred and tender. Let parsnips rest for 5 minutes.
| Preparation – Chimichurri | In a small sauté pan over medium-high heat, heat remaining oil. Add mandarin oranges and cook for 2 minutes; flip and cook for 2 minutes more until slightly caramelized on the outside. Set aside.
In a medium mixing bowl, add all remaining ingredients; stir to combine and season with salt and pepper. Toss parsnips and caramelized oranges in chimichurri; serve warm or at room temperature.
Amanda Elliott is the chef at Peachtree Catering (peachtreebanquet.com) in Columbia, Missouri, and authors the website Rustic Supper (rusticsupper.com), where she shares recipes centering on the idea of the communal table and embracing the heritage of food through travel. She also hosts a series of pop-up dinners in Columbia called Sunday Suppers.