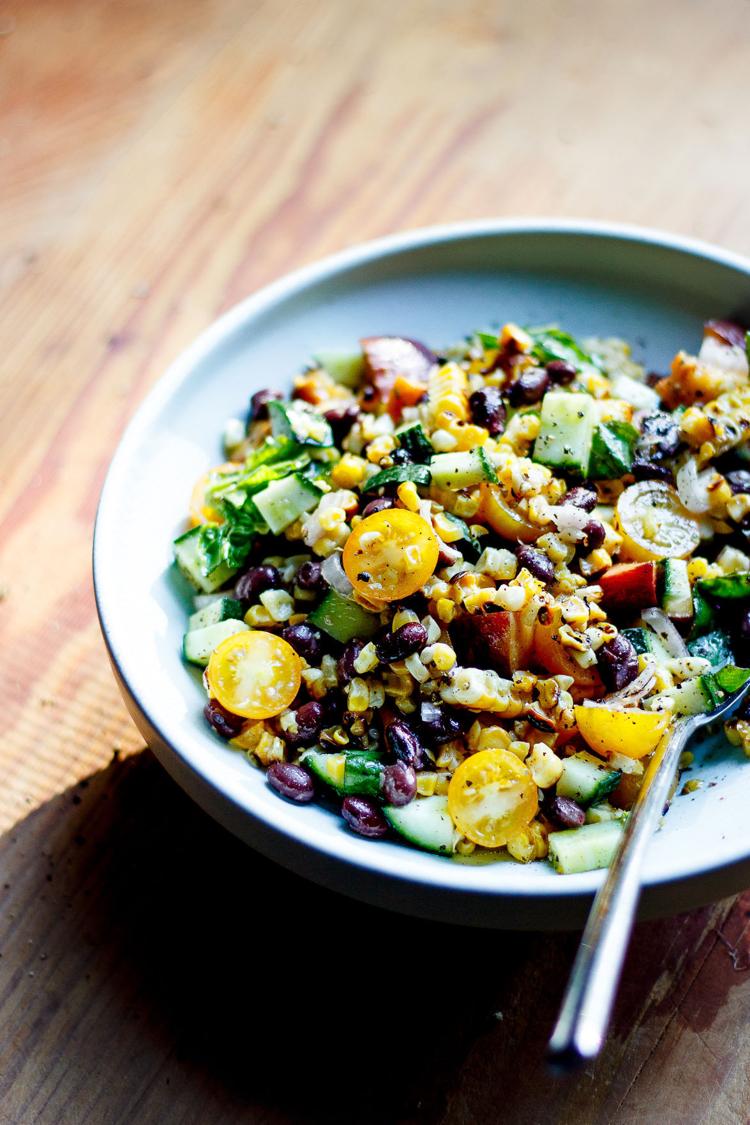 September marks summer's last hurrah – with succotash the best way to celebrate. Sweet corn and lima beans form the foundation of a traditional succotash. The version spotlighted here combines my favorite late-summer foods, including peaches, summer basil and cucumbers, to form a fresh mix of raw and grilled vegetables with herbaceous and vinegary flavors.
Another perk of this easy-to-assemble succotash: You don't have to turn on your oven. Simply grill the corn and peaches, then allow them to cool. Dice the cherry tomatoes and cucumbers, and whisk together the dressing. Serve the succotash either as a light main course or as a side dish with grilled meat or seafood.
GRILLED PEACH AND CORN SUCCOTASH
If you prefer lima beans, substitute them for the black beans, using 1 cup in lieu of the ½ cup specified.
Serves 4 to 6
4 ears sweet corn, husks and silks removed
2 peaches or nectarines, pitted and halved
¼ cup olive oil, plus more for grilling
1 cup halved cherry tomatoes
1 cup cucumber, diced small
¼ cup shallot, minced
½ cup cooked black beans
1 cup loosely packed basil leaves, roughly chopped
2 Tbsp apple cider vinegar
1 Tbsp fresh lemon juice
1 tsp honey
sea salt, to taste
freshly ground black pepper, to taste
| Preparation | Brush ears of corn and halved peaches lightly with olive oil. Grill until tender and browned, about 7 to 10 minutes. Cut corn off cobs, and dice peaches. Reserve in a bowl until ready to finish succotash.
In a medium-sized bowl, thoroughly combine cherry tomatoes, cucumber, shallots, cooked black beans and basil.
In a small bowl, whisk together olive oil, apple cider vinegar, lemon juice, honey, salt and pepper.
In a large bowl, combine corn and peaches with cherry tomato mixture, and toss to combine. Slowly pour dressing into succotash, tossing as you go to evenly coat ingredients. Season with more salt and pepper if desired. Chill succotash for 30 minutes to 1 hour. Serve.
Sherrie Castellano is a former health coach turned food writer, photographer and pop-up chef based in St. Louis. A collection of Sherrie's recipes, stories and images can be found on her Saveur Blog Award-nominated website, With Food + Love. Sherrie is currently the marketing director for Midwest-based Big Heart Tea Co.