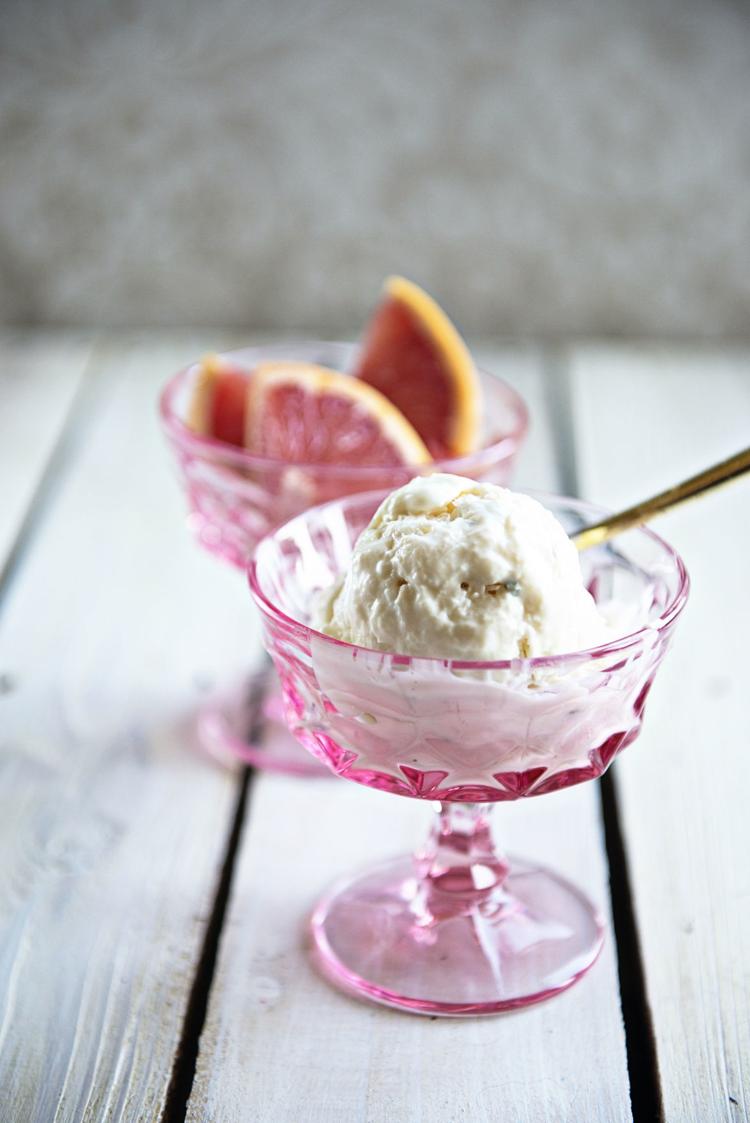 If you have a basic glass loaf pan, making rich and creamy frozen yogurt at home is easy – no fancy gadgets or ingredients required. My recipe calls for Greek yogurt in place of whole milk, which provides extra tang, tart grapefruit juice and fresh basil for an herbal note to balance everything out. The result is a frozen treat bursting with bright citrus flavor and earthy basil undertones.
If these aren't your favorite flavors, most any fresh fruit or vegetable and herb combination will work: blackberry-lime-cilantro-mint, cantaloupe-mint, cucumber-lemon-mint-rosemary, mango-basil, blackberry-sage and more. 
Grapefruit-Basil Greek Frozen Yogurt
The frozen yogurt is best if served within 24 hours of preparation.
Serves 4
¾ cup fresh grapefruit juice (from about 2 large grapefruits)
2 cups full-fat plain Greek yogurt or vanilla Greek yogurt
3 Tbsp honey, plus more to taste
1 Tbsp vanilla extract
1 tsp fresh basil, finely chopped
Preparation | In a large mixing bowl, add all ingredients and stir together until well incorporated. Transfer mixture to a freezer-safe glass loaf pan, and cover with aluminum foil. Freeze for 6 hours or overnight.
Remove from freezer 30 minutes before serving to soften. Once softened, stir until creamy and scoop into 4 serving dishes; serve.
Kristen Doyle is the creator of award-winning website dineanddish.net. Since early 2006, she has been sharing her favorite recipes, photos and life stories with an ever-growing audience of engaged readers. Beyond her blog, Doyle has expanded her freelance food and travel writing and photography career to include work with major brands, as well as providing editorial content and direction for nationwide print publications and websites. Follow Doyle on social media @dineanddish.