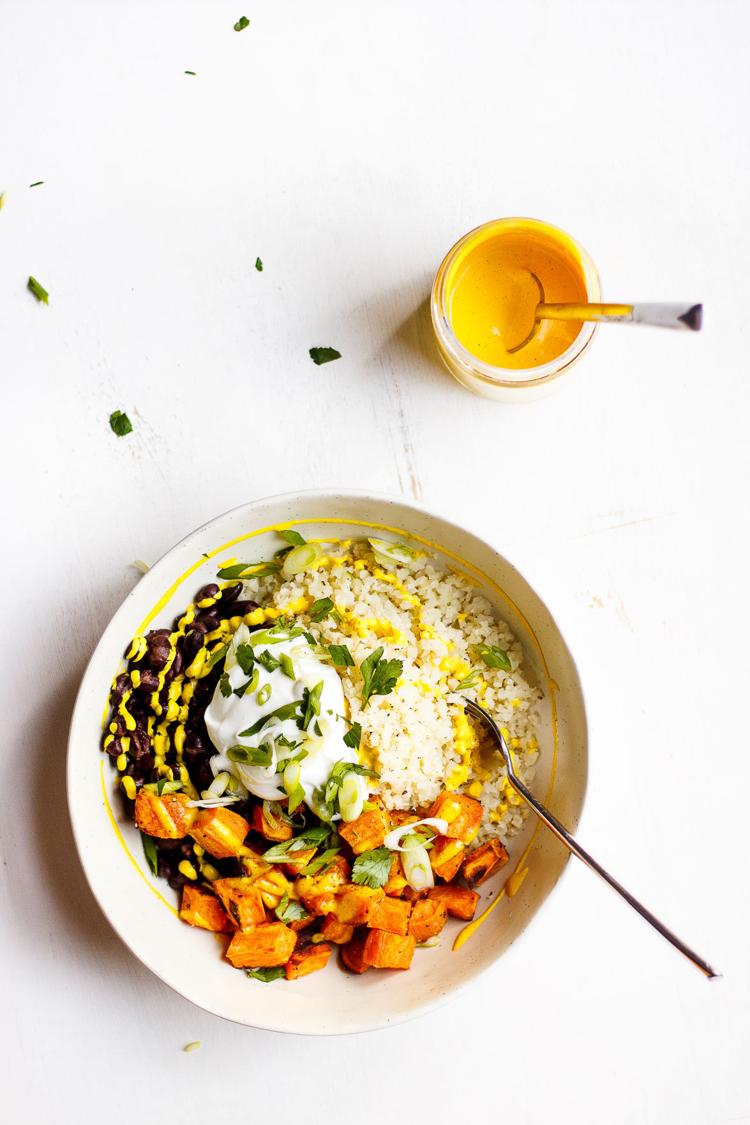 Once again, we face a new year with new resolutions on our plates – both figuratively and literally. If one of your 2018 goals involves incorporating more fresh veggies into your diet, this cauliflower "rice" bowl should please you for more than one reason, particularly its simplicity – processing cauliflower into rice-sized pieces and then steaming or sautéing it to mimic the texture of real rice.
The golden sauce stars in this meal, though. Loaded with turmeric, ginger, garlic, olive oil, lemon juice and apple cider vinegar, it both abounds with detox-friendly ingredients and tastes great. 
CAULIFLOWER "RICE" BOWL WITH GOLDEN DETOX SAUCE
Serves 4
Golden Detox Sauce
½ cup raw cashews
½ cup unsweetened almond milk
1 tsp ground turmeric
½ tsp ground ginger
1 clove garlic
1 Tbsp olive oil
1 Tbsp lemon juice
1 Tbsp apple cider vinegar
¼ tsp sea salt
½ tsp freshly ground black pepper
Cauliflower Rice
2 sweet potatoes, washed, peeled and diced into ½-inch pieces
2 Tbsp olive oil, divided
1 head cauliflower, washed and sliced into florets
2 cups cooked lentils or beans
fresh parsley leaves, minced, for garnish
green onions, diced, for garnish
sea salt and freshly ground black pepper
¼ cup Greek yogurt, optional
Preparation – Golden Detox Sauce | In the bowl of a blender, add all ingredients and blend on high until smooth. Set aside.
Preparation – Cauliflower "Rice" | Preheat oven to 450 degrees. Line a baking sheet with parchment paper, and set aside.
In a large bowl, combine sweet potatoes and 1 tablespoon olive oil, and toss to coat. Spread potatoes evenly on baking sheet. Roast for 25 minutes or until browned.
In bowl of a food processer, add cauliflower florets and pulse until a ricelike appearance is achieved. In a medium sauté pan over medium-high heat, warm remaining olive oil. Add cauliflower "rice" and sauté for 5 minutes or until tender.
Evenly divide cauliflower "rice" between 4 serving bowls. Top with cooked lentils or beans, roasted sweet potatoes, golden detox sauce, parsley and green onions, and season with salt and pepper to taste. Top with a dollop of Greek yogurt for tanginess, if desired, and serve.
Sherrie Castellano is a former health coach turned food writer, photographer and pop-up chef based in St. Louis. A collection of Castellano's recipes, stories and images can be found on her Saveur Blog Award-nominated website, With Food + Love. She currently serves as the marketing director for Midwest-based Big Heart Tea Co.