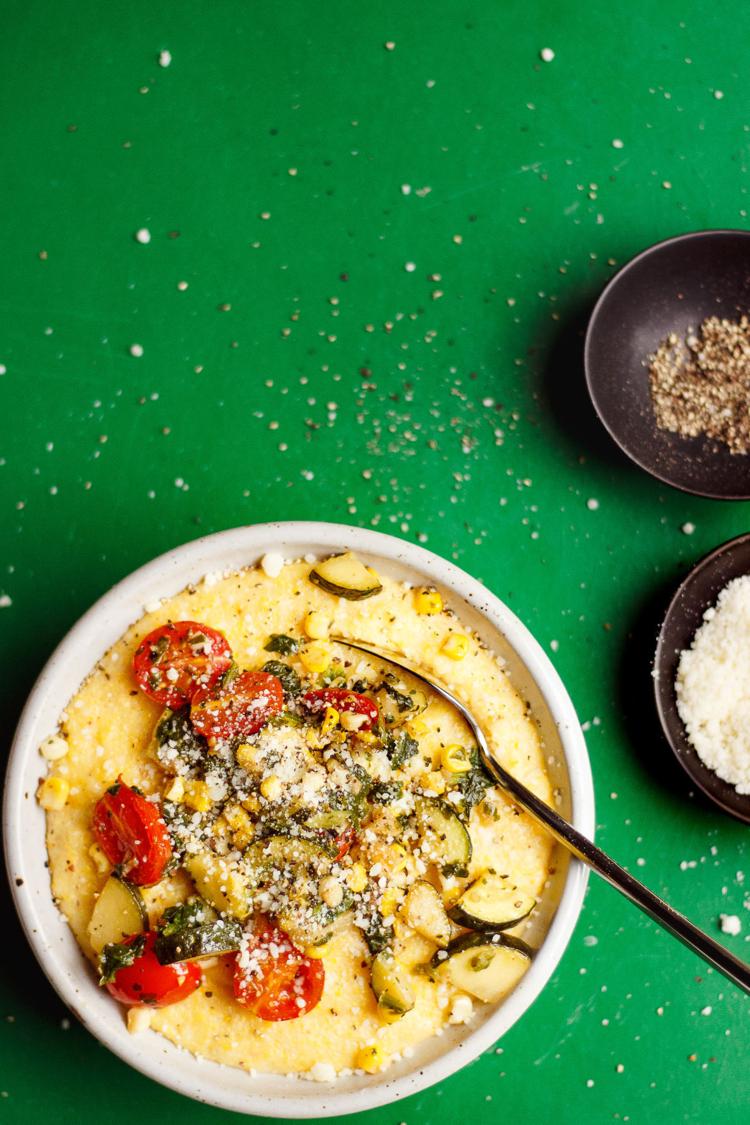 Polenta remains a favorite of mine, both to cook and to eat. Making it takes little time or effort, and it always results in a comforting, soul-satisfying meal.
Polenta, it bears noting, constitutes a dish, not just an ingredient – a traditional northern Italian porridge made from ground cornmeal. Once cooked, though, it can be molded into solid shapes and crisped in the oven or on the grill; a very forgiving food, polenta has a few different popular preparations, each of which can be made ahead of time.
That said, shopping for polenta can be confusing. Packages labeled polenta usually contain medium- or coarse-ground cornmeal, not prepared polenta. So if a bag of cornmeal doesn't say polenta, but instead says medium-ground cornmeal, it should be fine to use in this recipe. (Avoid finely ground cornmeal or cornmeal flour, which yield an unfavorable, pastelike texture.)
FARMERS MARKET POLENTA
Serves | 2 |
Takes: 35 minutes
Ingredients:
• 3 cups water
• tsp sea salt, plus more to taste
• cup polenta (or medium-ground cornmeal)
• ¼ cup unsalted butter
• ⅓ cup grated pecorino Romano cheese
• freshly ground black pepper
• Tbsp olive oil
• medium white onion, small dice
• minced garlic cloves
• sprigs fresh thyme
• Tbsp white wine vinegar
• cup zucchini or summer squash, small dice
• cup halved cherry tomatoes
• ½ cup fresh or frozen corn
• cup roughly chopped fresh spinach
| Preparation | In a large saucepan over medium heat, bring water and salt to a boil. Gradually add polenta while whisking continuously until mixture becomes smooth.
Reduce heat to low, and continue to cook until polenta has thickened but remains creamy, about 20 minutes. Add butter and cheese, and stir until smooth. Season with pepper and more salt if desired.
As polenta cooks, in a large sauté pan over low heat, heat olive oil. Sweat onions and garlic for 5 minutes. Increase heat to medium, and add thyme, vinegar and zucchini; cook for 5 minutes. Add tomatoes, corn and spinach, and cook until heated through, about 5 minutes.
| To Serve | Season with salt and pepper to taste. Serve vegetables atop warm polenta.
Sherrie Castellano is a former health coach turned food writer, photographer and pop-up chef based in St. Louis. A collection of her recipes, stories and images can be found on her Saveur Blog '15 Awards-nominated website, With Food + Love. She currently serves as the marketing director for the Midwest-based Big Heart Tea Co.