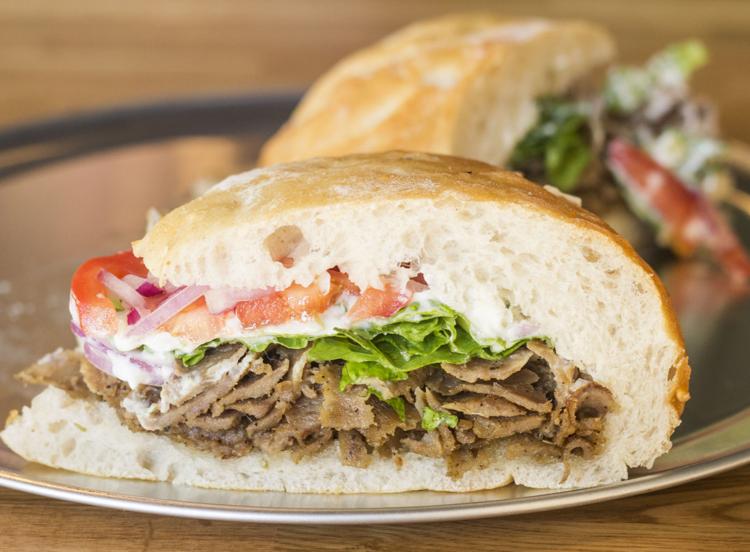 How do you pronounce gyro, exactly?
Immediately dispelling any pronunciation misconceptions, brothers Mirza and Merim Imamovic cut right to the chase with the fun, phonetic name of their latest restaurant, Yiro/Gyro. The Bosnian natives have been making Mediterranean street eats since opening The Gyro Company with their mother in south St. Louis nine years ago; a second location opened in south St. Louis County two years ago.
Last year, though, their Yiro/Gyro debuted in downtown St. Louis proper, albeit with an approach slightly different from their previous restaurants'.
"We always wanted to be downtown, but never thought it was busy enough," Mirza Imamovic, Yiro/Gyro co-owner, says. "It's a lot more vibrant now than a few years ago, so we decided to give it a go.
"It's very similar to our South County store – the same gyro meat, the same pita bread and things like that – but we just wanted to make it even faster for the lunch crowd downtown. People can come in there and be in and out in 15 minutes. We try to make everything assembly-line-style."
The 2,300-square-foot space, which Imamovic says previously housed a jewelry store, got a modern makeover from a college friend, with 49 seats available in the gray-and-green dining room. Fresh herbs line the walls, along with framed photos of family and friends from both locations of the Gyro Company. A patio seats an additional 16 patrons.
The Imamovic brothers designed the menu by using all the tricks of the trade learned from their mother, including recipes they grew up eating. Their most popular dish, the döner kebab, mixes beef and lamb cooked vertically on a gyro spit. The tender meat is sliced off and sandwiched between fluffy Bosnian Lepinja bread (made locally at Basic Bakery) with homemade garlic sauce, lettuce, tomato, onion and red cabbage. Imamovic says his and his brother's version of this street food, most popular in Germany, was the first of its kind in St. Louis.
To order at the fast-casual restaurant, approach the counter and select a specialty item like the döner kebab. Alternatively, go with the Zemech Bowl, which contains fragrant basmati rice, grilled chicken, tomatoes, sumac onions, cucumbers, chickpeas and tahini sauce. Otherwise, the Classic Gyro features "yiro" slices with lettuce, tomatoes, sumac onion and tzatziki sauce on pita bread – a great treat before catching Cabaret at The Fabulous Fox Theatre.
Unlike The Gyro Company's menu of completely preset items, Yiro/Gyro lets diners personalize plates. Build your own meal by choosing from base options including pita, basmati rice and lettuce, and then pick from proteins like grilled chicken, "yiro" slices and falafel, with topping options including Israeli salad, vinaigrette and Sriracha ranch.
So go for the tried-and-true options, or pick and choose – but whatever you do, just be sure to enunciate!
Yiro/Gyro, 750 Locust St., St. Louis, 314-925-8152, yirogyro.com